This roundtable is apart of our evolving "Movement Inquiry" feature, which opened with an investigation of housing struggles in the US. If you would like to get involved, email us at roundtables AT viewpointmag DOT com.

On February 8, 1968, police opened fire on students at South Carolina State University in the city of Orangeburg, murdering Samuel Hammond, Henry Smith, and Delano Middleton and injuring thirty others. Hammond, Smith, and Middleton were shot in the back, and all officers were acquitted – an echo of the racial order that the students had been protesting. Four years after the Civil Rights Act, public and private institutions continued to refuse service to Black people.
Two months later, Martin Luther King, Jr., was killed, setting campuses and, literally, neighborhoods on fire. For Black students, the "Orangeburg Massacre" set the stage. Leaders from sixteen colleges in North Carolina met in Durham, avowing "creative demonstrations." Greensboro hosted a mock funeral, one of the largest actions in the city's history. Across the country, students held commemorations and protests.
At the same time that it blew open Black student organizing, Orangeburg receded in public memory. It was lost to MLK and Black Power. It came after the Student Nonviolent Coordinating Committee and before the formalization of Black feminist studies. It was a flashpoint for Black student power, the iceberg of what government officials called "campus unrest." As Martha Biondi writes in The Black Revolution on Campus, "the most prevalent demand in the hundreds of campus protests in 1968-1989 was African American inclusion, not opposition to the Vietnam War. The centrality of race… has been forgotten."
The recent, high-profile murder of Black people – and the failure to prosecute white vigilantes and police officers – has, similarly, propelled campus activism across the country. Students have rushed to express not only their outrage at the wanton loss of life, but also their collective disillusionment with a system indifferent to the concerns of students of color – from Berkeley High School to the University of Missouri to Yale. In doing so, they have disrupted the flow of American education and contested the meaning of studenthood.
As the contributors' essays in this series illustrate, these interventions have taken myriad forms – from perennial die-ins and walkouts to a campaign for a Level 1 Trauma Center. Still, what many share is a rejection of the mythos of "Black progress." What they embrace, in turn, is that the enduring condition of Blacks in the United States is one of struggle, necessitating agitation for the re-imagination of equity in an equally enduring white-supremacist order.
It is with this understanding that Samuel Northup could be born a free man in 1808 and enslaved in 1849, that the Voting Rights Act could pass in 1965 only to be gutted in 2013, and that calls by Black youth for Palestinian solidarity and against U.S. imperialism remain to be acknowledged a generation later.
In this series, it is with a similar understanding that students at the University of Michigan have campaigned over the span of over forty years to increase Black student representation, only to see their numbers drop from 9% in 1996 to 6.8% in 2007 to just under 5% since 2010. Likewise, though the Civil War ended in 1865, students at Middle Tennessee State University must continue fighting to remove monuments to the Confederacy. This understanding frames the opening of the Africa Center at the University of Pennsylvania in 1993 and its closure one generation later. South Carolina State is itself facing financial straits and threatened closure, reflecting the under-resourcing of Historically Black Colleges and Universities nationwide.
The experiences and struggles of the present moment underpin the title of this roundtable, "Black Liberation on Campus, 2015?" This frame posits an active struggle, constantly remaking itself from one national groundswell to the next – and from long-gone, if long-lost, designs. Where do we go from here? While history is quick to cite Huey P. Newton and Stokely Carmichael, the personae and words of Angela Davis, Assata Shakur, and Audre Lorde loom large in these essays and in youth organizing nationwide. What does a Black liberation movement that centers the death and life of women and girls, from Aiyana Stanley Jones to Rekia Boyd to Miriam Carey, look like? What will it take to advance movements free from patriarchy, gender conformity, heterosexism, and ableism? Moreover, many of the struggles in this series began in city streets before radiating across campuses. What is liberation within and beyond the relative privilege of university spaces? How can the struggles of students resonate with the neighborhoods and workplaces of those who've never been enrolled? By leveraging studenthood, what can these writers teach us about national and, maybe, transnational struggle?
Viewpoint envisions this roundtable as a beginning, not an end. We welcome your ideas, feedback, critiques, as well as your support in sharing this resource with friends and neighbors, in dormitories and classrooms, at rallies and direct actions. We are eager to work with organizers to collectively create future roundtables on the struggles unfolding today – Black and Brown liberation, climate change, education, feminism, queer power, youth-led migrant struggles, and in transportation, logistics, and the workplaces of retail and service workers, to name just a few. To get involved, please email us at roundtables AT viewpointmag DOT com.
---
#WALKOUTWEDNESDAY, Berkeley High School
By Kadijah Means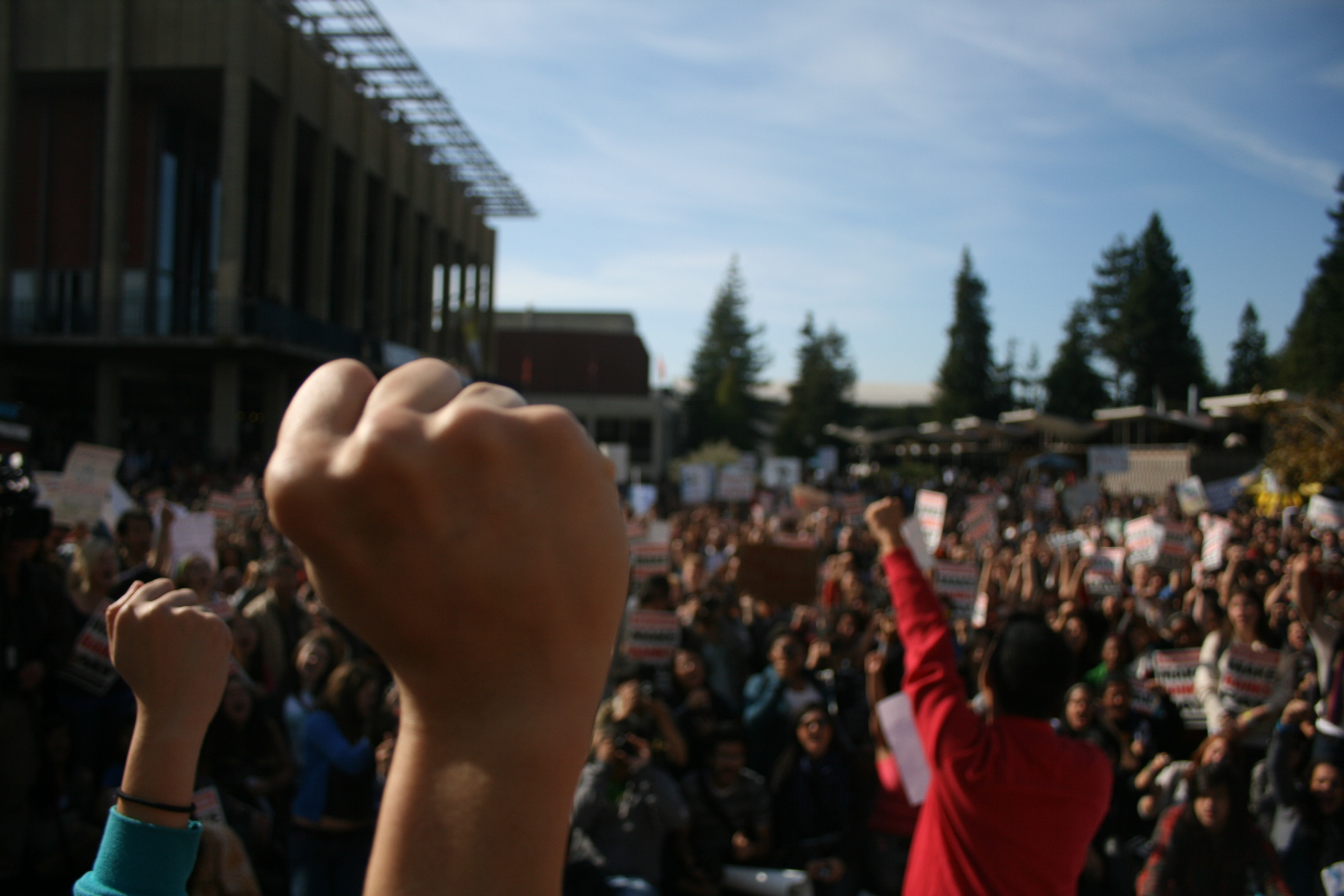 "The turnout for these actions gave my comrades and me something we had not had for months – hope, moving us to organize something bigger. Desperate for a taste of victory, in a war that is seemingly never-ending, Damani McNeil, Lucy Rosenthal, Finn Collom, and I organized a 1,500 person strong walkout, rally, and die-in on Wednesday, December 10, 2014 – #WalkoutWednesday."
---
THE UNITED COALITION FOR RACIAL JUSTICE AND THE "SPEAK OUT," University of Michigan
By Garrett Felber and Austin McCoy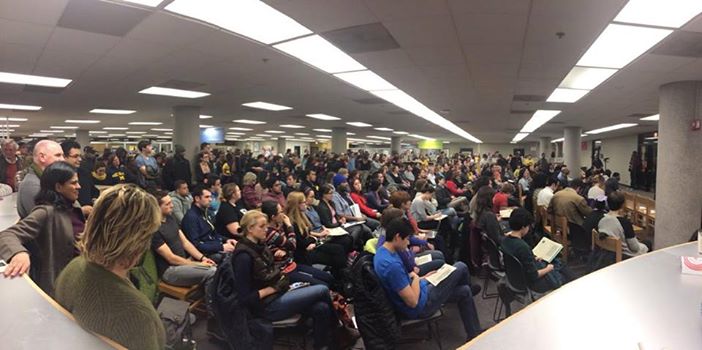 "The goal of the Speak-Out reflected many of the aims of the original Teach In: to raise visibility and educate students regarding these issues, facilitate coalitions across various organizations, and put pressure on the administration. The event was designed as a 12-hour takeover of Shapiro undergraduate library in three parts – Demonstration, Political Education, and Strategy. We hoped to combine the testimonial power of the open-mic "speak out" with the historical resonance of the 'sit in.' "

---
CHANGE THE NAME OF NATHAN BEDFORD FORREST HALL, Middle Tennessee State University
By André Canty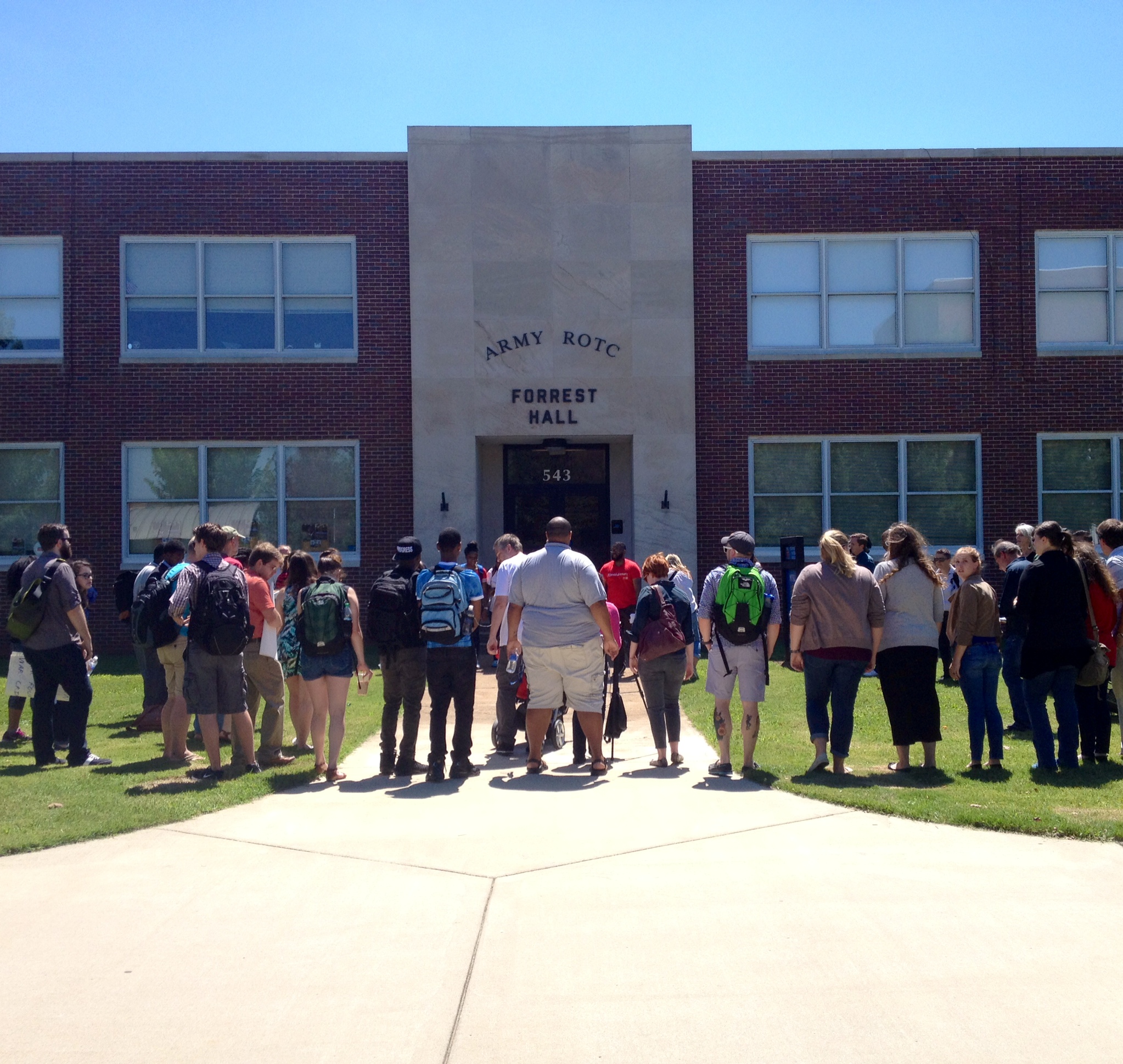 "When Bree Newsome cut the Confederate Flag from the South Carolina state capitol, we all saw ourselves up there. We were tired of waiting – and hearing the 'heritage' debate. A simple conversation among friends online led to our most recent campaign. Considerate it 'Round 3.' "
---
PRESERVE AN INDEPENDENT AFRICA CENTER, University of Pennsylvania
By Oyinkan Muraina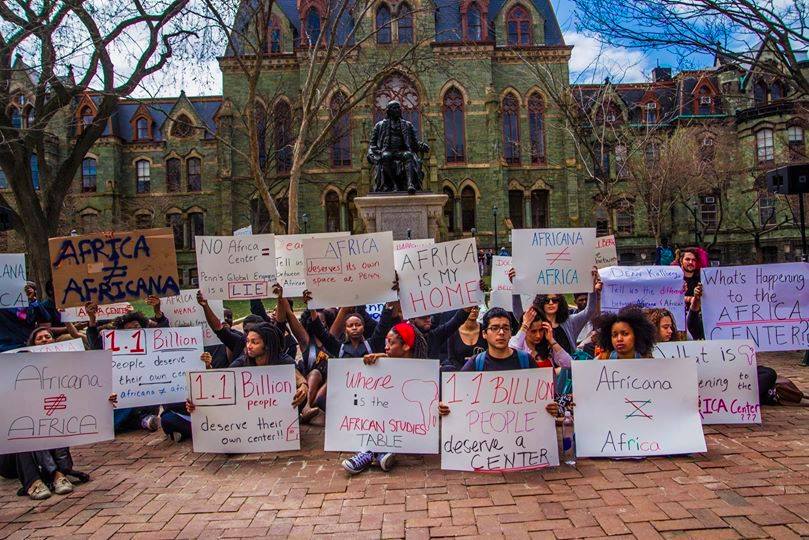 "When Charity Migwi and I called our classmates together to discuss the fate of the Africa Center the night before, I never imagined we would be protesting less than twenty-four hours later. But this was, and is, the reality of a university in the post-Mike Brown era. The campus that once hosted a "Top One Percent Party" in an ode to the Occupy Movement now accommodated regular protests, with participation not only from Penn students but also from neighboring schools and the Philadelphia community."
---
#CANYOUHEARUSNOW, Colgate University
By Kristi Carey, Melissa Meléndez, Kori Storther, and Natasha Torres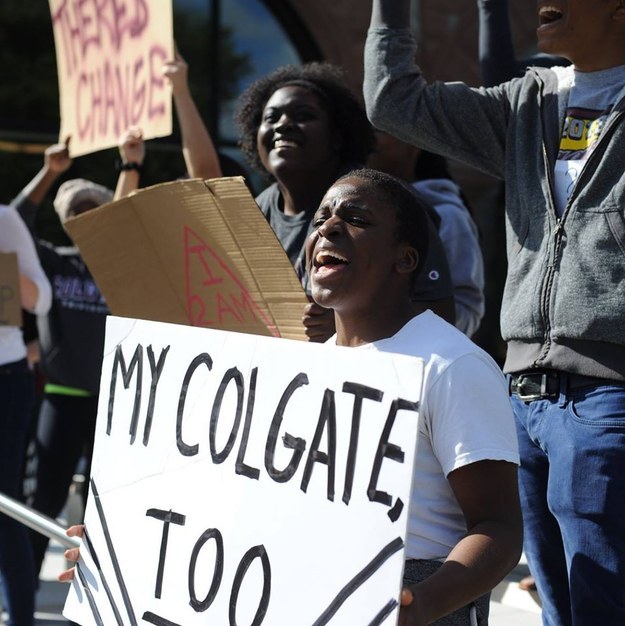 "Visibility is fatal in a world of popular opinion. As I reflect on the sit-in that my friends and I led almost a year ago, those words are clear in my head. I hear constant echoes of the cries from my peers: "Can you hear us now. Can you hear us now. Can you hear us now." For 101 hours, we occupied the Colgate admission office and begged for visibility. We demanded to be heard. However, as I look back on those days, I almost wish we never brought ourselves into the light."
---
DIE-IN, #SHUTITDOWN, University of Texas
By Tyler English-Beckwith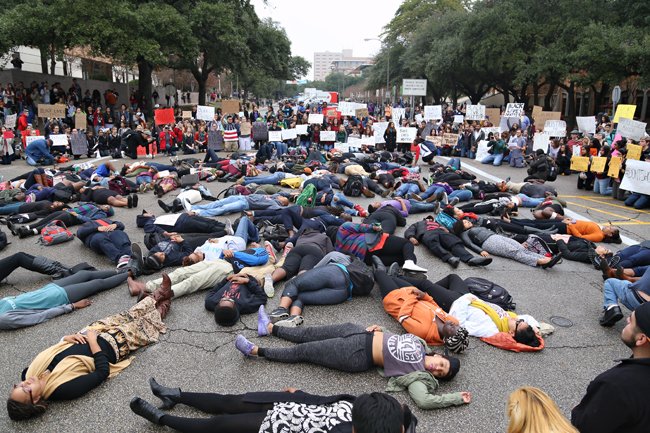 "Just hours after we lay on the asphalt for Eric Garner, I got word of the murder of Rumain Brisbon in Arizona. As I read the article about yet another unarmed Black person shot down by a cop, a professor approached me to share her thoughts on the protest. She described the Die-In as peaceful and applauded my 'dignity' and 'respect.' She said that she had heard from a campus police officer that the protest went off without a hitch and that she didn't expect anything less from UT students. I quickly made an excuse to leave the conversation."

---
PRISON DIVEST, City University of New York

By Leon Campbell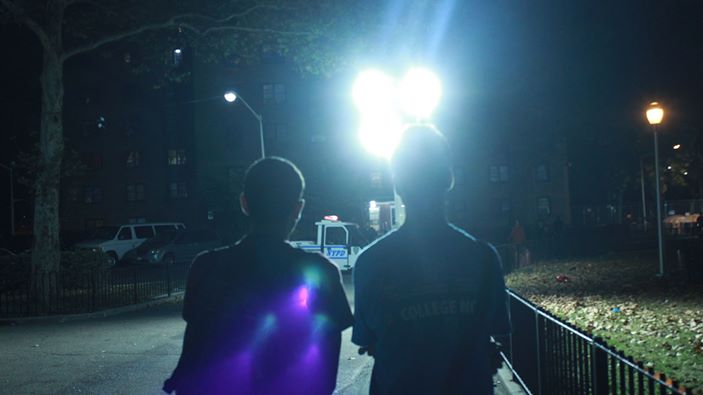 "Black lives still matter after the car door slams and after the cell door bolts shut. Black and Brown people are being funneled into prisons where they are not surviving and where they are exploited as slaves, producing for the prison and profit. Right here in New York City, the prison system's inhumanity is apparent on a daily basis. The case of Bronx Community College student Kalief Browder, who was held at Riker's Island for three years with no charges, serves as a reminder that the prison system affects CUNY students directly."

---
THE TRAUMA CENTER CAMPAIGN, Chicago
By Michael McCown and Gabrielle Newell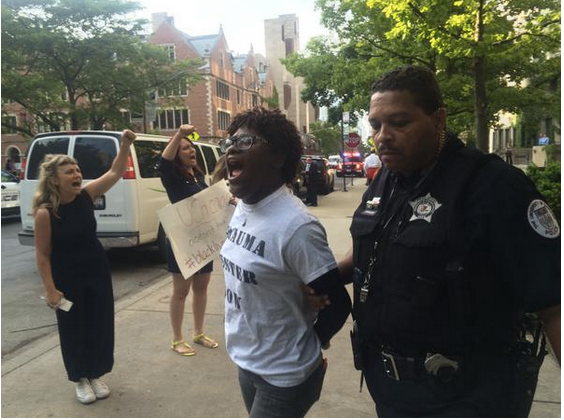 "In moments when the Left is in retreat, there is a tendency among activists to conceptualize politics as a "psychotherapeutic activity." If an action helps to tap into the rage of the participants, it was powerful, even if it does not advance concrete demands. But there can be a strategic and politically essential role for emotion as well. I have been reflecting on this since the news that a Trauma Center will be opened on the South Side."
---