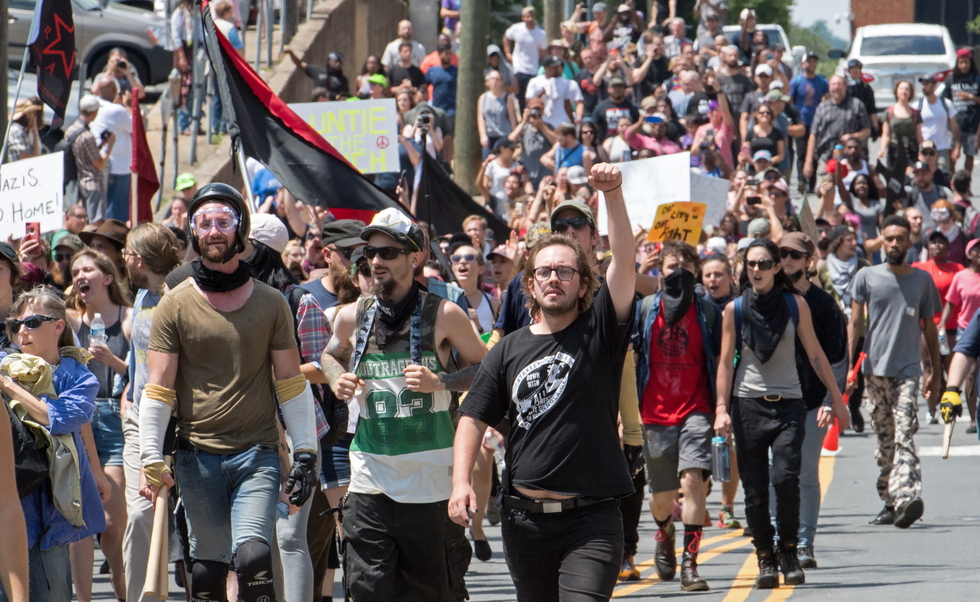 On Saturday, a young fascist came to Charlottesville, Virginia, to participate in the Unite the Right rally at the city's Emancipation Park. After the far-right gathering was broken up by police, he drove his car through a crowd of peaceful counter-protestors marching through the city. One of the marchers, Heather Heyer, was struck and killed by the car. About 19 others were reported injured, and a true count of the victims would also include those on the scene who immediately displayed symptoms of post-traumatic stress.
I was standing nearby the crash, having come to Charlottesville to participate in the demonstrations against the Unite the Right. For those of us in the march, Heyer's death was especially shocking because it came at what appeared to be a lull. No one from the far-right rally was in sight. Then, about 20 feet short of the intersection, I saw the crowd in front of me pushed back. At the same moment, I heard a loud bang and ran for cover. By the time I turned around, seconds later, the street was in chaos and medics were rushing in.
This was not, as it was reported by some media, a violent turn, or an example of violence "erupting" on the day, as if pushed to the surface by natural, subterranean forces. On the ground, it was clear that Unite the Right was organized to bring violence both literal and figurative unto the Charlottesville community. Alt-right leaders, armed with mace and pepper spray, were not speaking in metaphors when they advertised their event as "The Battle of Charlottesville," an image they reaffirmed with Photoshopped art that portrayed these leaders firing shots at people marked as "Antifa," or anti-fascist.
The vicious hierarchy of the participating alt-right and fascist groups was emphasized when one of the leaders, a man who goes by the name Baked Alaska, was pepper-sprayed and received priority medical attention because he was "a V.I.P." It's hard to imagine something similar happening among the counter-protesters. Thanks to a massive organizing effort, the residents of Charlottesville stood shoulder-to-shoulder with out-of-town allies, forming a broad and powerful coalition that worked together to defend the city against hundreds of people who openly identified as fascists, Nazis, and white nationalists. At a morning rally, a speaker announced that he was new to Charlottesville. Someone in the crowd yelled back, "Welcome!"
"People of different creeds and colors and lifestyles, they've come to mobilize," David Straughn, a member of Charlottesville's Black Lives Matter chapter, said early Saturday morning, while we waited for a clergy-led march to hit the streets. There was a feeling of trepidation in the air, but there was also a lot of love and, underneath it, a tiny bit of exhilaration, maybe even joy, as we came to realize which side had actually united. "We're strong. We're creating the blueprint for the nation."
Protesters would, Straughn said, confront "other white supremacist groups that come and that infuse their hatred in other people's neighborhoods, in Portland, in Tennessee, in New York, in Washington, D.C. We're creating the blueprint. You can do this. You can all get together and fight against white supremacy. If Charlottesville can do it, then everybody can do it."
This makes Charlottesville's example especially useful. It was not, as the alt-right would like to believe, merely Antifa who rejected these fascists — it was an entire community, acting as a community. At a morning clash that took place between Emancipation Park and High Street, interfaith clergy locked arms behind a group of communists who did the same. Fascists at the end of the block responded with "White Power" salutes, then tore through the sidewalk. They seemed to be in a quite a hurry — until some in the group paused to rain blows on a middle-aged man who had been knocked to the ground. In the aftermath, people outside First United Methodist Church offered water to those who had been assaulted. One priest in the parking lot told me that it made him hopeful to see so many counter-protesters in the street. Then he gave me a hug. (Later, this church became a trauma center for witnesses reeling from the car crash.)
Restaurants — some pressured by residents, others acting independently — refused service to fascists who entered their doors. Even my Sunday morning brunch spot took a stand. "We have a lot of people in line," the host told those waiting for tables. "So anyone who's a Nazi ought to get the fuck out."
Some of the organizing on the part of locals was similarly informal. One Charlottesville resident who didn't attend the counter-protester told me that her neighbors had contributed to the cause by parking their cars along the street — it was a way to quietly block the white supremacists who might want to park their vans there.
Those Charlottesville residents who didn't participate seemed to regret it: Over the course of Saturday I was twice approached by strangers who wished me well and asked how they could get involved in future anti-racist actions. One task in other cities will be to help people like this join protests before they happen and properly prepare them for situations that, as we have seen, can quickly become intense.
Charlottesville was filled with this kind of organization: Much of its infrastructure was built in advance of a Ku Klux Klan rally in early July. The Klan had assembled in Justice Park. On Saturday, Justice Park became a place of refuge where counter-protesters had a permit to assemble. Left-wing attendees busied themselves in an impressively coordinated display. Redneck Revolt, an anarchist group, guarded the perimeter with AR-15s while Quakers silently prayed under the trees inside. Later, in the early afternoon, the park became a meeting point for the Democratic Socialists of America and other groups.
As far as I could tell, the idea of "diversity of tactics" was recognized by all parties. The words were repeated frequently in the meetings that laid the groundwork for Saturday's defense. When the day came, the phrase was no longer necessary, for it quickly became clear that in a confrontation with Nazis — literal Nazis, calling for white power and wearing armor covered in Nazi insignia — you don't need a truism to remind yourself how to treat those you march shoulder-to-shoulder with, especially not when your comrades are putting their bodies in danger to protect the city.
Every node of organized activity played its part, and each part recognized the others' roles. People overseeing the First Methodist Church didn't provide sanctuary only to certain types of protesters. At least two faith leaders, Cornel West and Rev. Osagyefo Sekou, even credited Antifa with saving their lives. Meanwhile, those who favored Antifa tactics, at least those I spoke with, recognized that there was still plenty of work for those who were uncomfortable with direct confrontations, especially those like immigrants who were particularly vulnerable to repercussions.
I should note that I was not in Charlottesville as a journalist (I didn't intend to write this report until a friend suggested it the following morning). Because I was already relaying information between off-site activists and those on the ground, social media wasn't an important resource, and I wasn't watching my feeds on Facebook and Twitter. This made it more jarring when I finally logged on and found a few liberal commentators — some well-known, some just a part of my own networks — taking long-distance pot shots at some of the more radical protesters within the Charlottesville coalition, even while members of that coalition were still in immanent physical danger. Those who reject the "diversity of tactics" principle that helped hold this alliance together should seriously consider the possibility that they may not be "in between sides," but simply on the wrong one.
After Charlottesville, no one can any longer deny that this fight is just that — a fight. Alt-right, fascist, and white supremacist groups organized Unite the Right with the stated goal of crushing anti-racist opposition. They failed in front of the whole world. By Sunday afternoon, one of their leaders, Jason Kessler, was literally run out of town. (It even appears that he lacked bodyguards because this failure created a schism with the avowed Nazis of the Traditionalist Workers Party.)
Perhaps that makes the resistance in Charlottesville a traumatic sort of success — though sometimes it's easier to judge that kind of thing when you're not on the ground. From where I was and what I witnessed, any success was predicated on based on two things. First, the strength, unity and coordination of the coalition I've been describing.
Second, it was crucial that nearly every person I heard from — whether they represented Black Lives Matter, Antifa, the University of Virginia Black Students Alliance, a church or any of dozens of other organizations present on Saturday — explicitly connected Saturday's events to systemic and historical racism in Virginia and beyond. In Charlottesville, the challenge now is to use the current momentum and organizational capacity to push forward in the fight against white supremacy as a system. Elsewhere, the challenge is also to learn from Charlottesville, which has proven that a city can organize to defend itself when white nationalists descend.