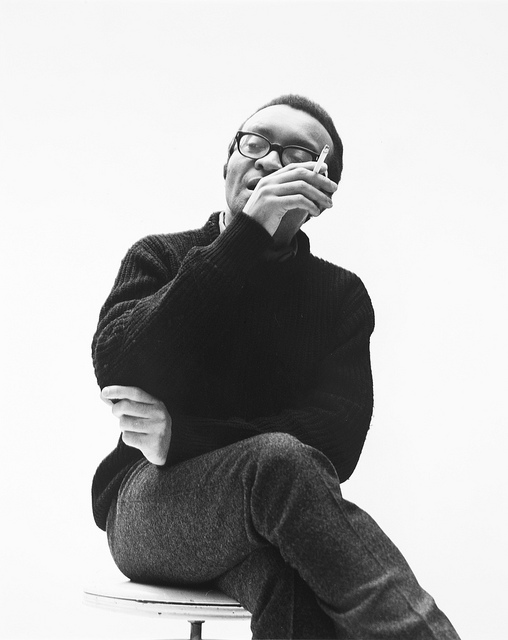 Pianist, composer, poet, philosopher Cecil Taylor turned sound outside in, gathering influences far and wide, reassembling them into the ever-changing grammars that defined his career and inspired others. He defied while producing his critics; he created and alienated an overlapping community of listeners. He was a radical thinker and doer – out and outside sexually, musically, racially, poetically, choreographically – and his multidisciplinary practice gave sustenance to what we call the "Black radical tradition" even while laying bare the limits of such phraseology.
Taylor passed from this earth in April 2018. Born in Queens in 1929, he began studying piano at age six and performed on the instrument until close to the end of his 89 years. His final public performances were at Ornette Coleman's 2015 funeral and "Open Plan: Cecil Taylor," a 2016 retrospective of his work and influence at the Whitney Museum of American Art in New York. A child of the Black bourgeoisie – in terms of income on the part of his father, a chef and house servant; in terms of cultivation and aspiration on the part of his multi-lingual, philosophically inclined mother – Taylor received advanced musical education at the New York College of Music in Manhattan, the New England Conservatory of Music, and the jazz clubs of Boston and New York. He began his recording career with the 1956 record Jazz Advance, and he made good on the album's title.
Taylor often spoke of what he did as part of a blues continuum, albeit one that was fundamentally and distinctly composite – in the unique ways he made himself part of that collectively composed/improvised legacy and through the array of strategies by which he pulled other people and expressive forms into orbit around him. He drew widely and deeply from his studies of Black composer/improvisers as well as from his engagement with European and Euro-American classical music composition and improvisational technique. As A.B. Spellman notably put it in his classic chronicle of Taylor in Four Lives in the Bebop Business (which was also published with the alternative title of Black Music: Four Lives), "There is only one musician who has, by general agreement even among those who have disliked his music, been able to incorporate all that he wants to take from classical and modern Western composition into his own distinctly individualized kind of blues without in the least compromising those blues, and that is Cecil Taylor, a kind of Bartók in reverse."1 Taylor often saw such incorporative moves as akin to the blues practice of Ellington. As quoted in the liner notes to his quartet's 1958 album Looking Ahead, Taylor said, "Everything I've lived, I am…I am not afraid of European influences. The point is to use them – as Ellington did – as part of my life as an American Negro."2 Eventually he decided the blues went deeper than that. Like his contemporaries in the Association for the Advancement of Creative Musicians and others, Taylor sought to delineate and theorize what AACM member George Lewis later termed Eurological and Afrological perspectives on improvised music.3 In 1971 Taylor described a "black methodology that creates this music," one rooted in an African-based "spiritual recognition, a recognition that all things in the universe have energy, that you are part of the universe and that everything around you gives you energy." "My purpose," he continued, "is to carry on the tradition of Fletcher Henderson and Duke Ellington and therefore to reaffirm and extend the line of black music that goes back thousands of years."4
The cobbling together of multiple roots enabled what he deemed his "constructivist" approach to making music, the basic ideas of which he had worked out by the mid 1950s: "The emphasis in each piece is on building a whole, totally integrated structure. In doing this, we try to carry on – in ensemble as well as solo sections – the mood of a jazz soloist. I mean that principle of kinetic improvisation that keeps a jazz solo building. What makes jazz unique is the compression of that energy into a short period of time, and that, in turn is a reflection of what the machine has done to our lives in metropolitan area of America."5 The materials for such construction involved more than music. Influenced by dancers, he would dance around the piano, make hands flutter along and above the keys. Not unlike "Daddy Ellington," who, in Taylor's words, "has a certain thing that he does with his foot, and that foot action is as much a part of what's happening with the keyboard as his hands. It's part of his technique."6 Voice was part of the structure as well. Bassist Buell Neidlinger described Taylor's efforts "to get the vocal sound out of the piano…You can almost hear the piano scream and cry."7 Taylor recited poetry, sang, hummed, and vocalized non-verbal before, during, and between musical performances, and occasionally he reversed the balance of word and music as on his album Chinampas on which his percussion playing accompanied poetic recitation. Poetry could even be brought back, analytically, to the music. He opened his poem "Garden" with figurative explanation of the constructivist project:
Can you did the recognition performance / preparation organism energies of fusion / the placing experiences metamorphosized / human exchange toward complete submission / to the spirits conscious digestive response / the resulting process many level'd hitting / in various constructs.8
Playing with Cecil Taylor was not necessarily easy. In some cases, doing so required a reconsideration of one's approach to one's instrument, tonality, musical time, or even the very idea of music. Some shied away or refused to play with him, but out of that difficulty developed longstanding, productive collaborations with the likes of Neidlinger, alto saxophonist Jimmy Lyons, and drummer Sonny Murray. And there were many shorter collaborations and not just with musicians. One of Taylor's concerts at the Whitney brought him together with drummer Tony Oxley and Japanese dancer and choreographer Min Tanaka, both of whom Taylor had performed with off-and-on since the late 1980s. Another Whitney event included poet Thulani Davis, who worked with Taylor in the 1970s as part of his Quintet and Sextet. Her well-known poem "C.T.'s variation," composed of two stanzas, each opening with "some springs the Mississippi rose up so high / it drowned the sound of singing and escape," extends the collaboration as it performs a Tayloresque elaboration on that evocative theme, with "sudden cracks split the sky / for only a second," reminding us of the referent's staccato approach, his disruption of time.9
Taylor could be kind but he was famously prickly too, his edge in no small part a product of us his precarious existence as a laborer in the jazz world. After an initial wave of attention occasioned by Jazz Advance and a high-profile residency at the Five Spot, Taylor, as was the case with all but a handful of Black experimentalists, struggled to make a living in the music world defined by its racialized expectations and exploitative (racially and otherwise) working conditions. Not only was his music deemed less important than that identified as white or European or otherwise universal, it suffered from the ways national and local economic forces (the declining popularity of jazz with the ascendance of rock and roll and soul, the disappearance of music clubs in Black neighborhoods, the incompatibility of set-long improvisations with the drink-purchase-dependent business model of nightclubs, and so on) and the personal tastes of club owners, managers, fellow musicians, and fans who deemed him too outside. Such dynamics conspired to keep Taylor only intermittently employed as a musician during the first decades of his career. Early on, he often supplemented his income with jobs such as dishwasher, cook, magazine salesman, and deliveryman.10
He engaged in various tactics to make things better. Taylor was, early on, an insightful critic of music world economic practice and discourse. He bristled at those who reductively celebrated his music because of its assumed allegiance to European influences, and he did not hesitate calling out supporters of Black experimental practice for their prejudices. At a 1959 forum, as Taylor himself recalled it, he chastised composer and critic Gunther Schuller for suggesting, in a Jazz Review piece, that Thelonious Monk would benefit from further practice in order to change his technique. "I told them that the Schuller wanted to change jazz to fit their own needs; that, essentially, they couldn't recognize the tradition that came from a black subculture as being valid in face of European culture."11 Later, he spoke out about the discriminatory practices of the cultural apparatus in the United States: "The offices of recognition have a yardstick that was set in Europe, which doesn't even acknowledge the idea of American art. […] Negro music is out of it. Negro dancers are out of it. Negro everything is out of it, and that's where the fight is."12
But Taylor could also find himself marginalized by emergent, Black critical discourse. He was, to be sure, a heroic figure in some Black Arts movement accounts, a purveyor in Larry Neal's words of "the modern equivalent of the ancient ritual energy" that could "shake us out of our lethargy and free our bodies and minds, opening us to unrealized possibilities."13 But there was often an ambivalence about his music because of its esotericism, its assumed lack of resonance with Black audiences. Amiri Baraka was a champion early on, noting how "Taylor can and does go to old forms and old nightmares and make his own music. A music which I am beginning to think is about as 'traditional' as any really fresh and exciting jazz music can be."14 Later, in his 1966 essay "The Changing Same (R&B and New Black Music), Baraka pronounced him "still Black," even if his work was the "most European sounding of the New Music," but also noted that "the Black artist is most often always hip to European art, often at his jeopardy."15 Poet-scholar-critic Fred Moten calls out the gendered, sexual subtext in Baraka's ambivalences about Taylor here and elsewhere, the question of whether Taylor and like-minded, European influenced artists were Blackman enough.16 This was later played out in the fallout over a 1982 Stanley Crouch Village Voice piece in which the pugilistic critic outed Taylor and linked his sexuality to his supposed lack of swing, thus positioning him as outside the emergent neoclassicist canon-building project of the Jazz at Lincoln Center crowd. Taylor responded angrily in verse on his album Chinampas,17 and later was quoted in a New York Times interview responding to questions about his sexuality: "Do you think a three-letter word defines the complexity of my humanity? I avoid the trap of easy definition."
Taylor' efforts went beyond commentary. He played important, albeit fraught, roles in musicians' efforts to organize collectively in the 1960s and in the struggle for recognition by established cultural organizations in the decades that followed. He was a member of the Jazz Composers Guild, a short-lived, multiracial musicians' cooperative formed following the October Revolution in Jazz concerts and panel discussions Bill Dixon produced at New York's Cellar Café in 1964. With members such as Archie Shepp, Sun Ra, Carla and Paul Bley, Burton Greene, and John Tchicai, the Guild developed a collectivist approach to securing gigs, creating better facilities for performance, rehearsal, and education, and attempting to extricate musicians from the nightclub and recording economies to put pressure on such businesses to treat them better. The group had its successes. The 1964 October Revolution concerts and the subsequent Four Days in December concerts at Judson Hall brought significant critical and industry attention, energizing musicians and fans alike. The Cellar Café panel discussions and coverage of Guild activities by sympathetic members of the jazz press helped to bring exploitative conditions in the music industry to light , and the organization ultimately provided a model for collective organizing upon which other musicians would build. Yet, the group dissolved after six months of existence as conflicts broke out along racial and gender lines and some members were unable or unwilling to balance commitments to the collective with those to their own careers.
Ultimately, Taylor knew the relationship between music and politics were vexed, both in terms of what could be accomplished through musical activism and in terms of how political discourse was brought to bear on the music. He told Frank Kofsky, in an unpublished 1966 interview, that the currently fashionable phrase "new Black music" had a kind of flattening effect when brought to bear on the very different musical projects of those – e.g., Marion Brown, Archie Shepp, Sun Ra – theoretically defined by it. And indeed, that same year Taylor would release two of his most singular creative statements, Unit Structures and Conquistador!. But he recognized as well as that making experimental art positioned some Black musicians as simultaneously part of and alienated from the social milieu they purportedly represented. When one is "essentially living really within the aesthetic curve of the art," the experimentalist must "separate himself and yet understand that he is also a part of what he's separating himself from. Where it's different…where it's special is that he supposedly is dealing with absolutes and trying to resolve those absolutes into workable theories. He knows since society doesn't ask anyone, doesn't encourage anyone to evolve themselves into mystical creations, he obviously lives outside by virtue of his choice from the masses."18 The avant-garde, in other words, was Black and alienated, yet it also persevered.
As the jazz business bottomed out in the mid-1960s, Taylor spoke of the potential for Black experimentalists to receive institutional support for their work in colleges, universities, as well as Europe. This vision was realized to some extent in the 1970s when European tours enabled Taylor and his groups to better sustain themselves. Along with other Black experimentalists, Taylor also benefited, in part because of his own behind-the-scenes activism, from the growing institutionalization of jazz, its support by academic institutions and public and private funding agencies. He held appointments at the University of Wisconsin and Antioch College during the early 1970s, the latter position supported by funding from the Rockefeller Foundation and the National Endowment for the Arts. He subsequently received grants from various public and private foundations - a Guggenheim in 1973, an NEA Jazz Masters award in 1990, a MacArthur Fellowship in 1991 and the Kyoto Prize in 2013 – to support his musical efforts. In a cruel refashioning of erstwhile exploitative arrangements, a contractor working on his Fort Greene home defrauded Taylor out of most of the $500,000 Kyoto Prize.19 But he carried on as always.
Ultimately, to reflect upon Taylor and his life requires that one come to terms with his assessment that writing about music is in some sense parasitical. "Critics are sustained by our vitality," he said in a 1963 Village Voice piece. "From afar, the uninformed egos ever arbitrarily attempt to give absolutes."20 Yet, we do well to consider that Taylor craved sustenance from others as well. This "extraordinary polymathic disciplinary artist," as Nathaniel Mackey referred to him, who drew "on a voracious appetite for intellectual, aesthetic stimulation and information that cuts across artistic genres," was and remains an avatar of co-creativity.21 There is, after all, a fine line between the parasitical and the symbiotic.
In a short, 1991 account of her writerly inspiration, Ntozake Shange makes clear this symbiosis: "Many stories of mine seep out of the chords of Cecil Taylor's solos." She recalls, upon meeting Taylor, in the company of Thulani Davis, no less, that "the cadence of his voice approximated the thundering chords, unexpected harmonies and rhythms I found in his music. The piano as battering ram, rebel shout, the fresh cicatrix of fast life in black space. When I need to feel whole, competent, daring, intricately evolving, I play Cecil Taylor." No surprise then that she ends with a postscript noting the piece "was written in rhythmic tandem to "Remembrance," as recorded by Taylor and drummer Louis Moholo.22 Fred Moten has also engaged multiple times with Taylor's music and poetry – his book The Feel Trio named after Taylor's ensemble (with Oxley and William Parker) – and he points to future engagements as he poses the question of how a writer best prepares "to play with Cecil Taylor." "The proper form," he suggests, is "perhaps the transcription of an improvisational blurrring of the word; perhaps an improvisation through the singular difference of the idiom and its occasion; perhaps an acalculation of that function whose upper limit is reading and whose lower limit is transcription—an improvisation through phrases, through some virtual head and coda. Taylor says to his interlocutor, 'I'm listening,' go on. Perhaps he will have said this to me or to the word: I'm listening, go on."23
So, let's "go on." Even if we're not equipped to play like Shange or Moten or Davis or Mackey or the rest, let's consider what we know of Taylor, about his life brilliantly conceived and practiced, so dedicated and focused. The very possibility of Cecil Taylor can open us up to our own possibilities. The energy of his song, his poetry, his movement, and his thought survive, inspire us, rhizomatically, unexpectedly, radically. We, who treasure the fact that someone like Cecil Taylor lived among us, can carry forth, even if imperfectly, the energy that he summoned through our own graphic, visual, intellectual, political, meditative, emotive, and sonic expressions. Sudden cracks in the everyday if not the sky.
References

↑

1

A.B. Spellman,

Four Lives in the Bebop Business

(New York: Limelight Editions, 1994), 5.

↑

2

ibid., 28.

↑

3

See George E. Lewis, "

Improvised Music After 1950: Afrological and Eurological Perspectives

,"

Black Music Research Journal

16, no. 1 (Spring 1996): 91-122.

↑

4

Robert Levin, "Cecil Taylor: '

This Music Is the Face of a Drum

,"

Jazz & Pop

(April 1971) [accessed May 30, 2018].

↑

5

Spellman,

Four Lives,

38.

↑

6

Ibid., 42.

↑

7

Ibid., 45.

↑

8

Cecil Taylor, "Garden," in

Moment's Notice: Jazz in Poetry and Prose,

ed. Art Lange and Nathaniel Mackey (Minneapolis: Coffee House Press, 1993), 116-137.

↑

9

Thulani Davis, "C.T.'s variation," in

Moment's Notice

, 328.

↑

10

Spellman,

Four Lives,

6-19.

↑

11

Ibid., 31-32.

↑

12

Ibid., 48.

↑

13

Iain Anderson,

This Is Our Music: Free Jazz, the Sixties, and American Culture

(Philadelphia: University of Pennsylvania Press, 2007), 115.

↑

14

LeRoi Jones (Amiri Baraka),

Black Music

(New York: William Morrow and Company, 1967), 111.

↑

15

Ibid., 197.

↑

16

Fred Moten,

In the Break: The Aesthetics of the Black Radical Tradition

(Minneapolis: University of Minnesota Press, 2003), 160-61.

↑

17

John Gennari,

Blowin' Hot and Cool

:

Jazz and its Critics

(Chicago: University of Chicago Press, 2006),

355.

↑

18

Frank Kofsky interview with Cecil Taylor, New York City, August 14, 1966. Frank Kofsky Audio & Photo Collection of the Jazz and Rock Movement (A Gift of Bonnie Kofsky), UC Santa Cruz, McHenry Library, Special Collections. For a nuanced reflection on Taylor's contribution to a jazz aesthetic that is at the same time a powerful critique of US history, culture, and social relations — rooted in the Taylor's own assertion that ""the exploration of history is a spiritual process" — see Andrew W. Bartlett, "Cecil Taylor, Identity Energy, and the Avant Garde African American Body," Perspectives of New Music 33, no. 1/2 (Winter - Summer, 1995): 274-293.

↑

19

Anderson,

This Is Our Music

, 153-54, 165, 178;

Ben Ratliff, "

Cecil Taylor, Pianist Who Defied Jazz Orthodoxy, Is Dead at 89

,

"

New York Times

, 6 April 2018 [accessed June 3, 2018].

While certain of Taylor's contemporaries who followed him into the university setting have theorized the contradictory space of academia as a site for the production of Black music and Black music pedagogy (especially Archie Shepp and Bill Dixon), Taylor's own views remained more difficult to parse.

↑

20

Spellman,

Four Lives,

30.

↑

21

David Rubien, "

Cecil Taylor Has All the Right Notes

,"

SF Gate

, May 8, 2005

[accessed June 13, 2018].

↑

22

Ntozake Shange, "

The Writing Life

,"

The Washington Post

, March 31, 1996

[accessed June 14, 2018].

↑

23

Moten,

In the Break

,

45.