Issue 1: Occupy Everything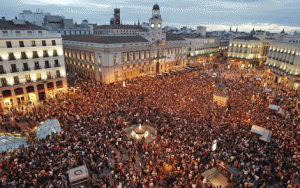 ---
It could very well be that the dura­bil­ity and rad­i­cal­iza­tion of this move­ment will rely on its poten­tial as a medi­at­ing ele­ment between the the var­i­ous seg­ments of the class, their par­tic­u­lar inter­ests, and their tra­di­tional forms of strug­gle. Achiev­ing this means going beyond a spon­ta­neous reflec­tion of changes in our work­ing lives. It has to start by under­stand­ing the sys­tem under­ly­ing them.
---
On the morn­ing of Octo­ber 14, one week into Occupy Philadelphia's encamp­ment beside City Hall, some­one emp­tied the con­tents of a paint can on the building's south­west­ern entrance. This inci­dent sug­gests the ambi­gu­ity and con­tra­dic­tion in the polit­i­cal imag­i­na­tion of Occupy Philadel­phia. What con­sti­tutes mean­ing­ful action – a spec­tac­u­lar act of van­dal­ism, the peace­ful occu­pa­tion of pub­lic prop­erty, or direct action on the hori­zon more con­fronta­tional and rad­i­cal? There has been no short­age of activ­ity – daily marches strike out to the usual tar­gets – but as of yet no dra­matic con­fronta­tions like those of Occupy Wall Street have occurred.
---
For many in the Arab world, the con­nec­tion was not lost for a min­ute. They saw in the occu­pa­tion of the Wis­con­sin State Capi­tol the same spirit that was present in Mohamed Bouazizi's self-immo­la­tion: the refusal to accept the finan­cial order's demand to oblit­er­ate decades of pro­gres­sive strug­gle and nego­ti­a­tion. As many set out today to occupy every­thing, let us take a moment to remem­ber the real ori­gins of this move­ment and allow it to guide our ongo­ing pol­i­tics.
---
This is an unfin­ished work – a snap­shot of his­tory as it occurred, expe­ri­enced by me, reported on social media, or retold by trusted com­rades. It will lack the final­ity of hind­sight. Con­tained within is my account of the Oak­land Insur­rec­tion, as it has unfolded over the past days and weeks. Both the insur­rec­tion and this essay are works of hope. I hope that we push for­ward on the streets of Oak­land, the Bay Area, and every­where else, to the limit of what is pos­si­ble – beyond occu­pa­tion and the pro­posed gen­eral strike to "total free­dom" for us all.
---
Dis­man­tling a pub­lic edu­ca­tion sys­tem in a coun­try with strong back­ground of polit­i­cal strug­gles requires a mit­i­gated form of neolib­eral strat­egy. Between 2009 and 2010, I observed this oper­a­tion as a new pro­fes­sor at the Uni­ver­sity of Puerto Rico. In the spring of 2010, stu­dents opted for an indef­i­nite strike. The one-month-long occu­pa­tion of the Mayagüez cam­pus left a per­ma­nent mem­ory in those who par­tic­i­pated in it.
---
Though some recent media accounts depict rent par­ties as a novel prac­tice of the alter­na­tive white twenty-some­things who gen­trify black com­mu­ni­ties, they began as a dynamic and autonomous response to exploita­tion, and war­rant care­ful study as a tra­di­tional prac­tice of occu­pa­tion. Although the con­cept was not widely addressed in main­stream U.S. media prior to the seiz­ing of Zuc­cotti Park and var­i­ous other pub­lic and pri­vate spaces in Amer­i­can cities, the act of occu­py­ing has a rich and com­plex his­tory.
---
Only through fol­low­ing a long-term orga­niz­ing approach can Occupy Wall Street begin to har­ness the anger and energy it has made vis­i­ble and trans­late it in into a dynamic, class-con­scious move­ment. And only the labor move­ment has the expe­ri­ence and orga­ni­za­tional capac­ity to take on the chal­lenge.
---
Span­ning an entire gen­er­a­tion, a lin­guis­tic divide, and a geo­graph­i­cal shift, the epis­to­lary encoun­ter between Anton Pan­nekoek and Cor­nelius Cas­to­ri­adis in many ways marks the inter­nal trans­for­ma­tion of the ultra-left. But the ultra-left, far from a his­tor­i­cal relic, is mak­ing head­li­nes again.
While you restrict the activ­ity of [work­ers' coun­cils] to the orga­ni­za­tion of labor in fac­to­ries after the tak­ing of social power by the work­ers, we con­sider them as also being the organ­isms by means of which the work­ers will con­quer this power. In the con­quest of power we have no inter­est in a "rev­o­lu­tion­ary party" that will take the lead­er­ship of the pro­le­tar­ian rev­o­lu­tion.
Where in con­trast there is, in fact, a real dif­fer­ence of opin­ion between us, is on the ques­tion of know­ing if, dur­ing this rev­o­lu­tion­ary period, these coun­cils will be the sole organ­ism which plays an effec­tive role in con­duct­ing the rev­o­lu­tion, and, to a lesser extent, what the role and task is of the rev­o­lu­tion­ary mil­i­tants in the mean­time. That is, the "ques­tion of the party."
Nat­u­rally, I do not claim that the rev­o­lu­tion­ary actions of the work­ing class will all unfold in an atmos­phere of peace­ful dis­cus­sion. What I claim is that the result of the strug­gle, often vio­lent, is not deter­mined by acci­den­tal cir­cum­stances, but by what is alive in the thoughts of the work­ers, as the basis of a solid con­scious­ness acquired by expe­ri­ence, study, or their dis­cus­sions. If the per­son­nel of a fac­tory must decide whether or not to go on strike, the deci­sion is not taken by smash­ing fists on the table, but nor­mally by dis­cus­sions.