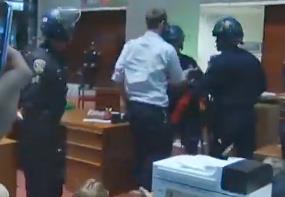 Get­ting arrested, at least in my case, was slow and phys­i­cally drain­ing. Before con­tin­u­ing, I should note that I draw no anal­ogy between my expe­ri­ence of polit­i­cal arrest and the con­stant harass­ment and deten­tion that accom­pany life on the mar­gins. I am not one of the men­tally ill who are removed from pub­lic sight to make com­merce safe; one of the drug addicts who some­times pound their heads against the paddy wagon walls until blood flows; one of undoc­u­mented immi­grants who now pop­u­late bank-owned, for-profit pris­ons; or one of those who attract the police because of the color of their skin. I was also not beaten by the police or held with­out charges. Arrest for polit­i­cal offense, in my case, meant sit­ting for a long time in Bank of Amer­ica on Novem­ber 16, hav­ing ABC Live lit­er­ally watch my back, and wait­ing in a cold seat in an impro­vised pen for two hours. That day-after sore­ness from hav­ing my hands cuffed behind my back was my biggest phys­i­cal or emo­tional com­plaint tes­ti­fies to this dif­fer­ence.
Why a bank, and why Novem­ber 16? It's no secret that over the last four years, the Democ­rats and Repub­li­cans in Con­gress and the White House have poured hun­dreds of bil­lions of US tax­payer money to bail­ing out the finan­cial firms that preyed on the poor, minori­ties and stu­dents. At the same time, the US unem­ploy­ment rate is over 9%, though if we still used the def­i­n­i­tion of unem­ploy­ment from pre-Clin­ton times, that num­ber would be around 22%. With so many par­ents out of work, 33% of US chil­dren now live in poverty. Around 10 mil­lion homes have been fore­closed on since 2006 and, unsur­pris­ingly, home­less­ness con­tin­ues to rise. The vast divide between the wealthy and every­one else is obvi­ously grow­ing. Even many in the finan­cial sec­tor real­ize this: the invest­ment analy­sis web­site SeekingAlpha.com notes that wealth polar­iza­tion is at its high­est rate since imme­di­ately before the Great Depres­sion.
The fact that bankers have played a cen­tral role in cre­at­ing this cri­sis and have prof­ited immensely from it is not news. The man­agers and boards that run our econ­omy, and there­fore have enor­mous impact on all of our lives, have been able to build and craft the organs that are sup­posed to reg­u­late them. The bankers that ruined the econ­omy are the ones that Pres­i­dent Obama tasked with fix­ing it. No doubt we shall all soon be saved. The bankers who mort­gaged their own busi­nesses have vora­ciously fore­closed on thou­sands of home­own­ers' mort­gages. The bankers who crafted stu­dent loan leg­is­la­tion are the same bankers who helped orig­i­nate nearly a tril­lion dol­lars of stu­dent and fam­ily edu­ca­tion debt.
Many of these finan­cial wiz­ards, called "regents" or "trustees," are allowed to deter­mine the costs, pri­or­i­ties and future direc­tion of pub­lic and pri­vate edu­ca­tion. The major­ity of the UC Regents and Cal State Trustees are busi­ness 'lead­ers' appointed by the Cal­i­for­nia gov­er­nor to reward loyal ser­vice or finan­cial con­tri­bu­tions. Over the last decade, they have actively dis­cour­aged state and fed­eral sup­port for pub­lic higher edu­ca­tion – that money requires a mod­icum of account­abil­ity, after all – while vig­or­ously pur­su­ing a model where stu­dents and their fam­i­lies pri­vately pay for what was once a pub­lic good. (You can learn more about this process in my piece on stu­dent debt in Recla­ma­tions.)
For months, stu­dent activists have had Novem­ber 16 cir­cled on our cal­en­dars. On this day, the UC Regents were sup­posed to meet to rat­ify a stag­ger­ing 81% tuition hike. How­ever, the keen intel­lects and der­ring-do that no doubt helped them achieve their own suc­cess alerted them to the obvi­ous fact that the num­ber 81 was likely to cause more than just a few wrin­kled brows. In their benef­i­cence, they had decided that 16% increases over each of the next four years would suf­fice. But stu­dents were not grate­ful for this benev­o­lence. Rather than face the stu­dent rogue ele­ment that was plan­ning to dis­rupt their meet­ing, the UC Regents made the pru­dent deci­sion to can­cel. Vic­tory for the stu­dents!
Since activists from through­out North­ern Cal­i­for­nia were already pre­pared to board buses to meet the regents – we'd already had plans to join with Occupy San Fran­cisco – many felt it would be rude to back out, so we decided to take a tour of the finan­cial dis­trict. After a rally at Justin Her­man Plaza, we began march­ing and chant­ing through the streets of SF, accom­pa­nied by a bel­liger­ent SFPD motor­cy­cle brigade. I passed out fly­ers with infor­ma­tion about some of the 1% who rule not just the city but also the coun­try. Like the sports cards I used to col­lect in my youth, these quar­ter sheets had a pic­ture of a Regent and some facts about them – com­rade Katie Woolsey and I encour­aged onlook­ers to "col­lect the whole set!" Most peo­ple were nice, though some of the 1% told Katie to "fuck off," to "get a job, dyke," and other such pleas­antries. The fact that I, a 6'2" white male, was met with averted eyes rather than aggres­sion, tes­ti­fies to the cow­ardice of the 1%.
As the march pro­gressed, with around 400 peo­ple, we vis­ited the offices of Regents Richard Blum and George Mar­cus. We let them know that we did not appre­ci­ate their invest­ments in for-profit schools, their despi­ca­ble use of stu­dent tuition and CalPERS pen­sions to enrich them­selves, and the anti-demo­c­ra­tic nature of their busi­ness prac­tices. The fes­tive and bal­loon­ing march – I'd esti­mate over a thou­sand by then – next arrived at 50 Cal­i­for­nia Street, the site of Bank of Amer­ica and Mon­ica Lozano's office. Lozano has been a regent since 2001, and a direc­tor at Bank of Amer­ica Cor­po­ra­tion since 2006. A large num­ber of mostly stu­dent activists had already entered the lobby of the build­ing by the time Katie and I arrived; we decided to join the pro­test­ers inside.
Within moments word began to trickle in that the cops were mass­ing. Announce­ments were made:
We're here to deliver a peti­tion to Mon­ica Lozano ask­ing her to help refund higher edu­ca­tion.

If you do not want to be arrested, it would be a good idea to leave the build­ing now.

Those stay­ing are mak­ing a state­ment that we will leave only when either Lozano signs the pledge or the police remove us.
No word from Lozano. We take seats on the floor and on var­i­ous desks. At around 2:45PM a num­ber of cops in riot gear troop in. Josh Brahin­sky, a com­rade from UCSC, calmly reminds the group, many of us also from UCSC, of the pro­ce­dure for deal­ing with cops. He tells us to stay calm and stead­fast until Lozano signed or the police took us out. Fif­teen min­utes pass. Another 20 min­utes. As cops saun­ter around, we joke and won­der what's tak­ing so long. The adren­a­line that the occu­pa­tion and the cops had shot through me is wan­ing.
"Mic check!" "MIC CHECK!" We have a teach-in: 670,000 com­mu­nity col­lege stu­dents turned away; a 10% tax on the wealth­i­est 1% would solve the bud­get prob­lems; the money we use for mur­der­ous drones in Pakistan/Afghanistan could keep edu­ca­tion free for years. We chant; some play drums. We sing the clas­sics: Sol­i­dar­ity Forever; This Land is Your Land (includ­ing the Woody Guthrie "No Tres­pass­ing" verse); and some also sing The Star Span­gled Ban­ner. (Did you know that three of four sen­tences in the last stanza are actu­ally ques­tions?) Oh, and, the tent.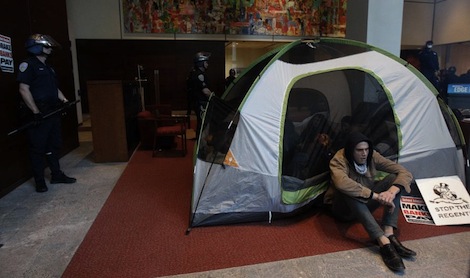 An hour passes. "Mic check!" "MIC CHECK!" We decide to call Ms. Lozano, and we're put on hold for a long time. Ms. Lozano's sec­re­tary tells us that we can leave a mes­sage:
Mic check!

MIC CHECK!

Join us in refund­ing Cal­i­for­nia!

JOIN US IN-
She hangs up. More time passes. ABC Live films us. Livestream films us. A mic check announces that more than 2,000 peo­ple around the world are watch­ing us on livestream.com/globalrevolution. Cheers. Chant­ing. Drums. (There are always drums.)
We invite the cops to take off their gear and join us: "You're sexy, you're cute, take off that riot suit". Smiles… scowls… indif­fer­ence.
Action! The first arrests finally begin. Con­crete is not the most com­fort­able sur­face, so some of us near the back joke that we should have sat closer to the front. Offi­cers try to close a heavy cur­tain to wall off the out­side spec­ta­tors: we pre­vent this with chairs. It takes a long time to arrest 95 peo­ple. Chants: "This is what democ­racy looks like!" UCSC com­rade Ian Stein­man as he is taken away: "This is what the dic­ta­tor­ship of the 1% looks like." More are taken away, with cheers: "we love you" – "all power to the slugs" – "Long live the Oak­land Com­mune."
I receive texts from com­rades from all over: offers of sup­port, encour­age­ment, joy and news (Bran­don Darby is in the Bay Area). Gabi Kirk goes limp and has to be dragged away. A young black stu­dent is roughly arrested. "I'm not resist­ing!" Cops push him down on a desk. A cho­rus: "Whoa, hey, why does it take six cops to arrest a black man?" Gloved hands caress their batons, and he is led away.
We chant:
The bailout

was bull­shit

you broke it

you bought it!
Adren­a­line returns. They're head­ing for me – have to fin­ish my twe… – and I'm gone. "Power to the peo­ple!" That's greeted by a cop in full riot gear: "power to police." "We've seen a lot of that lately," I reply, and the grip on my arm tight­ens.
Cops use Polaroids to iden­tify us and to match our prop­erty with our report. "They should spend less on tasers and tear gas and more on mod­ern cam­eras." Smiles and scowls. "We don't use tasers, ass­hole." I'm escorted out of the build­ing and am met by cheers from com­rades I've never met.
The two police­men who put me and seven oth­ers in the paddy wagon are per­son­able and seem like decent peo­ple. We joke about detours to In-and-Out, going to Alca­traz, and a num­ber of other things. One of them has a son who is a high-school teacher; he half expected to see him in the bank. We wend through the city and finally end up at the SF Sheriff's com­pound. Like every­where else in the city, it takes a lit­tle while to find a place to park. I'm the last one out. The offi­cer and I talk about why we protest. He under­stands, he just doesn't like the black bloc. One of his friends was hit in the head with a ham­mer, he explains, and they make it hard for any­one he knows to have sym­pa­thy for the move­ment. Some cops, he says, love to see the black bloc, because that means they get to fight – some cops rel­ish that. I have thirty sec­onds to give a sweep­ing his­tory of the black bloc to con­tex­tu­al­ize his under­stand­ing – I sus­pect it made lit­tle dif­fer­ence, but who knows.
I'm told to sit cross-legged on the ground. Wear­ing just pants and a but­ton-up shirt, the 50 degree tem­per­a­tures are vex­ing, though cer­tainly not intol­er­a­ble. We're told not to talk loudly, so chant­ing and cheer­ing are out. I am able to loosen up one of more surly cops by shar­ing that I am huge fan of the Sea­hawks. He smiles and pro­ceeds to talk about how he used to play foot­ball and had just vis­ited Bain­bridge Island – he loved it, of course. Before we can con­tinue he is replaced by a new surly cop. Slowly we're all processed, filed out of the deten­tion area, and met by a jubi­lant but exhausted crowd. A big thanks to the poor NLG lawyer who has to get all of our infor­ma­tion. More than 50 of us get back to UCSC at around 11PM.
A glow of ela­tion sur­rounds us all: we shut down a mas­sive branch of Bank of Amer­ica for half the day! As Home­land Secu­rity, the FBI, may­ors and police from all over the coun­try coor­di­nated to the bid­ding of Wall Street, we shut down Bank of Amer­ica; and as Occupy Wall Street camps were ter­ror­ized by thugs in blue, we pro­claimed with hun­dreds of thou­sands of oth­ers that there are finally con­se­quences. None of us are fool­ish enough to believe that we affected the bot­tom line of Bank of Amer­ica on Wednes­day. That will come in time. But the mes­sage we sent is unmis­tak­able: there are con­se­quences for oli­garchs.
STRIKE! The con­se­quence of roust­ing Oak­land was a gen­eral strike that shut down the fifth largest port in the US.
TAKE OVER! Through­out the coun­try, peo­ple in the move­ment have begun to take over the cast-off build­ings and struc­tures that cap­i­tal can no longer use – we claim the scraps that fall from capital's table to build a new world from the husk of the old.
OCCUPY EVERYTHING! We occupy for shel­ter. We occupy to serve. We occupy to make pub­lic what cap­i­tal has made pri­vate. We occupy to retal­i­ate.
---
Mark Paschal is a grad­u­ate stu­dent at UC-Santa Cruz, a mem­ber of UAW 2865, and an orga­nizer within the UCSC Gen­eral Assem­bly.