The effigy of a black man, a son of South­ern soil and descen­dant of slaves, now stands over the nation's Mall among its found­ing fathers, noto­ri­ous slave owner in front and the so-called Great Eman­ci­pa­tor to his back. Look­ing out over the placid Tidal Basin with a steely-eyed reserve and chis­eled deter­mi­na­tion, the Mar­tin Luther King, Jr. National Memo­rial, the first mon­u­ment on the Mall ded­i­cated to a man of color, has whipped up yet another tem­pest of protest. Besides the same types who did not and still do not com­mem­o­rate the life of this influ­en­tial Civil Rights leader on the third Mon­day of every Jan­u­ary, other dis­senters have noted that the veined, con­fronta­tional depic­tion of the Brother Preacher by the Chi­nese sculp­tor Lei Yixin does not evoke the round docil­ity asso­ci­ated with the open-armed love of non­vi­o­lence. For them, the image goes against what they see as King's true legacy, while oth­ers see the statute as an appro­pri­ate stance of well-grounded, stony defi­ance and pride.
Per­haps the best way to under­stand Mar­tin is through his foil, the other Brother Min­is­ter, Mal­colm X. As the chron­i­cler of the black expe­ri­ence Man­ning Marable wrote in last year's author­i­ta­tive biog­ra­phy of Mal­colm, "the leader most closely linked to Mal­colm in life and death was, of course, King." How­ever, these two men were linked more by their per­ceived dif­fer­ences than they were known for their sim­i­lar­i­ties. Mal­colm was "widely admired as a man of uncom­pro­mis­ing action, the polar oppo­site of the non­vi­o­lent, mid­dle-class-ori­ented Negro lead­er­ship that had dom­i­nated the civil rights move­ment before him." But if Mal­colm was known for his action, Mar­tin has been remem­bered for his results.
Despite their per­ceived diver­gence, Mal­colm and Martin's con­ver­gence is the essen­tial con­di­tion for under­stand­ing the Black Free­dom Move­ment and socio-polit­i­cal strug­gle in gen­eral, just as it was in the tur­bu­lent times when these two lead­ers were slain.
Though their con­stituen­cies were dif­fer­ent – Martin's South­ern, largely rural base stand­ing in con­trast to Malcolm's North­ern and West­ern urban indus­trial com­mu­nity – their desire to develop black dig­nity insured an ongo­ing dia­logue, even if Mar­tin used a lan­guage of Chris­tian inte­gra­tion-based cit­i­zen rights and Mal­colm cham­pi­oned an Islam-inflected black cul­tural nation­al­ism. In 1954, at the time that Mar­tin was fin­ish­ing his PhD at Boston Uni­ver­sity, Mal­colm was preach­ing for the Nation of Islam, and accord­ing to Marable they walked the streets of the same neigh­bor­hood. Yet they would not meet in per­son until March 26, 1964, walk­ing the Sen­ate Gallery after a con­fer­ence King had with Sen­a­tor Hubert Humphrey and Jacob Jav­its. That these two fig­ures, who embod­ied two dif­fer­ent cur­rents of the Black Free­dom move­ment, met only once is remark­able. In the ten years between these dates much had changed with both men. But their streams of black con­scious­ness and polit­i­cal action con­tin­ued to both diverge and con­verge.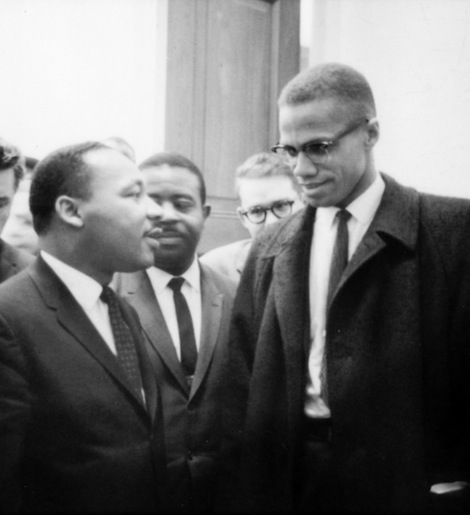 Though Mal­colm often decried the Uncle Tom Negro lead­er­ship of which Mar­tin was con­ceiv­ably a mem­ber, he would rarely call Mar­tin out directly, spar­ing the young ener­getic leader his typ­i­cally pointed barbs. He spoke highly of the Mont­gomery bus boy­cotts and the courage of peo­ple like Rosa Parks. King, on the other hand, often used Mal­colm to make his ide­o­log­i­cal plat­form and polit­i­cal prac­tice more palat­able for whites. In response to a June 1962 com­ment Mal­colm made about God answer­ing his prayers to kill 121 whites in a Paris-Atlanta flight, King assured the white press "that the hatred expressed toward whites by Mal­colm X [was not] shared by the vast major­ity of Negroes in the United States. While there is a great deal of legit­i­mate dis­con­tent and right­eous indig­na­tion in the Negro com­mu­nity, it has never devel­oped into large-scale hatred of whites."
In spite of Martin's attempts at dis­tanc­ing, it is no sim­ple task to place these men as oppos­ing forces. Both were what we might call insti­tu­tional men. Granted, the natures of the insti­tu­tions were very dif­fer­ent. King came up in the black church, Atlanta's black bour­geoisie, defined by the Black intel­lec­tual net­work of the Atlanta Uni­ver­sity Cen­ter and orga­ni­za­tions such as the NAACP, ulti­mately arriv­ing at the elite insti­tu­tions of Crozer The­o­log­i­cal Sem­i­nary and Boston Uni­ver­sity. Mal­colm, on the other hand, came up against the back­drop of Mar­cus Garvey's Uni­ver­sal Negro Improve­ment Asso­ci­a­tion, fos­ter homes, the assem­bly line, and prison. Martin's class posi­tion and Chris­tian ide­ol­ogy posi­tioned him in a con­cil­ia­tory stance, whereas Mal­colm, who shifted con­stantly between the work­ing class and the lumpen­pro­le­tariat, was pre­pared to sep­a­rate from the entire sys­tem. Any dis­cus­sion of these two men must start from this basic under­stand­ing. Mar­tin had the mate­rial means and the social sup­port to develop an entire intel­lec­tual pro­gram that he could start to exe­cute at the age of 26, dur­ing the Mont­gomery Bus Boy­cotts. To be sure, King's lead­er­ship and the­ory con­tin­ued to develop through his career, but he remained a tra­di­tional intel­lec­tual, built into the struc­ture of the clergy. Mal­colm was an organic intel­lec­tual. He had to forge an inde­pen­dent phi­los­o­phy from a patch­work of street smarts, prison libraries, and undy­ing curios­ity. His the­ory was forged by the fires of prac­tice.
Even with their dif­fer­ing points of depar­ture, observers have often noted that the two lead­ers seemed to con­verge near the ends of their short lives. The post-Nation of Islam Mal­colm made a path from sep­a­ratism towards inter­na­tion­al­ism. Marable argues that the 1964 meet­ing "marked a tran­si­tion for Mal­colm, crys­tal­liz­ing as it did a move­ment away from the rev­o­lu­tion­ary rhetoric that defined 'Mes­sage to the Grass­roots' toward some­thing akin to what King had worked his entire adult life to achieve." Shortly after the meet­ing, Malcolm's "Bal­lot or the Bul­let" speech stressed vot­ing rights and black polit­i­cal sol­i­dar­ity, implic­itly dimin­ish­ing the poten­tial role of vio­lence.
Martin's mil­i­tant oppo­si­tion to the triple evils of racism, mil­i­tarism, and exploita­tion, as man­i­fested in the Viet­nam War, recalled Malcolm's anti-colo­nial sol­i­dar­ity with Asia and Africa, a rejec­tion of the West­ern par­a­digm:
I'm con­vinced that if we are to get on the right side of the world rev­o­lu­tion, we as a nation must undergo a rad­i­cal rev­o­lu­tion of val­ues. We must rapidly begin the shift from a thing-ori­ented soci­ety to a per­son-ori­ented soci­ety. When machi­nes and com­put­ers, profit motives and prop­erty rights are con­sid­ered more impor­tant than peo­ple, the giant triplets of racism, mil­i­tarism and eco­nomic exploita­tion are inca­pable of being con­quered.
What's more, Mar­tin, just as Mal­colm, expe­ri­enced exten­sive gov­ern­ment sur­veil­lance. Doc­u­mented in his FBI file, this sur­veil­lance reminds us that no mat­ter how much the man is cel­e­brated today, he was treated as a dan­ger­ous threat to national secu­rity dur­ing his life.
The obvi­ous dis­tinc­tion between Mar­tin and Mal­colm almost does not need to be made. How­ever, the nonviolence/violence dichotomy does not accu­rately depict the actual schools of thought in the strug­gle to achieve black sub­jec­tiv­ity, nor does it allow for the type of evo­lu­tion that we have already seen among the two thinker-activists. First, non­vi­o­lence does not imply that demon­stra­tors are non-con­fronta­tional, or even the absence of vio­lence. On the con­trary, non­vi­o­lence is an aggres­sive pas­siv­ity intended to incite a dis­pro­por­tion­ately vio­lent response, expos­ing the morally bank­rupt struc­ture. This tac­tic – and many, includ­ing Mar­tin, referred to it as a tac­tic – required an aggres­sive, coura­geous resis­tance. This method did not exclude the pos­si­bil­ity of vio­lence. As King him­self wrote in 1958, "non­vi­o­lent resis­tance is not a method for cow­ards; it does resist…This is why Gandhi often said that if cow­ardice is the only alter­na­tive to vio­lence, it is bet­ter to fight."
More­over, King's early inter­ven­tions did not exclude the pro­tec­tion of armed self-defense. In his recent Col­ored Cos­mopoli­tian­ism, Nico Slate nar­rates a visit by a vet­eran civil rights activist: "when Bayard Rustin vis­ited King's home dur­ing the early days of the Mont­gomery boy­cott, he found armed guards on the porch and weapons scat­tered through­out the house." It was not until much later in his career that non­vi­o­lence become an all-embrac­ing phi­los­o­phy for King. Even then, he admit­ted that for most black peo­ple, non­vi­o­lence would remain a tac­tic, at most.
Mean­while, through­out the south, armed self-defense became a promis­ing approach to com­bat ruth­less and mur­der­ous racists, the kind that left Medger Evers assas­si­nated and four lit­tle girls dead. Few fig­ures were as influ­en­tial as Robert F. Williams in advo­cat­ing armed self-defense to achieve safety and dig­nity for Blacks in Amer­ica. Hav­ing labored in North­ern indus­try and served in the Army dur­ing World War II, Williams returned to his North Car­olina home – trained, dis­ci­plined, and rad­i­cal­ized. He rose to a lead­er­ship role with the Union County chap­ter of the NAACP, a posi­tion from which started to insist on the need "to meet vio­lence with vio­lence." In 1957, Williams started the Black Armed Guard, with a char­ter from the National Rifle Asso­ci­a­tion. The group prob­a­bly saved many lives when on Octo­ber 5, James "Cat­fish" Cole led a Klan rally that ended with a raid on the black part of town. The war vet­er­ans fought off the motor­cade from for­ti­fied posi­tions in trenches and fox­holes with small arms. The next day, Klan motor­cades, which had some­times been escorted by police, were banned by the City of Mon­roe. The 1961 Free­dom Rid­ers foray into Mon­roe was intended to show the advan­tage of non­vi­o­lence. But when thou­sands of riot­ing Klans­men showed no respect for phi­los­o­phy, Williams and his Black Armed Guard were called on to pro­tect the demon­stra­tors. Here non­vi­o­lence and armed self-defense worked together in a dynamic dialec­tic. At his funeral, Rosa Parks said that she and oth­ers who marched with Mar­tin in Mont­gomery admired Williams' con­tri­bu­tion to the strug­gle. As Slate puts it, "the abil­ity of non­vi­o­lent activists to mobi­lize Black com­mu­ni­ties depended largely on the capac­ity of local Blacks to phys­i­cally defend activists…Nonviolent tac­tics and armed self-defense worked together to chan­nel white vio­lence into less deadly and more polit­i­cally use­ful sit­u­a­tions." Williams' book Negroes with Guns would come to be influ­en­tial for younger black polit­i­cal actors, such as Black Pan­ther leader Huey P. New­ton.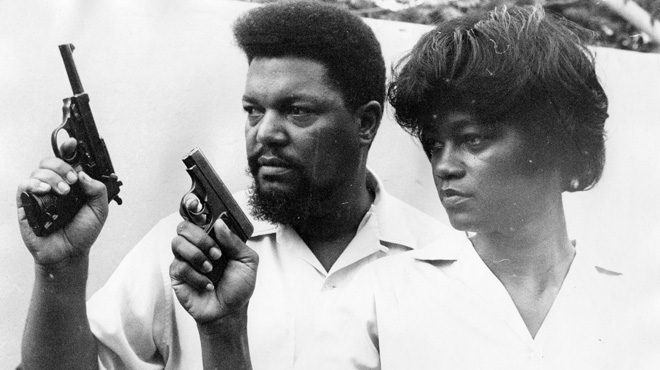 A few months after their only meet­ing, Mal­colm sent a telegram to Mar­tin, extend­ing an offer to help pro­tect the non­vi­o­lent pro­test­ers in Saint Augustine, Florida who had been attacked. "We have been wit­ness­ing with great con­cern the vicious attacks of the white races against our poor defense­less peo­ple there in St. Augustine," Mal­colm wrote. "If the Fed­eral Gov­ern­ment will not send troops to your aid, just say the word and we will imme­di­ately dis­patch some of our broth­ers there to orga­nize self defense units among our peo­ple and the Ku Klux Klan will then receive a taste of its own med­i­cine. The day of turn­ing the other cheek to those brute beasts is over."
Defen­sive vio­lence, how­ever, was not the only type of vio­lence that mil­i­tants in the Black Free­dom Move­ment con­sid­ered. Con­tem­po­rary devel­op­ments in China, Cuba, and Alge­ria seemed to make a con­vinc­ing argu­ment for an offen­sive armed rev­o­lu­tion­ary strug­gle. Even after his dis­il­lu­sion­ment with the Com­mu­nist Party, Harold Cruse was forced to con­tem­plate "the rel­e­vance of force and vio­lence to suc­cess­ful rev­o­lu­tions" after vis­it­ing Cuba in June of 1960. "The ide­ol­ogy of a new rev­o­lu­tion­ary wave in the world at large," he recalled, "had lifted us out of anonymity of lonely strug­gle in the United States to the glo­ri­fied rank of vis­it­ing dig­ni­taries." Cruse asked, "what did it all mean and how did it relate to the Negro in Amer­ica?" Marable's biog­ra­phy of Mal­colm shows that near the end of his life, with his con­nec­tion to peo­ple like Max Stan­ford and the Rev­o­lu­tion­ary Action Move­ment, he antic­i­pated the devel­op­ment of a rev­o­lu­tion­ary under­ground that would emerge later in the decade and in the 1970s.
If Mar­tin and Malcolm's diver­gence can be explored through their evolv­ing stances on the use of vio­lence, their con­ver­gence may be best assessed by stances along the axis of trans­gres­sion. The Ital­ian work­erist Fer­ruc­cio Gam­bino's 1993 essay, which recasts Malcolm's life and legacy as a trans­gres­sion of the logic of the state, cap­tures this rela­tion­ship:
Mal­colm X – the laborer, the con­vict, and the min­is­ter of the Nation of Islam – had seen too many and too well the least-lit cor­ri­dors of the state to avoid a col­li­sion with it. In this respect, his path was sim­i­lar to Mar­tin Luther King, Jr.'s. The young deseg­re­ga­tion­ist min­is­ter of the South­ern Chris­tian Lead­er­ship Con­fer­ence had seen so many black peo­ple suf­fer indig­ni­ties dur­ing his early cam­paign in the South that he could only relate these to the cheap­ness of liv­ing labor there. Indeed, as early as 1957 he had said, "I real­ize that the law can­not make an employer love me or have com­pas­sion for me." As King too began to walk away from the role the state had expected of him, he headed toward assas­si­na­tion while sup­port­ing a strike by black labor­ers in Mem­phis, Ten­nessee.
The trans­gres­sions of the entire Black Free­dom Move­ment, though they have since been val­i­dated and sub­sumed into the nar­ra­tive of lib­eral democracy's abil­ity to accom­mo­date, encom­pass non­vi­o­lent con­formist activ­i­ties just as much as mil­i­tant direct action, each equally crim­i­nal. The most potent trans­gres­sion is the rejec­tion of the state's "gods," its sym­bolic embod­i­ments of power. Islam forced Mal­colm "to occupy the dou­ble polit­i­cal space of 'the immi­grant,'" as Gam­bino argues, a "self-loca­tion" which "vio­lated the writ­ten and unwrit­ten codes of legit­i­mate polit­i­cal behav­ior."
Malcolm's Islam was a sym­bolic and spir­i­tual ori­en­ta­tion to an Afro-Asi­atic anti-colo­nial inter­na­tion­al­ism that struck a claim on pol­i­tics out­side the state's monopoly of legit­i­mate power. His trans­gres­sions, men­tal, crim­i­nal, and spir­i­tual, are widely under­stood. But against Martin's easy incor­po­ra­tion, we should remem­ber that he, too, trans­gressed. It is true that the famil­iar and domes­tic lan­guage of Chris­tian­ity of Mar­tin made him accept­able to many Amer­i­cans. How­ever, couched in that lan­guage was the ver­nac­u­lar of a long tra­di­tion man­i­fested in black lib­er­a­tion the­ol­ogy that sig­ni­fied on the master's reli­gion, devel­op­ing a some­times dor­mant, some­times active oppo­si­tion to white power. It is a lin­eage emerg­ing from peo­ple like Richard Allen, who started the African Methodist Epis­co­palian Church in 1816 to cre­ate auton­omy for black con­gre­ga­tions. There are the likes of Henry McNeal Turner, an early "back to Africa" advo­cate and mis­sion­ary who once said that "Hell is an improve­ment upon the United States where the Negro is con­cerned." Turner's own the­ol­ogy under­stood the sym­bolic power of the state's gods:
Every race of peo­ple who have attempted to describe their God by words, or by paint­ings, or by carv­ings, or any other form or fig­ure, have con­veyed the idea that the God who made them and shaped their des­tinies was sym­bol­ized in them­selves, and why should not the Negro believe that he resem­bles God as much as other peo­ple?
More direct influ­ences on King can be found in the likes of Howard Thur­man and Ben­jamin Mays. The two had vis­ited Gandhi in India and worked towards estab­lish­ing func­tional sol­i­dar­i­ties with South Asians dur­ing their strug­gle against the British Empire in the 1930s. Impor­tantly, Thur­man and Mays con­tributed to a the­ol­ogy that sought to iso­late the reli­gion of Jesus from its impe­rial uses.
Thur­man, a class­mate of Martin's father and a men­tor while Mar­tin was at Boston Uni­ver­sity, and Mays, Martin's men­tor at More­house Col­lege, helped Mar­tin to develop a trans­gres­sive phi­los­o­phy. As Nico Slate writes, Mar­tin was almost imme­di­ately hailed as the Mont­gomery Mahatma after begin­ning the boy­cott: "King's con­nec­tion to Gandhi strength­ened his appeal to both blacks and whites. Gandhi rep­re­sented courage, civil dis­obe­di­ence, and the ris­ing col­ored world to many blacks while sym­bol­iz­ing non-threat­en­ing non­vi­o­lence to whites." Slate argues that this dou­ble space of mean­ing did not pre­vent Mar­tin from iden­ti­fy­ing race as only one vari­able in the equa­tion of oppres­sion. As King wrote of his visit "to the land of Gandhi" in Ebony mag­a­zine, "the bour­geoisie – white, black or brown – behaves about the same the world over."
Today the lega­cies of both Mar­tin and Mal­colm ben­e­fit from an offi­cial acknowl­edge­ment of their con­tri­bu­tions to the Black Free­dom move­ment. This is largely because, as Gam­bino writes, "the atti­tudes of eth­nic lead­er­ship towards the state are shaped over a long period of time, often being the result of con­tin­u­ous read­just­ments over many gen­er­a­tions." That there is such a grand offi­cial salute to Mar­tin reflects that the state "often believes it can redress past wrongs with reforms that are sup­posed to have the effect of 'cool­ing off' both eth­nic lead­er­ship and the peo­ple as a whole," and that "the state's late dis­cov­ery of a col­lec­tive sym­bolic real­ity one shade removed from its offi­cial gods has often ended in a rede­f­i­n­i­tion of the state and its pan­theon, or in the demise of both." That Martin's legacy today appears to tower over so many oth­ers indi­cates just how well he occu­pied the dou­ble space of mean­ing while act­ing for dig­nity and free­dom. Now our task is to refuse the state's gods and reach into our past, to recover the pos­si­bil­i­ties for future trans­gres­sion.