From its begin­nings in New York City to the recent West Coast Port Shut­down, the Occupy move­ment has con­sis­tently con­fronted the issue of co-opta­tion. About a month and a half or so ago, many par­tic­i­pants voiced wor­ries about being co-opted by MoveOn, the Democ­rats, unions (to a lesser extent, since they had shown up as allies with­out seem­ing to try to monop­o­lize the def­i­n­i­tion of actions and events), and other groups affil­i­ated with the polit­i­cal par­ties.
I think we can safely say that co-opta­tion in the clas­sic sense, which hap­pened when the Democ­rats nom­i­nated William Jen­nings Bryan in 1896 to out­ma­neu­ver the Pop­ulists, is off the table. Demo­c­ra­tic may­ors have joined with Mayor Bloomberg in NY and oth­ers to sim­ply use police repres­sion against the Occupy move­ment. The mes­sage sent by the occu­piers was clear: we are not for sale, not affil­i­ated with any exist­ing party, cer­tainly not with the Democ­rats or Repub­li­cans, and not here to sup­port Obama for re-elec­tion, nor to push an only mar­gin­ally more pro­gres­sive leg­isla­tive agenda than the Democ­rats cur­rently pro­pose. Once it was clear that co-opta­tion was not going to hap­pen, and that sub­sti­tut­ing Demo­c­ra­tic groups like Reclaim the Dream and MoveOn for Occupy itself was an absur­dity, out came the pep­per spray and the mid­night raids on tents and pub­lic squares nation­wide. The largest demon­stra­tion that MoveOn and Van Jones have been able to put together has been around 700 peo­ple, which is pretty sad for groups with large bud­gets and access to national media.
Occupy has been able to mobi­lize hun­dreds of thou­sands in over a thou­sand cities for hun­dreds of dif­fer­ent actions, and has shut down the Brook­lyn Bridge, sev­eral West Coast ports and a sig­nif­i­cant part of the city of Oak­land in a gen­eral strike. So, my point is this: there has always been an alter­na­tive to co-opta­tion. It is called rad­i­cal­iza­tion. It hap­pens when in the course of strug­gle peo­ple act­ing within pre­scribed lim­its see those lim­its as too con­fin­ing or self-defeat­ing, and see that there is an alter­na­tive approach already in exis­tence that is more effec­tive and attrac­tive.
The rela­tion­ship between Occupy and work­ers, union and non-union, who are not yet active in Occupy, can be the basis for such a dynamic. Since I live in Italy, and though I am active here and active by long-dis­tance else­where, I have not been to US ter­ri­to­rial Occupy events or occu­pa­tion sites, have not been involved in the dis­cus­sions, gen­eral assem­blies, and deci­sion-mak­ing processes these entail, and make no judg­ment on anyone's posi­tion who was and has been there – I come from a cer­tain set of expe­ri­ences, but write out of humil­ity in order to raise some issues I have not seen brought up in debates so far.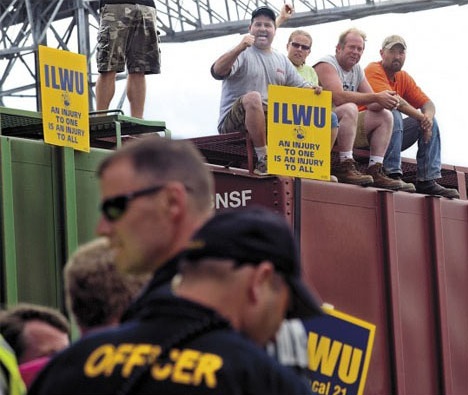 Activists and Unions
The West Coast port shut­down was one action that brought the rela­tion­ship between Occupy and work­ers to the fore­front. The debate about the action posed sev­eral ques­tions: should Occupy activists have dis­cussed the action more thor­oughly with port work­ers and union mem­bers? Should the lat­ter have had a veto over whether the action took place at all? Should the Occupy activists have asked union mem­bers to vote on a strike and accepted their deci­sion?
All of these are good ques­tions, and from afar I am not in a place to answer them. But the gen­eral frame­work must be recon­sid­ered. When thou­sands of peo­ple want to mobi­lize to fight exploita­tion and inequal­ity, they are already a legit­i­mate force and can act with­out hav­ing to ask anyone's per­mis­sion. This is dou­bly true of a move­ment like Occupy where demo­c­ra­t­i­cally-run gen­eral assem­blies are the deci­sion-mak­ing bod­ies, mak­ing Occupy more directly an organ of the peo­ple than the already at least once-removed sys­tem of rep­re­sen­ta­tives that cur­rently passes for "democ­racy" on behalf of the 1% of exploiters.
Hav­ing said this, it is at min­i­mum cour­te­ous to inform and ask for the sup­port of the work­ers at any site where an action will take place. This is because as a move­ment of work­ing class peo­ple Occupy or any other revolt must take account of the fact that our power comes from widen­ing the base of the move­ment and from the power of united peo­ple fight­ing together.
This can go fur­ther, and in more than one direc­tion. Work­ers and unions are not iden­ti­cal. Unions are rep­re­sen­ta­tive insti­tu­tions at work, and while any union mem­ber can tell you the lim­its and neg­a­tive aspects of unions, it is also true that when work­ers do not have a union they are in a very weak posi­tion. So work­ers will con­tinue to form and join unions with all their faults.
But the ques­tion nec­es­sar­ily arises – is Occupy's rela­tion­ship with the union or its mem­bers? I think it needs to be with both. There is no need to be on hos­tile terms with any union unless its lead­er­ship and struc­ture act in a hos­tile way toward peo­ple and events asso­ci­ated with Occupy But even then, a rela­tion­ship on the ground, in the work­place, with the work­ers them­selves, both in and out of unions, can be deci­sive. First because one rea­son unions are legally pre­vented from just call­ing for strikes: under US law a strike dur­ing the term of a con­tract means a big fine for the union and often jail terms for its lead­er­ship. It is true that nearly all strikes involved poten­tial sanc­tions, court injunc­tions, and other repres­sion up until the 1930s, (still not uncom­mon today either) and pas­sage of the National Labor Rela­tions Act (Wag­ner Act), and later the even more anti-demo­c­ra­tic Taft-Hart­ley Act, which explic­itly out­laws sol­i­dar­ity among work­ers, includ­ing strikes to sup­port Occupy. So we can't expect union lead­ers and unions as orga­ni­za­tions to explic­itly sup­port strikes or occu­pa­tions the move­ment decides on. But there is no rea­son that the union mem­bers can­not be orga­nized, recruited, and rad­i­cal­ized, through com­mon action, com­mon strug­gle, and dis­cus­sion to par­tic­i­pate infor­mally – through wild­cat strikes, slow­downs at work, and absen­teeism on the day in ques­tion. It is just as pos­si­ble for union mem­bers to be at gen­eral assem­blies, par­tic­i­pate in them like every­one else and decide for them­selves, indi­vid­u­ally and col­lec­tively, what they want to do.
This allows for two impor­tant pos­si­bil­i­ties: first, the union lead­er­ship can at the very least be con­vinced to tol­er­ate, or per­haps implic­itly sup­port, actions planned by Occupy – this seems to have hap­pened in many cases dur­ing the Oak­land gen­eral strike, and in another fash­ion dur­ing the Wis­con­sin occu­pa­tions and strikes ear­lier in the year– or else be pres­sured by their own rank and file into adopt­ing a more mil­i­tant lead­er­ship. Sec­ond, the gen­eral assem­bly can be made to func­tion as the larger, more inclu­sive deci­sion-mak­ing body for the work­ing class as a whole in a city or region. If this hap­pens, unions as bod­ies, as well as their indi­vid­ual mem­bers, may par­tic­i­pate in the GA, express their view, and deter­mine whether they can agree on a deci­sion. But this allows a class-wide form of orga­ni­za­tion, tran­scend­ing the lim­i­ta­tions and divi­sions of unions sep­a­rated by trade or indus­try, to arise.
If the lat­ter hap­pens, we have what in Rus­sia in 1917 was called a soviet. A form of self-gov­ern­ment, which I believe is already present in the GAs and their coun­ter­parts in Spain, Greece, Tahrir Square in Egypt and in the infor­mal com­mit­tees in Tunisia and else­where around the world, but which need to expand their base both to hol­low out the already bro­ken legit­i­macy of states and par­ties, and to build their own legit­i­macy as found­ing insti­tu­tions of a new egal­i­tar­ian order. If instead the unions play the part of keep­ing Occupy activists away from their mem­bers and out of their work­places, they risk repeat­ing what hap­pened dur­ing the near-rev­o­lu­tion of May 1968 in France, when 10 mil­lion work­ers occu­pied their work­places as revolts occurred in the streets of every city. Work­ers were pre­vented from cre­at­ing the kind of hor­i­zon­tal lines of com­mu­ni­ca­tion among them­selves and with stu­dents and farm­ers that the cur­rent move­ment thrives on; if this hap­pens again today, then both activists and work­ers will be defeated sep­a­rately. So one cru­cial lesson is this: the work­place is a cen­ter of work­ing-class coop­er­a­tion and power, one that even thou­sands of activists engag­ing in civil dis­obe­di­ence can­not match alone. But if iso­lated from other social forces and move­ments, it becomes a cage, its energy trapped and then dis­si­pated.
Lessons from Italy
One way to recruit a wider range of work­ers into the gen­eral assem­blies and other activ­i­ties is to take a page from the book of the Ital­ian New Left, while avoid­ing the out­come that later weak­ened that move­ment. Ital­ian mil­i­tants went to work­places that they con­sid­ered strate­gic, to engage in con­ver­sa­tion at the gates with work­ers, meet­ing with them out­side work and set­ting up study groups or dis­cus­sion groups on work­ers' prob­lems. Groups like Quaderni Rossi (Red Note­books) and Potere Operaio (Work­ers Power) built rela­tion­ships with work­ers at the gigan­tic FIAT Mirafiori fac­tory, at the Port of Marghera, and other large work­places, hold­ing courses together on Marx's Cap­i­tal, and mak­ing inde­pen­dent work­ers demands that went beyond what unions were call­ing for. They demanded equal pay raises and reduc­tions of work­ing hours with­out pay cuts, to decrease inequal­ity among work­ers and build greater sol­i­dar­ity. Often this resulted in a reg­u­lar newslet­ter reflect­ing the work­ers (not always the union's) point of view on work­place strug­gles, and informed other move­ments of what was hap­pen­ing inside the work­places – inter­nal events which, if iso­lated, could often remain opaque to the larger strug­gle. At the same time longer-term rela­tion­ships were devel­oped in which the work­ers par­tic­i­pated in orga­ni­za­tions that went beyond the con­tent and forms of unions and par­ties. Some of these activ­i­ties, even if in a dif­fer­ent and changed con­text, are anal­o­gous to Occupy Oakland's descent on the port.
The move­ment in Italy was sys­tem­at­i­cally repressed through mass arrests, pos­si­bly due to its divi­sion into two fronts: secure work­ers ver­sus more pre­car­i­ous work­ers on one hand, and those who believed in small-scale vio­lent actions as opposed to those who believed that rev­o­lu­tion required large-scale mass self-gov­erned action, vio­lent or non­vi­o­lent. But the move­ment responded with a remark­able rede­vel­op­ment.
Activists with the rad­i­cal radio sta­tion Sher­wood in Padova set up the Occu­pied Social Cen­ter Pedro (named for a deceased mil­i­tant), and in Milan the largest social cen­ter, Leon­cav­allo, was cre­ated. Through much of the 1980s, even in an atmos­phere of gen­eral set­back for move­ments, these groups occu­pied old aban­doned ware­houses, fac­to­ries and other struc­tures, using them to cre­ate a whole infra­struc­ture of social cen­ters that engaged in polit­i­cal actions, forms of polit­i­cal edu­ca­tion, con­certs, and other cul­tural activ­i­ties, and mobi­lized peo­ple for protests.
The main­stream unions, even those seen as "left," never really warmed up to these for­ma­tions. Start­ing in 1979 another wave of arrests fol­lowed some killings of pub­lic offi­cials by the Red Brigades and other small, secre­tive armed groups. Although the mass move­ment had dis­tanced itself from these, bas­ing itself on gen­eral assem­blies, direct democ­racy, and mass pub­lic forms of strug­gle, the demo­niza­tion of the move­ment as "ter­ror­ist" had an effect on unions. Often close to polit­i­cal par­ties, unions remained reluc­tant to work too closely with groups tainted by the gov­ern­ment as too rad­i­cal, or prone to vio­lence. But even with this dif­fi­culty in attract­ing allies, activists could them­selves mobi­lize hun­dreds of thou­sands for demon­stra­tions even with­out the unions; they could par­tic­i­pate col­lec­tively under their own aus­pices with their own ban­ners and slo­gans at events that more main­stream orga­ni­za­tions and unions had orga­nized; they could phys­i­cally main­tain a pub­lic space for activ­i­ties, to hold assem­blies and so forth.
Many of these occu­pied social cen­ters still exist. But there have been two down­sides: first, like the work­places, where work­ers were kept from engag­ing more fully with move­ments, the social cen­ters have some­times also become iso­lated from other forces, and have had trou­ble expand­ing. This is often under­stood by activists who try a num­ber of tac­tic to break out of the ghetto: the anti-glob­al­iza­tion move­ment, for exam­ple, gave the social cen­ters another oppor­tu­nity to mobi­lize together with church-based activists, unions and oth­ers, in a move­ment that for a time gave every sign of rad­i­cal­iz­ing more main­stream left forces. But after the events in Genoa in 2001, and the attacks of 9/11, the rela­tion­ships became more strained – though hun­dreds of thou­sands could still be mobi­lized for years around glob­al­iza­tion issues, and then against the Iraq War, sug­gest­ing that some rad­i­cal­iza­tion of the base of the cen­ter-left par­ties and the union mem­ber­ship may have taken place.
Still, the rela­tion­ship between work­place orga­ni­za­tions, espe­cially unions – which remain close to the cen­ter-left par­ties – and social cen­ters and other rad­i­cal move­ments is not a close one. This is the out­come for Occupy to avoid today, though exactly how to this is to be done remains for those on the scene to work out in real inter­ac­tions and rela­tion­ships with other move­ments, orga­ni­za­tions and their mem­bers.
There are three lessons to be drawn from the Ital­ian expe­ri­ence.
First, there is a great poten­tial of rad­i­cal­iz­ing large num­bers of work­ing peo­ple on and off the job through the exam­ple and com­mon action of move­ments like Occupy. Con­tact and coop­er­a­tion with main­stream orga­ni­za­tions is worth the risk so long as the lat­ter are not attempt­ing, as MoveOn did, to gain con­trol of, or shut down, the move­ment.
Sec­ond, any phys­i­cal place can become iso­lated, as can any move­ment or orga­ni­za­tion if cut off, or if it cuts itself off from other forces in the broadly-defined work­ing class. Move­ments thrive by expand­ing their com­mu­ni­ca­tions, con­tacts and rela­tion­ships.
Third, as an already func­tion­ing form of direct democ­racy, and one open to the widest pos­si­ble inter­pre­ta­tion of who is part of the work­ing class (99%), the gen­eral assem­bly is a bet­ter place and forum for the debates, dis­cus­sions and deci­sions to be col­lec­tively worked out by work­ers of all kinds – employed or unem­ployed, union­ized or not – than any union or orga­ni­za­tion rep­re­sent­ing a par­tic­u­lar sec­tor, indus­try, trade, eth­nic­ity, neigh­bor­hood, or iden­tity group. This does not mean that there will not be con­flicts, con­tra­dic­tions, even inequal­i­ties to work out. The point is, democ­racy is two things at the same time: the power of the peo­ple, that is to say, a form of pop­u­lar or pro­le­tar­ian or work­ing-class gov­ern­ment, but also the way that inevitable diver­sity, dif­fer­ences, and con­flicts can be worked out among our­selves, with­out the inter­fer­ence of the unde­mo­c­ra­tic forces of the 1%.
There is a strange twist these days, emerg­ing from the Iowa and New Hamp­shire pri­maries, in which not the Democ­rats but a fac­tion of the Repub­li­cans, and one very hos­tile to col­lec­tive forms of democ­racy and work­ing-class inter­ests, seeks to coopt left­ists and to have a dis­pro­por­tion­ate say in Occupy and other move­ments: the lib­er­tar­ian wing around the can­di­dacy of Ron Paul. Work­ing peo­ple need a place to par­tic­i­pate directly and engage in self-gov­ern­ment, which inevitably means that peo­ple most of us dis­agree with will be involved – as indeed they should be. The demo­c­ra­tic dynamic of work­ing out our divi­sions means pre­cisely this, and in my view takes us beyond the often obses­sive focus on the First Amend­ment, how­ever nec­es­sary it may be for self-defense – express­ing your­self is one thing, gov­ern­ing col­lec­tively is quite another. This is our answer to the indi­vid­u­al­ism of the lib­er­tar­i­ans. They are wel­come, but the gen­eral assem­bly, along with other move­ment bod­ies and activ­i­ties, is pre­cisely where to demon­strate that there are alter­na­tives to every form of cap­i­tal­ism, includ­ing the small-pro­pri­etor, mar­ket-dri­ven vision of the lib­er­tar­i­ans. So here, we move beyond even auton­omy as a per­spec­tive: self-gov­ern­ment means rad­i­cal­iza­tion of those in strug­gle together and the logic of it is full, col­lec­tive self-gov­ern­ment, at work, in the econ­omy, in our own orga­ni­za­tions, and in polit­i­cal life. I am con­fi­dent that a worker attend­ing a union meet­ing, and a lib­er­tar­ian engag­ing in "free choice" in the mar­ket­place, even if they con­tinue in these activ­i­ties, will be attracted to the greater power over their lives offered by real, full democ­racy, which they can now find in a real move­ment for a dif­fer­ent world.
Orga­ni­za­tions, unions, and other groups or asso­ci­a­tions, per­haps even par­ties (not Democ­rats and Repub­li­cans!) can par­tic­i­pate in the Occupy move­ment, to the extent of putting for­ward their point of view. Though they can­not dom­i­nate assem­blies through orga­ni­za­tional power and dis­ci­pline, their mem­bers can par­tic­i­pate fully in the gen­eral assem­blies while remain­ing mem­bers of those groups that rep­re­sent their par­tial inter­ests at work, in defense of civil rights, or other issues. The gen­eral assem­bly can work to bring these frag­ments together into a whole, a con­stituent power greater than its parts.
---
Steven Cola­trella has par­tic­i­pated in the Mid­night Notes Col­lec­tive for over 30 years. He is the author of Work­ers of the World: African and Asian Migrants in Italy in the 1990s and has writ­ten for Coun­ter­punch, New Pol­i­tics, Social­ism and Democ­racy, Wild­cat, Jour­nal of Crit­i­cal Edu­ca­tion Pol­icy Stud­ies, and Lon­don Pro­gres­sive Jour­nal. He lives in Padua, Italy.