"…the Amer­i­can class-strug­gles are more seri­ous than Euro­pean ones in that they obtain more results with less ide­ol­ogy." – Mario Tronti
---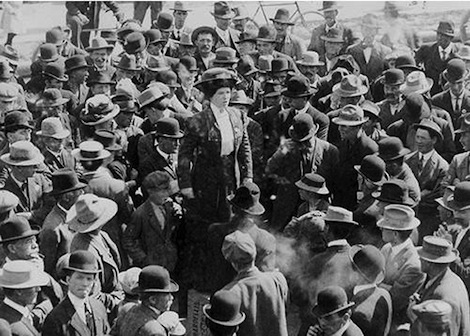 On Jan­u­ary 8th, 1912, the busi­ness and prop­erty own­ers of the San Diego Com­mon Coun­cil passed Ordi­nance No. 4623. The func­tion of the ordi­nance: to crim­i­nal­ize free speech in a zone cen­tered around the inter­sec­tion of 5th and E streets, pop­u­lated pri­mar­ily by work­ers. By Jan­u­ary 16th, the IWW had responded by form­ing the "Cal­i­for­nia Free Speech League," with the sup­port of social­ists, churches, and other union locals.
The Wob­blies, with the ben­e­fit of sheer num­bers and lit­tle else, sought to test the ordi­nance and its enforce­ment with aggres­sive soap­box­ing and inces­sant speechi­fy­ing in the restricted zone. City attor­ney W. R. Andrews rec­om­mended against enforc­ing the ordi­nance until Feb­ru­ary 8th, to stave off imme­di­ate con­fronta­tion with mil­i­tant agi­ta­tors in the Gaslamp Quar­ter. When police inter­ven­tion began, the jails were quickly filled, and the IWW put out a call for mem­bers to hurry to San Diego County for more sup­port.
A few months later, seek­ing retal­i­a­tion with­out fur­ther com­pro­mis­ing his over­crowded cells, police chief Keno Wilson con­spired with hired thugs to attack soap­box­ers, social­ists, and Wob­blies. Pub­lic sup­port for the Wob­blies' fight waned by the sum­mer­time, as cit­i­zens tired of the con­stant vio­lence. A sem­blance of peace was even­tu­ally achieved, but only after insur­gency had forced the sus­pen­sion of the rule of law. As Ros­alie Shanks writes, "vic­tory belonged to the stronger of two vio­lent mobs."
What does it mean to com­mem­o­rate the ques­tion of "free speech" one hun­dred years later? An affir­ma­tive his­tory of these events forces us to recall that what began as a mere reformist ges­ture, a sim­ple col­lec­tive act of civil dis­obe­di­ence, ulti­mately threat­ened bour­geois soci­ety and brought its order to the limit. The IWW had prac­ticed direct action and move­ment-build­ing in one arch-strate­gic sequence of rup­ture and alliance.
The fact that this move­ment was ini­ti­ated by a reformist cam­paign is of fun­da­men­tal sig­nif­i­cance. The IWW demon­strated that ral­ly­ing around these kinds of issues can prove to be very pow­er­ful; their actions were under­stood as steps on the path towards the devel­op­ment of rev­o­lu­tion. The actions of the orig­i­nal rank-and-file of the IWW require us to rethink the dif­fer­ence between calls for reform and the explo­sion of purely insur­rec­tionary acts. We can deter­mine how the Wob­blies per­formed a polit­i­cal process at a dis­tance from the state, while tra­vers­ing the facile oppo­si­tion between tac­tics of direct action and the hard work of com­mu­nity orga­niz­ing.
Maps of Mil­i­tancy
Ser­gio Bologna of the Ital­ian rad­i­cal his­tory jour­nal Primo Mag­gio described the sig­nif­i­cance of the Wob­bly model:
The IWW suc­ceeded in cre­at­ing an absolutely orig­i­nal type of agi­ta­tor: not the mole dig­ging for decades within the sin­gle fac­tory or pro­le­tar­ian neigh­bour­hood, but the type of agi­ta­tor who swims within the stream of pro­le­tar­ian strug­gles, who moves from one end to the other of the enor­mous Amer­i­can con­ti­nent and who rides the seis­mic wave of the strug­gle, over­com­ing national bound­aries and sail­ing the oceans before organ­is­ing con­ven­tions to found sis­ter organ­i­sa­tions. The Wob­blies' con­cern with trans­porta­tion work­ers and long­shore­men, their con­stant deter­mi­na­tion to strike at cap­i­tal as an inter­na­tional mar­ket, their intu­itive under­stand­ing of the mobile pro­le­tariat – employed today, unem­ployed tomor­row – as a virus of social insub­or­di­na­tion, as the agent of the "social wild­cat": all these things make the IWW a class organ­i­sa­tion which antic­i­pated present-day forms of strug­gle…
If the orga­ni­za­tional form of the IWW "antic­i­pates" today's strug­gles, does this mean that orga­ni­za­tion syn­tac­ti­cally comes prior to strug­gle? The ques­tion addresses the rela­tion­ship between class com­po­si­tion, mass sub­jec­tiv­ity, and labor's rela­tion­ship to cap­i­tal. In an account of the research done by Bologna and oth­ers on the "mass worker" that shaped 20th cen­tury labor, Steve Wright argues that this rela­tion­ship is mutu­ally con­sti­tu­tive:
Polit­i­cal class com­po­si­tion is above all the result, the end point of a his­tor­i­cal process. But it is also, and in a dialec­ti­cal man­ner, the start­ing point of a his­tor­i­cal move­ment in which the labour sub­sumed to cap­i­tal inter­prets the pro­duc­tive, social and polit­i­cal organ­i­sa­tion of exploita­tion and over­turns it into the organ­i­sa­tion of its own auton­omy.
This means that orga­ni­za­tions emerge out of his­tor­i­cal processes; they are sit­u­ated in speci­fic con­fig­u­ra­tions of the labor process and social devel­op­ment. With this in mind, what value does the orig­i­nal IWW still have for us given our rad­i­cally changed his­tor­i­cal con­di­tions?
One tra­di­tion of the left obses­sively stud­ies labor his­tory, only to return to the same tropes, the same sce­nar­ios, the same tired schemat­ics time and time again. Con­versely, a coun­ter­cur­rent dis­misses any affir­ma­tion of a his­tory of strug­gle, which could be car­ried forth in the sense of lin­eage – as though the new could be rail­roaded into being, armed with noth­ing more than desire and obtuse­ness.
To tra­verse both ten­den­cies requires that we rec­og­nize, even cel­e­brate, past vic­to­ries and con­flicts, but also engage in the can­cel­la­tion or sub­trac­tion of ele­ments that are imma­te­rial to a sit­u­a­tion. Com­mem­o­rated end­lessly by labor his­to­ri­ans, the rau­cous events of 1912 find them­selves sub­ject to the aca­d­e­mic sep­a­ra­tion of labor his­tory and labor strug­gles. Against this trend, we approach the Free Speech Fights less as sanc­ti­fied "rad­i­cal his­tory" and more as a gen­uine map of where mil­i­tancy, orga­ni­za­tion, and pol­i­tics meet; not as a pro­gram­matic pre­scrip­tion, but rather an invi­ta­tion to think con­tra­dic­tion.
Agi­ta­tion, Edu­ca­tion, and Orga­ni­za­tion
The IWW itself was a loose-knit, porous, even nomadic orga­ni­za­tion, char­ac­ter­ized by a diver­sity of rhetoric and tac­tics. On June 22nd, 1911, when the mil­i­tary dic­ta­tor Por­firio Diaz retook Tijuana with Mex­i­can fed­eral troops, the oppos­ing "social­ist army" com­posed of Mag­o­nistas (against "Author­ity, Cap­i­tal and the Church") and Wob­blies was routed. Across the bor­ders, rebels in flight were rounded up by the U.S. Army and held in cus­tody. Such upheaval, cou­pled with some of the fire-breath­ing rhetoric of Wob­blies, was sure to cause the San Diego bour­geoisie deep anx­i­ety:
We are opposed to the exist­ing order; we are against it from bot­tom up. We do not respect the laws or flag of the United States. It is a sym­bol of oppres­sion… It floats over the vilest places and has no mes­sage for us. We do not believe in the sys­tem of wages. We pro­pose to over­throw the whole sys­tem and give every man a chance. We do not believe in a God. The preach­ing of the gospel of Jesus Christ has been the great­est curse in the world because it preaches sub­mis­sion to the present order, promis­ing some­thing bet­ter in a future life.
This insur­rec­tionary rhetoric served to frighten, not seduce the mid­dle class. The refusal to meet niceties of polit­i­cal dis­course halfway was redou­bled in the street – all the while cir­cling around the "reformist" issue of free speech. But insur­rec­tionary rhetoric was bridged with the strat­egy of "accom­pa­ny­ing" peo­ple in their demands for a bet­ter life. Mil­len­ni­al­ism and a "com­ing insur­rec­tion" would be seen as "pie-in-the-sky" talk, no more use­ful than the obnox­ious ascetism that found virtue in poverty. Instead, Wob­blies empha­sized mate­rial gain for peo­ple who were hun­gry, ill-housed or under­e­d­u­cated: "Pork­chops for all!" was one such great mate­ri­al­ist slo­gan.
Remem­ber­ing the Free Speech Fights is less a mat­ter of get­ting the facts right, than res­ur­rect­ing the spirit such past mil­i­tancy inspired. What is impor­tant to rec­og­nize are the for­mal prop­er­ties of the orig­i­nal IWW as a union, which refused to dis­tance itself from the work­ing class of San Diego as a sub­ject. The rank and file could iden­tify them­selves not just with the union, but as San Diego's work­ing class as a whole. In strug­gle, their class auton­omy dif­fer­en­ti­ated itself not only from cap­i­tal and the state, but from speci­fic trades as well. This was a body of per­sons who toiled in unde­sir­able jobs by day and dis­cussed Marx by night. This was a union that assigned roles to its most enthu­si­as­tic, while lack­ing the means to enforce mem­bers to pay their dues or par­tic­i­pate at all if they did not desire to do so.
So, while they were a union, a sanc­tioned artic­u­la­tion of labor power within cap­i­tal­ist devel­op­ment, their shift towards polit­i­cal rep­re­sen­ta­tion, fight­ing a city ordi­nance, went above and beyond typ­i­cal trade union demands – even though the struc­tur­ing prin­ci­ple of this strug­gle was an exem­plary case of lib­eral reform, "free speech."
The San Diego Wob­blies had antic­i­pated pop­u­lar sup­port for fight­ing the local ordi­nance. The use of reform brought them into rela­tion with the work­ing class out­side their union; it over­turned the polit­i­cal and orga­ni­za­tional lim­its of syn­di­cal­ism. By per­for­ma­tively soap­box­ing and get­ting arrested, their strug­gle was no longer medi­ated through capital's exploita­tion of their labor power.
This strate­gic appraisal of their sit­u­a­tion was con­sis­tent with the his­tor­i­cal traits of the orig­i­nal Wob­blies as a rad­i­cal orga­ni­za­tion of mil­i­tants and work­ers. While the IWW pro­moted "Agi­ta­tion, Edu­ca­tion, and Orga­ni­za­tion," it hosted numer­ous unem­ployed and home­less in its ranks. There was no esteem for the anar­cho-indi­vid­u­al­ist fetish of "ille­gal­ism," only a recog­ni­tion that what was ille­gal was often nec­es­sary for peo­ple of no means.
The struc­ture of IWW held the capac­ity for lead­er­ship, hero­ism and indi­vid­ual recog­ni­tion; there was no time for obfus­ca­tion or anti-social behav­ior. Lucy Par­sons, Big Bill Hay­wood, Joe Hill, Helen Keller, and Eliz­a­beth Flynn all stand out as indi­vid­u­als who did not equiv­o­cate their sup­port for the strug­gles of the work­ing poor, rev­o­lu­tion, and out­right class war­fare. How­ever, the hor­i­zon­tal orga­ni­za­tion of their strug­gles pro­vided num­bers for anonymity, mag­ni­tude, mob, rally, and riot.
These points do not present a para­dox or impasse, but instead a dialec­ti­cal fer­til­ity that might encour­age rad­i­cals of today to give up the rep­e­ti­tion of past fac­tions, splits, and plat­forms. Activists today are cor­rect in refus­ing empty rep­e­ti­tions of past orga­ni­za­tions. How­ever, insist­ing on con­tem­po­rary strug­gle should not dis­place the care­ful inter­pre­ta­tion of the his­tory of orga­ni­za­tional forms, and their role in the con­sti­tu­tion of the present. Like the IWW of 1912, strate­gi­cally antic­i­pat­ing strug­gle where autonomous action occurs might afford the oppor­tu­nity to once again demand, "pork­chops for all!"