Last Thursday night, workers for Serious Materials in Chicago occupied their factory. Serious Materials had announced that production would be shut down, leaving workers jobless. The occupiers, members of United Electrical Radio and Machine Workers of America, demanded the option to run the factory as a worker-owned cooperative.
By the early hours of Friday morning, the company had agreed to let their employees work for another 90 days. In the interim, the company will work with the union to find a way to continue production under new ownership.
The night before, Occupy Philly's Education and Training Working Group held a meeting of its ten-week "Dissecting Capitalism" workshop, at the Lancaster Avenue Autonomous Space. Viewpoint editor Salar Mohandesi spoke on the topic "Contemporary Labor and Workplace Struggles," along with Sean West Wispy, an organizer at Occupy Philly with experience in the labor movement. The workshop addressed many of the same issues that would be addressed in the factory occupation.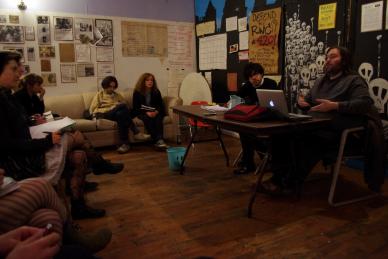 Mohandesi gives a brief account of changes in the regime of work since the 1970s, and presents his research on proletarian activity during the 1848 revolution in Paris. We've embedded the audio below, and you can download an mp3 here. Visit LAVA's site and check out Wispy's talk as well.
Previous speakers have included George Caffentzis, and next week Viewpoint contributor Ben Webster will be speaking along with Occupy Philly organizer Cindy Milstein on "Capitalism, Social Relations, and Power." The following week (Wednesday, March 7), Selma James, co-author of "Women and the Subversion of Community" and the new collection Sex, Race, and Class – The Perspective of Winning (PM Press, 2012), will give a presentation on "Women, Capitalism, and the State."