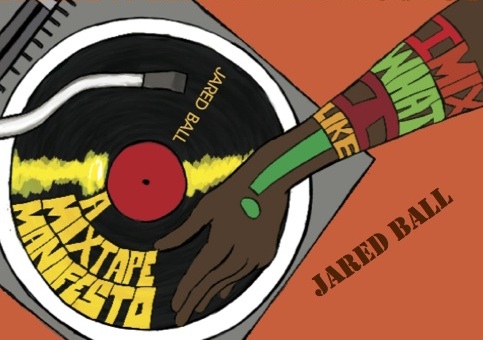 What do Ira Glass and Jean-Marie Le Pen have in com­mon? To fol­low the argu­ment of Jared Ball's recent book I Mix What I Like, they both rep­re­sent a coun­ter-insur­gency against col­o­nized pop­u­la­tions. The allegedly pro­gres­sive NPR, writes Ball, is the con­tem­po­rary equiv­a­lent of Radio-Alger, oper­ated by the colo­nial French gov­ern­ment in Alge­ria. From post-war Alge­ria to the ghet­tos of the United States, colo­nial power requires pro­pa­ganda in order to func­tion. As Frantz Fanon put it, Radio-Alger's mix of news, music and com­men­tary from the metropole "constitute[s] a coher­ent back­ground from which colo­nial soci­ety draws its den­sity and jus­ti­fi­ca­tion" and "sus­tains the occupant's cul­ture, marks it off from the non-cul­ture, from the nature of the occu­pied." For Ball, NPR serves the same func­tion, as an echo cham­ber for white elite chit-chat, which erases the per­spec­tive of peo­ple of color while mas­querad­ing as impor­tant national dis­cus­sion. NPR's mil­que­toast monot­ony notwith­stand­ing, Ball presents star­tling demo­graph­ics for a radio sta­tion that posi­tions itself as rep­re­sent­ing the nation's pub­lic: 64% of NPR's guests are CEOs and tech­nocrats, 80% are men, and 61% iden­tify as Repub­li­can. Nat­u­rally, the audi­ence maps on to this: lis­ten­ers are older, richer, and much whiter than the national aver­age. In this light, NPR is lit­tle more than an engine to repro­duce the white upper-mid­dle class, com­plete with its con­de­scend­ing con­cern for the less for­tu­nate. Even the more "pro­gres­sive" Democ­racy Now! comes in for a bit of kick­ing as part of the "White Left media estab­lish­ment" – 88% of pro­grams have no black guests. After read­ing Ball's account, it's clear why the streets have tuned out.
This antag­o­nism between the radio and the streets frames Ball's book, at once a pas­sion­ate polemic and a stab at rev­o­lu­tion­ary prac­tice. Ball is a pro­fes­sor of com­mu­ni­ca­tions at Mor­gan State Uni­ver­sity, and a con­trib­u­tor at Black Agenda Report, home of some of the most unspar­ing crit­i­cism of the Obama admin­is­tra­tion you'll find on the net. I Mix What I Like, with its relent­less attacks on con­tem­po­rary colo­nial­ism, is cer­tainly at home with the scathing news at BAR, but Ball also throws in an inno­v­a­tive twist: he attempts to the­o­rize how exist­ing niche forms of media can be part of an anti-cap­i­tal­ist move­ment. By his own admis­sion, he's not entirely suc­cess­ful, but his work presents much that is use­ful to those prob­ing the inter­sec­tion of media and rad­i­cal pol­i­tics.
In spite of the title, I Mix What I Like has con­sid­er­ably more to say about the rela­tion­ship between Amer­i­can empire and mass media than it does about mix­tapes. The­o­ret­i­cally, Ball's endeavor is a brush-clear­ing one, diverg­ing rad­i­cally from com­mu­ni­ca­tion stud­ies' fas­ci­na­tion with lib­eral democ­racy. For Ball, the most rel­e­vant ana­lytic frame­work for dis­cussing media power is colo­nial­ism, a the­o­ret­i­cal move which is "meant to draw focus away from fool­ishly, even dan­ger­ously, insuf­fi­cient descrip­tions of 'failed democ­racy' or 'an imper­fect Amer­ica'" that char­ac­ter­izes dis­cus­sion of media as a pub­lic sphere. The Amer­i­can exper­i­ment is not in need of reform or amend­ing; it is a racist empire which requires con­dem­na­tion in the hopes of its col­lapse. Any appeals to "pub­lic spheres," any the­o­ries that rely on "cit­i­zens" are, in Ball's words, "inher­ently doomed."
To describe the con­di­tion of black peo­ple within the U.S. Ball res­ur­rects inter­nal colo­nial­ism the­ory (ICT), which argues that African Amer­i­cans (along with other com­mu­ni­ties of color) are sub­ject pop­u­la­tions akin to col­o­nized peo­ples in the Global South. ICT emerged from the fruit­ful engage­ment between Black Power activists in the U.S. with anti-colo­nial the­ory emerg­ing from decol­o­niza­tion strug­gles in Africa and their atten­dant nation­al­ist strate­gies of lib­er­a­tion. Ball argues force­fully and per­sua­sively for putting colo­nial­ism back on the table. "Colo­nial­ism as a model of analy­sis remains as imper­fect today as when it was more in vogue," he writes. "But even in imper­fec­tion it reveals more accu­racy and hon­esty about that rela­tion­ship and what is needed to improve it than more tra­di­tional notions of plu­ral­ism, democ­racy, and 'pro­gress.'"
Ball's own appeal to national lib­er­a­tion takes the form of the "hip-hop nation," a term he deploys with some dis­com­fort, as it's a "polit­i­cally safer and less racially-speci­fic" term that itself is "a col­o­nized exten­sion of a pre­dat­ing and con­tin­u­ing colo­nial­ism." These ambi­gu­i­ties are also its strengths: it rep­re­sents a diverse group of peo­ple with "cer­tain shared tenets of nation­hood": a cul­ture, a shared set of mean­ings and tra­di­tions, forged in the cru­cible of empire. How­ever, this cul­ture is also embed­ded in the global cap­i­tal­ist media, as a "mined cul­tural good" extracted from the colonies. Com­mod­i­fied hip-hop traf­ficks in stereo­types designed to jus­tify dom­i­na­tion of black peo­ple and secure cul­tural hege­mony: "the cul­ture of the col­o­nized must con­tinue to appear in some form to cre­ate appear­ance of authen­tic­ity and valid­ity," a point bor­rowed, refresh­ingly, from Fanon rather than Gram­sci.
Ball places his work in a "tra­di­tion of aggres­sive recla­ma­tion of space for oppo­si­tional thought, edu­ca­tion, or orga­ni­za­tion" which he labels "eman­ci­pa­tory jour­nal­ism." Eman­ci­pa­tory jour­nal­ism is the ped­a­gog­i­cal work of cul­ti­vat­ing an "abil­ity to resist" the col­o­nized and col­o­niz­ing cul­ture of the pow­er­ful, and many have argued that hip-hop is – or was – an exam­ple. But the task has been made all the more dif­fi­cult by the con­cen­tra­tion of media own­er­ship. Rather than some inex­orable eco­nomic drive of the con­cen­tra­tion of cap­i­tal, Ball argues that it is also part of a delib­er­ate polit­i­cal strat­egy of pop­u­la­tion man­age­ment, which he con­nects to the Rock­e­feller Foundation's fund­ing of anti-com­mu­nist pro­pa­ganda dur­ing the Cold War. Ball's most per­sua­sive research makes the case that such cor­po­rate con­glom­er­a­tion is of par­tic­u­lar con­cern to the black com­mu­nity. As inde­pen­dent media out­lets, such as black-owned radio, tele­vi­sion, and news­pa­pers have closed up shop, the inter­net, in spite of the decen­tral­iza­tion hype, has served as a tool of fur­ther con­cen­tra­tion of audi­ences, squeez­ing alter­na­tive mes­sages out. Dis­tinct black audi­ences still exist – for exam­ple, urban radio pen­e­trates 80-90% of black house­holds – but only for cor­po­rate-con­trolled out­lets, which present manip­u­lated images of black­ness: in Ball's esti­ma­tion, lit­tle more than a min­strel show.
But the streets have their own dis­tri­b­u­tion mech­a­nisms. Ball, who sees no poten­tial in any cor­po­rate media, puts a great deal of faith in street vend­ing, a cru­cial and oft-over­looked ele­ment in the black media land­scape. Boot­leg­ging is an art of insur­rec­tion, dis­tinct from Sisyphean efforts at media reform: a ges­ture whose "vio­lence" stems from "the sug­ges­tion that oppressed peo­ple take to pro­duc­ing their own jour­nal­ism and media based on their own expe­ri­ences." This media could come in the form of copy­right-flaunt­ing mix­tapes, the pro­duc­tion of which is "an anti-author­i­tar­ian act, one that recalls the act of newly 'freed' nations devel­op­ing their own presses and tra­di­tions of jour­nal­ism more suited to their national devel­op­ment." Ball attempted to put his the­ory into prac­tice by pro­duc­ing polit­i­cal mix­tapes; like a Pub­lic Enemy track, they would con­tain rad­i­cal speeches, inter­views, music, and snip­pets from other media. How­ever, bereft of polit­i­cal and cul­tural orga­ni­za­tions, his efforts were, by his own admis­sion, "an absolute fail­ure." He sim­ply couldn't find out­lets for his mixes.
---
The main theme of Ball's text – the rela­tion­ship between power and media – holds a priv­i­leged place in my home dis­ci­pline of cul­tural stud­ies, where we con­tinue to weigh the mer­its of the pes­simists of the Frank­furt School against the more pop­ulist take of British cul­tural stud­ies, with tan­gents into Fou­cault, decon­struc­tion, and sundry other cul­tural the­ory. With a read­ing list so long and dif­fi­cult, it's easy to lose sight of the polit­i­cal stakes in such an endeavor – death by a thou­sand nuances – which is why I find Ball's take envig­o­rat­ing in its point­ed­ness. His relent­less fore­ground­ing of lib­er­a­tory pol­i­tics leads him to con­struct an alter­na­tive crit­i­cal media stud­ies canon drawn from the rich tra­di­tion of rad­i­cal black thought. I found myself con­stantly flip­ping to the bib­li­og­ra­phy, just as I check the track­list of a mix­tape when a hot song comes on.
The urgent polit­i­cal task at hand leads Ball to a kind of hard-nosed polemi­cism in tone. At times this is illu­mi­nat­ing, such as Ball's rein­tro­duc­tion of ICT. ICT fell out of favor in aca­d­e­mic cir­cles with the rise of post­mod­ern and post­colo­nial the­ory, which greeted any talk of "nation" with sus­pi­cion. But post­mod­ernism and post­colo­nial­ism have their own polit­i­cal lia­bil­i­ties, such as their fail­ure to mount coher­ent chal­lenges to the deep­en­ing exploita­tion and repres­sion of peo­ple of color at home and abroad. Rachel Kaadzi Ghansah goes as far as to argue that post­mod­ernism pri­mar­ily served as ide­o­log­i­cal cover for the black bourgeoisie's detach­ment from the fates of the rest of black Amer­ica. As part of an ongo­ing reeval­u­a­tion of these bod­ies of thought, Ball makes a strong case that anti­colo­nial texts still have much to teach us.
How­ever, some­times the polem­i­cal edge needs to be bal­anced with the nuances of cul­tural stud­ies. Ball's treat­ment of the hip-hop indus­try as a colo­nial min­ing oper­a­tion cer­tainly scalds, but it strikes me less as a the­o­riza­tion of hip-hop than an extended metaphor. Hip-hop is a com­plex object, impos­si­ble to place on a straight­for­ward spec­trum of mil­i­tancy. For instance, Ball's claim that the hip-hop indus­try "has not done away with a sin­gle project or ghetto, and has done noth­ing to cor­rect a sys­tem of edu­ca­tion or expand the polit­i­cal strength of its prog­en­i­tors" is as incom­plete as it is com­pellingly over­stated.
Abol­ish­ing ghet­tos is a great deal to ask of a cul­tural move­ment alone, and numer­ous writ­ers on the "hip-hop gen­er­a­tion," includ­ing Jeff Chang and Bakari Kit­wana, have cred­ited hip-hop cul­ture with major improve­ments in Amer­i­can race rela­tions. This isn't lib­er­a­tion, but it isn't insignif­i­cant either. Chang's work in par­tic­u­lar forces us to recon­sider how hip-hop relates to the pol­i­tics of gang cul­ture – gangs have been a locus of polit­i­cal orga­niz­ing in urban com­mu­ni­ties for gen­er­a­tions – as well as other forms of asso­ci­a­tion devel­oped by the urban poor. The foun­da­tions of hip hop emerge from for­mer gang mem­bers cre­at­ing an orga­ni­za­tion they named the Uni­ver­sal Zulu Nation, a label at once nation­al­ist, inter­na­tion­al­ist, and Third-World­ist.
Ball's crit­i­cal analy­sis of hip-hop's destruc­tive­ness aligns with those of hip-hop's lib­eral crit­ics such as Tri­cia Rose, and even cul­tural con­ser­v­a­tives such as Stan­ley Crouch. While the pop­u­lar cul­ture of the poor has always been den­i­grated as obscene, vul­gar and igno­rant, that such crit­i­cisms con­tinue to emanate from all cor­ners of the black com­mu­nity (includ­ing rap­pers them­selves) gives some­one like me, inclined to include all man­ner of trick­ster and bad­man char­ac­ters in the hip-hop nation, pause. From a strictly polit­i­cal point of view, it's hard not to see a decline for a form that once launched Pan-African anti-impe­ri­al­ist man­i­festos and cri­tiques of the police bru­tal­ity that pre­saged the L.A. riots into homes and busi­nesses across the U.S.
Nev­er­the­less, I am not as quick as Ball to write off cul­tural forms as irrev­o­ca­bly co-opted. As the polit­i­cal sit­u­a­tion changes, we may find new uses for older weapons. A few obser­va­tions on these poten­tials: first, a suc­cess­ful under­ground media must be attached to other suc­cess­ful forms of polit­i­cal orga­niz­ing, which will cre­ate the audi­ences for more rad­i­cal media. It is insuf­fi­cient, and impos­si­ble, to merely craft evan­gel­i­cal appeals to rad­i­cal action; his­tor­i­cal con­di­tions must favor these mes­sages.
The exam­ple of the May 1968 upris­ings in France serve as a case in point. As Eric Drott details in Music and the Elu­sive Rev­o­lu­tion, as rad­i­cal agi­ta­tion shook the nation, audi­ences sought out more adven­tur­ous, exper­i­men­tal, and rev­o­lu­tion­ary music. Avant-garde com­posers such as Ian­nis Xenakis and Pierre Henry sud­denly per­formed their dif­fi­cult com­po­si­tions to packed con­cert halls. The blis­ter­ing free jazz of Albert Ayler and Archie Shepp was more pop­u­lar in France than in the artists' home coun­try, due to the (mis­per­ceived) con­nec­tion between the artists and black rad­i­cal­ism. Cul­tural insti­tu­tions, them­selves plagued by worker agi­ta­tion, wit­nessed the demo­li­tion of elit­ist canons and the inclu­sion of mar­gin­al­ized forms of expres­sion, from rock music to Indone­sian game­lan. As the U.S. redis­cov­ers and rein­vents its own rad­i­cal tra­di­tions, we should expect to see the flour­ish­ing of politi­cized art, music, and jour­nal­ism. I, for one, would be curi­ous to know if Black Agenda Report saw any upsurges in traf­fic since the Occupy move­ment – it was dur­ing this time I became a reg­u­lar vis­i­tor.
We will see this flour­ish­ing on the inter­net before we hear it on local radio. Ball's skep­ti­cism of the poten­tials of the inter­net is a use­ful cor­rec­tive to techno-utopi­ans and media pop­ulists, but nonethe­less over­looks impor­tant poten­tials. The media cre­ates all man­ner of unin­tended effects: as Ball notes, air­ing the anti-Nation-of-Islam doc­u­men­tary The Hate That Hate Pro­duced served to pop­u­lar­ize Mal­colm X, not mar­gin­al­ize him. Even in today's con­di­tions, oppressed peo­ple pro­duce their own media true to their expe­ri­ences, albeit not often explic­itly rad­i­cal. Dat­Piff streams mix­tapes from both unknown inde­pen­dent artists and major label stars. YouTube is filled with videos doc­u­ment­ing police bru­tal­ity, and songs by rad­i­cal anti-impe­ri­al­ist rap­per Immor­tal Tech­nique boast mil­lions of views. Black-owned web por­tals such as the shock site World­StarHipHop and gos­sip site Medi­aTake­Out are cer­tainly not rad­i­cal, but does their crass­ness pos­sess a ker­nel of "the irrev­er­ence of anti-colo­nial strug­gle" that could be turned to new ends in a dif­fer­ent polit­i­cal cli­mate? Ball could ben­e­fit from broad­en­ing his mix­tape out­reach into exist­ing alter­na­tive chan­nels of dis­tri­b­u­tion: cre­at­ing a rad­i­cal infra­struc­ture from the ground up is a task which quickly exhausts even the most impas­sioned activists.
Still, we should not write off Ball's attach­ment to face-to-face dis­tri­b­u­tion meth­ods. My own field research sug­gests that work­ing-class flea mar­kets and street vend­ing cre­ate spaces of com­mu­nity feel­ing. Their offer­ings can't be found in main­stream com­mer­cial venues because they are con­sid­ered niche "eth­nic" goods (scented oils, black nation­al­ist lit­er­a­ture, Nige­rian movies) or they are ille­gal or unsanc­tioned (coun­ter­feit cloth­ing, stolen or expired goods, and yes, bootleg mix­tapes). Such mar­kets are oppor­tu­ni­ties for work­ing peo­ple to meet their needs at a lower cost, while sup­ple­ment­ing their income. There is no strong delin­eation between buy­ers and sell­ers (iden­ti­ties which inter­pen­e­trate), and busi­ness is con­ducted in a casual and per­sonal man­ner. They are not spaces of con­sumerism, but rather spaces for per­for­mance, where oppressed peo­ple can demon­strate tech­ni­cal abil­ity, con­nois­seur­ship, and inde­pen­dence that they are denied in many other areas of life. These are rel­a­tively egal­i­tar­ian spaces in which peo­ple are open to talk­ing and to lis­ten­ing, and the music stands fea­ture some of the liveli­est con­ver­sa­tions. In such mar­kets, Sharon Zukin's obser­va­tion that "shop­ping is how we social­ize" gets a dialec­ti­cal makeover: social­iz­ing is how peo­ple shop. In short, they are spaces where Ball's exper­i­ments in rad­i­cal ped­a­gogy could poten­tially take hold.