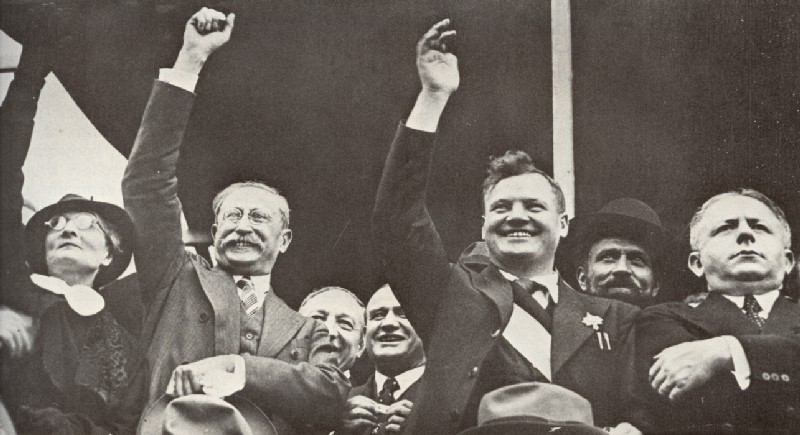 In 1881, just two years before his death, the ail­ing Karl Marx received a let­ter from a young social­ist, Fer­di­nand Domela Nieuwen­huis, ask­ing for his opin­ion about the call to rebuild the Inter­na­tional Workingmen's Asso­ci­a­tion, the most advanced exper­i­ment in Left Unity up to that date. Marx, who had been involved with such par­ties as the Com­mu­nist League and the Ger­man Social Demo­c­ra­tic Party, was no enemy of orga­ni­za­tion. But his response was blunt: "It is my con­vic­tion that the crit­i­cal junc­ture for a new Inter­na­tional Workingmen's Asso­ci­a­tion has not yet arrived and for this rea­son I regard all work­ers' con­gresses, par­tic­u­larly social­ist con­gresses, in so far as they are not related to the imme­di­ate given con­di­tions in this or that par­tic­u­lar nation, as not merely use­less but harm­ful. They will always fade away in innu­mer­able stale gen­er­alised banal­i­ties." When not explic­itly tied to the con­crete strug­gles of a real his­tor­i­cal con­junc­ture, the ques­tion of Left Unity can be noth­ing other than the "state­ment of a phan­tom prob­lem to which the only answer can be – the crit­i­cism of the ques­tion itself."
Dead gen­er­a­tions
In his pro­gram­matic piece in Jacobin, Bhaskar Sunkara describes the shape of con­tem­po­rary Left Unity: "the con­ver­gence of Amer­i­can social­ists com­mit­ted to non-sec­tar­ian orga­ni­za­tion under the aus­pices of an over­ar­ch­ing demo­c­ra­tic struc­ture." It would be glib to just dis­miss this out of hand – alongside increased expo­sure of the Left in the main­stream media, such a struc­ture could be a good sign. But the way this strat­egy is being pur­sued leaves many fun­da­men­tal ques­tions unan­swered.
There are sev­eral dom­i­nant posi­tions on Left Unity in the United States today. Mark Solomon, whose posi­tion paper served as the basis for the much-pub­li­cized "Con­ver­sa­tion on Left Unity" in New York, has advanced per­haps the most promi­nent pro­posal. Observ­ing that rad­i­cals have always played "essen­tial roles in influ­enc­ing, guid­ing and con­sol­i­dat­ing broad cur­rents for social change," he argues that a strong social­ist pres­ence has never been more needed than today. And with gen­eral inter­est in social­ism on the rise in recent years, it's time to put aside our dif­fer­ences and come together, prefer­ably in an entirely new orga­ni­za­tion.
Jacobin's posi­tion on Left Unity is close to Solomon's. Sunkara, in fact, admit­ted at the New York con­ver­sa­tion that he found him­self "in almost entire agree­ment" with Solomon's pro­posal for Left Unity. Echo­ing Solomon, the Jacobin man­i­festo has called for the "uni­fi­ca­tion of the many social­ist orga­ni­za­tions with sim­i­lar polit­i­cal ori­en­ta­tions into one larger body." A few things set Jacobin apart. There's a greater empha­sis on edu­cat­ing the broader pub­lic, a more explicit com­mit­ment to rad­i­cal­iz­ing youth, and the begin­nings of real analy­ses into the strug­gles of pre­vi­ously over­looked sec­tors of the Amer­i­can work­ing class. What remains most dis­tinc­tive about Jacobin's stance on Left Unity, how­ever, is its gen­eral sense of urgency: not only is this project pos­si­ble, Jacobin assures its read­ers, but it can be real­ized now.
But this pro­gram has also been inserted into the famil­iar post-Occupy polemics against "anar­chism." Although Jodi Dean has expressed inter­est in "a rad­i­cal left coali­tion, some­thing like SYRIZA," her hopes lie mainly, like Solomon and Sunkara, in an entirely new orga­ni­za­tion. Unlike these more astute politi­cians, how­ever, she bluntly calls this the Party. Her stance is far closer to that tra­di­tion which advo­cates firm lead­er­ship, cen­tral­iza­tion, strict dis­ci­pline, pro­grams, and rules – char­ac­ter­is­tics that right­fully make many uneasy. She regards the fail­ures of Occupy as proof of the con­tin­ued indis­pens­abil­ity of pre­cisely this kind of orga­ni­za­tion: "Main­tain­ing the polit­i­cal open­ing Occupy cre­ated won't be easy, but it will be pos­si­ble if and as the move­ment shapes itself as a new com­mu­nist party." For Dean, it's time for a revamped van­guard party.
Beneath their dif­fer­ences, how­ever, lies a com­mon and dis­avowed point of ref­er­ence. Although all three of these posi­tions call for an entirely new party fit for our unique his­tor­i­cal con­di­tions, they all repeat the terms of a past his­tor­i­cal expe­ri­ence: the Pop­u­lar Front in the 1930s.
Of course, this con­ti­nu­ity is vis­i­ble for those who can read between the lines. Solomon, a pro­fes­sional his­to­rian, has writ­ten approv­ingly of the Pop­u­lar Front strat­egy, and it's clear that it implic­itly grounds the argu­ments made in his call for Left Unity. And when pressed to con­cretize her heroic vision of the new party, even Jodi Dean can only offer the rather pro­saic exam­ple of "the CPUSA in the 1930s, but less cen­tral­ized (or, a more dynamic and respon­sive rela­tion between cells and cen­ters)."
Jacobin has been per­haps the most vocal in its insis­tence that the slo­gan of Left Unity isn't just about the for­ma­tion of a new social­ist party in this coun­try, but a call for a broad alliance between all the forces of the wider Left, includ­ing social democ­rats, left-lib­er­als, and other pro­po­nents of the wel­fare state – the core prin­ci­ple of the his­tor­i­cal Pop­u­lar Front. It has actu­ally fused, in the­ory and in prac­tice, the two projects into one: build­ing a new social­ist party becomes the means to build­ing a new "New Deal Coali­tion," and per­haps vice versa. The pri­mary objec­tive of any new social­ist party, accord­ing to Jacobin, will be to ally itself with ele­ments of the Demo­c­ra­tic Party known as "wel­fare lib­er­als," and strengthen the Amer­i­can wel­fare state. And Sunkara has already begun mak­ing over­tures to lib­er­als – even though the social­ists he rep­re­sents have no party to speak of.
What accounts for this active for­get­ting? Per­haps explicit ref­er­ences to the period have been avoided because of its bad rep­u­ta­tion. After all, the mod­er­ate Left has a long­stand­ing obses­sion with pro­claim­ing its anti-Stal­in­ism at every turn; and since the Pop­u­lar Front has long been crit­i­cized not only as Stal­in­ist, but also as a reformist betrayal, explicit ref­er­ences could make for bad pub­lic­ity. Or per­haps the mem­ory of the Pop­u­lar Front is dis­avowed because of the ulti­mate fail­ure of its stated objec­tives: the Left was oblit­er­ated in Spain, fas­cism emerged tri­umphant in Europe, and coali­tion part­ners turned on each other every­where. For what­ever rea­son, the dom­i­nant posi­tions on Left Unity today have been forged inde­pen­dently of an explicit analy­sis of the his­tor­i­cal con­junc­ture that has most pow­er­fully defined them.
Back to the Pop­u­lar Front
What­ever the polit­i­cal ambi­gu­i­ties of the his­tor­i­cal Pop­u­lar Front – a period marked both by major vic­to­ries won by mass upris­ings, and their sup­pres­sion by bureau­cratic reformists – the new pro­pos­als for Left Unity invert its his­tor­i­cal and log­i­cal sequence. The Pop­u­lar Front was orig­i­nally a polit­i­cal strat­egy pur­sued by Com­mu­nist Par­ties in the 1930s. From around 1928 to 1935 the Com­mu­nist Inter­na­tional had con­vinced itself that world his­tory had entered a "Third Period" marked by cri­sis, insta­bil­ity, and pro­le­tar­ian insur­gency. Com­pelled to reckon with the wors­en­ing depres­sion, mas­sive unem­ploy­ment, and the resur­gence of the Right, com­mu­nists attempted to change their strat­egy, which had hith­erto been rigidly anchored to work­place orga­ni­za­tion, in accor­dance with the changes in the work­ing class. This led to gen­uinely cre­ative orga­niz­ing: sharecropper's unions and tenant's move­ments in the United States, sex­ual health clin­ics in Ger­many, and unem­ployed move­ments every­where. But it also called for mil­i­tant agi­ta­tion, con­dem­na­tion of all reformist ini­tia­tives, and prepa­ra­tion for the immi­nent rev­o­lu­tion: alliances were bro­ken, unions were split, and other Left­ists denounced as "social fas­cists." After a series of ter­ri­ble set­backs – the rise of Hitler in Jan­u­ary 1933, a coup in Aus­tria the fol­low­ing year – the Com­intern even­tu­ally con­cluded that Third Period Tac­tics had actu­ally wors­ened, rather than reversed, the gen­eral decline of the com­mu­nist move­ment as whole.
A new strat­egy was offi­cially adopted in 1935. The com­mu­nists would join with other "forces of labor," like social­ists and social democ­rats, to form a United Front. This would then form the nucleus of a Pop­u­lar Front that was to include the Cen­ter-Left and per­haps even the Cen­ter. The goal was to check the Right, win sig­nif­i­cant gains for the work­ing class, and improve the stand­ing of the Com­mu­nist Par­ties in a world where com­mu­nism appeared to be on the wane. Com­mu­nist Par­ties were instructed to reverse their pre­vi­ous poli­cies; the new watch­word was Left Unity.
Pop­u­lar Fronts were attempted in most coun­tries that still had some kind of Com­mu­nist Party, like the United States, but Com­intern had its eyes on France. After 1933, when Hitler oblit­er­ated the most vig­or­ous labor move­ment in Europe, the French Com­mu­nist Party (PCF) became the largest Com­mu­nist Party out­side the Soviet Union. More­over, France was a coun­try with a pro­found, though very diverse, rev­o­lu­tion­ary tra­di­tion, which might be amenable to such a call for Left Unity. Lastly, as his­to­rian Julian Jack­son has shown, even before this offi­cial shift in pol­icy was taken, the French work­ing class had already begun, on its own, to push for just such a united strug­gle against fas­cism. For these rea­sons, con­tem­po­raries came to see France as a sig­nif­i­cant test case for this new strat­egy. While pro­po­nents of Left Unity today are right to focus on the US and its unique con­di­tions, we should also con­sider other expe­ri­ences, since the broader project of Left Unity has always been inter­na­tional, like social­ism itself.
A cou­ple years after the for­mal adop­tion of the Pop­u­lar Front – after the elec­tion of a social­ist pres­i­dent, a strike wave, and a series of unprece­dented reforms – the strat­egy was hailed as a tremen­dous vic­tory, for both the French work­ing class and for the PCF. Work­ers won paid vaca­tions, a forty-hour work week, wage increases, and bet­ter con­di­tions. As for the PCF, which had been by far the small­est part­ner in the coali­tion, it swelled in mem­ber­ship, emerg­ing, for per­haps the first time, as a pre­vail­ing force in French polit­i­cal life.
In many ways, the Pop­u­lar Front tem­porar­ily saved the far left in France, as it did in a num­ber of coun­tries, includ­ing the US. But one of the main rea­sons why the call for Left Unity proved effec­tive was because the PCF could be taken seri­ously as a coali­tion part­ner. The party was admit­tedly quite small in early 1935, hav­ing been bat­tered and mar­gin­al­ized by Third Period tac­tics, but it still had a vibrant tra­di­tion of rad­i­cal­ism, deep roots in pro­le­tar­ian com­mu­ni­ties, and a real pres­ence on the shop floor. It had helped orga­nize some of the most dynamic strug­gles of the time. The PCF, in short, had some­thing to con­tribute to a coali­tion.
Today, on the other hand, social­ists have no con­stituency to offer social democ­rats, left-lib­er­als, or oth­ers on the broader Left. The mem­ory of com­mu­nists orga­niz­ing marches, strikes, and fac­tory occu­pa­tions as part of broader Left­ist ini­tia­tives is a pow­er­ful one, but no longer a real­ity. Try­ing to con­vince "wel­fare lib­er­als" to ditch their own party to work with some dis­or­ga­nized social­ists with no organic con­nec­tion to the work­ing class isn't likely to gen­er­ate much pro­gress.
An unknown con­ti­nent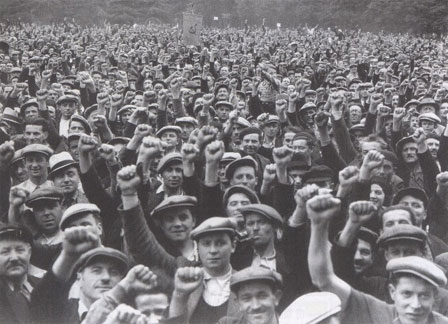 How­ever one might judge the Pop­u­lar Front, no one can deny that it was fun­da­men­tally grounded in mass pro­le­tar­ian mobi­liza­tions. The con­nec­tions today's rad­i­cal Left has with the broader work­ing class in this coun­try pales in com­par­ison. The Repub­li­can Party prob­a­bly has deeper ties to this class than many of the orga­ni­za­tions clam­or­ing for Left Unity.
It's sur­pris­ing, then, that exist­ing calls for Left Unity have lit­tle to say about cre­at­ing a mass work­ing-class base. Those who are enthu­si­as­tic about Left Unity would prob­a­bly agree that it is point­less to build an orga­ni­za­tion with­out last­ing organic con­nec­tions to the diverse sec­tors of the work­ing class. Surely they must rec­og­nize that a mass work­ing-class base is the con­di­tion of pos­si­bil­ity for any viable orga­ni­za­tion today. So I'm puz­zled that some of the most fer­vent pro­po­nents of Left Unity have cho­sen, as their start­ing point, to have a con­ver­sa­tion between dif­fer­ent par­ties that have almost no real link to the Amer­i­can work­ing class. What, for exam­ple, did the CPUSA have to do with the occu­pa­tion of the win­dow fac­tory in Goose Island in 2008, the Oak­land port shut­down in 2011, or the string of fast food strikes explod­ing across cities in recent months? If the groups host­ing this ongo­ing con­ver­sa­tion have no such con­nec­tions to the strug­gles of the present, what is the like­li­hood that a party formed out of their meet­ings will?
One assump­tion is that Left Unity will itself start the process of win­ning such a base. Mark Solomon writes: "The sim­ple dec­la­ra­tion of unity and amal­ga­ma­tion by old ide­o­log­i­cal foes will stir an ener­gized, hope­ful response on the left." But it takes a vivid imag­i­na­tion to pic­ture the news of Left Unity gen­er­at­ing mass inter­est for social­ist meet­ings in New York. If you want to build an orga­ni­za­tion with gen­uine mass sup­port, you don't start by amal­ga­mat­ing the frag­ments of a Left inherited from the past, but by try­ing to under­stand the needs of a work­ing class strug­gling in the present.
If some orga­ni­za­tions, like the PCF dur­ing the Pop­u­lar Front, once had that kind of mass sup­port, it is pre­cisely because they were his­tor­i­cally appro­pri­ate – they res­onated, at least in some notable instances, with the com­po­si­tion of a his­tor­i­cal class. But that con­junc­ture has passed, the work­ing class has changed, and that polit­i­cal hori­zon is no longer rec­og­niz­able. So we are left to lament, as the young Engels did a cen­tury and half ago: "The bour­geoisie talk pol­i­tics and go to church; what the pro­le­tariat does we know not and indeed could hardly know."
But Engels had already begun to change the sit­u­a­tion, by ini­ti­at­ing an inquiry into the fac­to­ries of Man­ches­ter, and this new and unfa­mil­iar phe­nom­e­non: the indus­trial work­ing class. His dis­cov­er­ies, along with his new con­nec­tions to pro­le­tar­ian strug­gles, would turn out to be an indis­pens­able pre­con­di­tion for the for­ma­tion a new polit­i­cal party just a few years later. In the spring of 1847 he was asked, along with Karl Marx, to join the clan­des­tine League of the Just at a time when it was enter­ing a seri­ous cri­sis. Con­vinced by his inves­ti­ga­tions that the "con­di­tion of the work­ing-class is the real basis and point of depar­ture of all social move­ments of the present," Marx and Engels took it upon them­selves to replace "the obso­lete League orga­ni­za­tion by one in keep­ing with the new times and aims." They per­suaded the exist­ing mem­bers to drop their old con­spir­a­to­rial ways, ground them­selves in the strug­gles of this newly emerg­ing work­ing class, and adopt a new polit­i­cal project based on those strug­gles. The party was reborn as the Com­mu­nist League. The old human­ist motto "All Men are Broth­ers" was replaced with "Work­ing Men of All Coun­tries, Unite!" And a new Man­i­festo was drafted – heav­ily indebted to Engels' con­crete dis­cov­er­ies, pub­lished in The Con­di­tion of the Work­ing Class in Eng­land.
Today this fun­da­men­tal move towards inves­ti­ga­tion should be repeated. Before any­thing else, we have to for­get what we think we know, and fig­ure out what the work­ing class actu­ally is – and it is quite dif­fer­ent from the fac­tory work­ers of Man­ches­ter or Bil­lan­court. Inquiry will mean gen­er­at­ing a map that includes man­u­fac­tur­ing work­ers and union­ized pub­lic sec­tor work­ers alongside low-wage retail work­ers, domes­tic care­givers, sub­con­tracted truck dri­vers, migrant farm­work­ers, and wait­resses with stu­dent debt. How is this class divided? Where is it found? What does it do? How is it exploited? How does it strug­gle? What does it want?
Build­ing a base
Inquiry is not just a form of inves­ti­ga­tion – it is also the process of build­ing polit­i­cal rela­tions, the pre­con­di­tion for a mass base. Alongside the absence of inde­pen­dent and active orga­ni­za­tions appro­pri­ate to our con­junc­ture, the fact that exist­ing orga­ni­za­tions float in the ether, with­out a mass base, entails a real risk of being absorbed, bypassed, or totally mar­gin­al­ized by div­ing right into a Pop­u­lar Front. The great­est dan­ger, as every pro­po­nent of the Pop­u­lar Front strat­egy knows, is that of being reduced to "junior part­ners" of the lib­er­als. This dan­ger will become a near cer­tainty if an imma­ture party, lack­ing its own sep­a­rate iden­tity, or its own his­tory, is thrust into a coali­tion upon its foun­da­tion.
The exam­ple of the Pop­u­lar Front in France is again instruc­tive here. Not only did the PCF actu­ally retain its auton­omy, but by May of 1936 it became the largest mem­ber of the coali­tion. And this wasn't from win­ning over the pre­vi­ously unpoliti­cized, since the Pop­u­lar Front never actu­ally increased the total size of the broader Left; it was by absorbing mem­bers from other groups in the coali­tion. Rad­i­cals migrated to the Social­ists, and the Social­ists joined the Com­mu­nists. This inter­nal left­ward shift was pos­si­ble pre­cisely because the PCF had its own autonomous iden­tity, and dis­tinct rep­u­ta­tion for dynamism, shop-floor orga­niz­ing, and dar­ing actions.
But it is also because the mass base sur­passed the party itself in mil­i­tancy, which became evi­dent when work­ers came into con­flict with the con­ser­vatism of the party bureau­cracy. Even in its glory days, the Pop­u­lar Front had to explic­itly table what is osten­si­bly the core project of a com­mu­nist party: the abo­li­tion of the cap­i­tal­ist mode of pro­duc­tion. Social­ism slowly became nation­al­ist, rev­o­lu­tion was side­lined in favor of reformism, deep class ten­sions were papered over in order to keep the par­lia­men­tary coali­tion alive, and work­ing-class mil­i­tancy was con­stantly curbed by its alleged rep­re­sen­ta­tives. As soon as the coali­tion won sig­nif­i­cant par­lia­men­tary vic­to­ries, it pre­dictably assumed a con­ser­v­a­tive stance, unwill­ing to go any fur­ther. So work­ers took mat­ters into their own hands: they called a gen­eral strike, demanded the forty-hour work week, occu­pied their fac­to­ries, and in a few cases even man­aged pro­duc­tion them­selves.
Faced with this largely autonomous mil­i­tancy, the PCF, the most dynamic ele­ment in the alliance, found itself inter­nally frac­tured. While the sec­re­tary gen­eral, Mau­rice Thorez, disin­gen­u­ously declared that "one must know how to stop a strike," com­mu­nist fac­tory cells pushed for even more aggres­sive actions. In the end, the work­ing class had to strug­gle against its own rep­re­sen­ta­tives to push the Front in a more rad­i­cal direc­tion. The Pop­u­lar Front's great­est vic­to­ries were won only because it unex­pect­edly cre­ated a kind of rev­o­lu­tion within reformism. But the moment the work­ing class was pushed back to work, Left Unity began to crum­ble: the coali­tion fell apart, the Rad­i­cals turned against the PCF, and reforms like the forty-hour work week were lost.
If there is a lesson to be learned from the Pop­u­lar Front, it is that even reformism can only arrive when it rides the wave of work­ing-class self activ­ity. When we remem­ber this prin­ci­ple, we'll have to learn to aban­don the debates that twenty-first cen­tury social­ists seem to enjoy so much. Cen­tral­iza­tion or decen­tral­iza­tion, ver­ti­cal­ity or hor­i­zon­tal­ity, local­ism or glob­al­ism – none of this can be resolved through inter­net polemics, meet­ings, or detached the­o­riza­tion. Weigh­ing the abstract val­ues of one shib­bo­leth over the other is sim­ply a waste of time. The answers to such ques­tions can only be found by tak­ing a hard look at what the work­ing class is already doing and what polit­i­cal forms it will need to deepen those strug­gles.