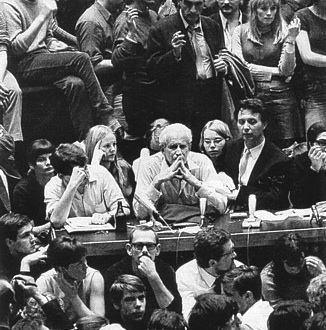 The Inter­na­tional Her­bert Mar­cuse Soci­ety held its fourth bien­nial con­fer­ence at the Uni­ver­sity of Penn­syl­va­nia. A mix of aca­d­e­mics and activists, the con­fer­ence rep­re­sented yet another attempt to con­nect the two worlds. What bet­ter way than to have Angela Davis her­self – renowned intel­lec­tual, renowned com­mu­nist – share her thoughts with us on a chilly Fri­day night.
Hud­dled in an audi­to­rium rem­i­nis­cent of a Span­ish Colo­nial church, the revival­ist atmos­phere was ampli­fied by the mas­ter of cer­e­monies' peri­odic evo­ca­tions of lib­er­a­tion the­ol­ogy. Stan­ley Aronow­itz, intro­duced as a prophet, spoke for five min­utes. With that we moved into an empow­er­ing speech by Ania Loomba, a pro­fes­sor at UPenn, who ended by loudly call­ing for a march from the con­fer­ence to the occu­pa­tion nearby. It was then that Angela Davis took the micro­phone.
Though reflect­ing on the legacy of Mar­cuse, the con­tin­u­ing rel­e­vance of crit­i­cal the­ory, and the impor­tance of the strug­gles of her time, much of her talk unsur­pris­ingly revolved around the Occupy move­ment of today. She applauded us for our inclu­sive­ness but warned against abol­ish­ing all dif­fer­ence: it is a "com­plex unity" that we need. She admired our cre­ative use of tech­nol­ogy, our courage, and our deter­mi­na­tion, while remind­ing us not to for­get the strug­gles of the past.
The con­cep­tual thread run­ning through her talk was the notion of the "long march through the insti­tu­tions." Anto­nio Gram­sci had argued that any class hop­ing to seize power would have to suc­cess­fully recast its par­tic­u­lar inter­ests as the uni­ver­sal inter­est. This grad­ual strug­gle to change the very assump­tions of the gen­eral pub­lic would elab­o­rate the hege­mony of our class in a way that would deci­sively shift the ter­rain of bat­tle in our favor. For Rudi Dutschke, per­haps the most famous spokesman of the Ger­man stu­dent left, this meant noth­ing less than infil­trat­ing the insti­tu­tions of cap­i­tal­ist soci­ety in the hopes of reori­ent­ing them towards our own class needs. If we could enter the uni­ver­si­ties, for exam­ple, so as to grad­u­ally change the val­ues, desires, and thoughts of those going through it, then when the time came to move from a war of posi­tion to one of maneu­ver, we would already have the sup­port of broad swathes of the pop­u­la­tion.
Davis used this prob­lem­atic to argue that the strug­gles of her gen­er­a­tion had affected our strug­gles in a very real way. By migrat­ing into the aca­d­e­mic world, they kept the fires burn­ing, pass­ing on a valu­able crit­i­cal per­spec­tive to newer gen­er­a­tions who would even­tu­ally rean­i­mate the past to change the present. In other words, though they may have lost their war of maneu­ver, the rad­i­cals of her day won the war of posi­tion. As she put it, the long march through the insti­tu­tions is "finally bear­ing fruit."
For us, Angela Davis is impor­tant because the his­tory in which she played such a crit­i­cal part pro­vides us with a set of weapons we might be able to use today. Her his­tory is invalu­able to our strug­gle. But while we are cer­tainly always study­ing the past in the hopes of act­ing more pro­foundly in the present, it's still impor­tant to rec­og­nize that much of the move­ment has sprung from the mate­rial con­di­tions of a changed his­tor­i­cal con­junc­ture. In other words, the strug­gles of today are not just occur­ring because we hap­pened to look more closely at the past, but because we finally hap­pened to take a closer look at the present. Their real truth is not to be found in the con­di­tions of the 1960s, but in the con­di­tions of today.
As Angela Davis her­self noted, the divide that sep­a­rates these his­tor­i­cal moments is quite sharp. She remarked that while the move­ment of her day was largely frag­mented, exclu­sive, if not fully divided, today's move­ment is inclu­sive, as rep­re­sented in the slo­gan of the 99%. Such dif­fer­ences in the forms of strug­gle strongly point to dif­fer­ences in the forms of pro­duc­tion. This move­ment may be more nom­i­nally inclu­sive, but only because cap­i­tal itself has sys­tem­at­i­cally tried to reduce so many of us to the same com­mon sit­u­a­tion: mired with high debt and stu­dent loans, liv­ing an under-employed, pre­car­i­ous exis­tence in a world with no future. If we're more inclu­sive, that's prob­a­bly because cap­i­tal has already imposed that inclu­sion on us all. Our slo­gan is a strong polit­i­cal response to the restruc­tur­ing of the cap­i­tal­ist mode of pro­duc­tion; it's our way of turn­ing these changes in the cap­i­tal rela­tion in our favor.
Mar­cuse, Angela Davis's teacher, once com­mented, "the­ory will pre­serve the truth even if rev­o­lu­tion­ary prac­tice devi­ates from its proper path. Prac­tice fol­lows the truth, not vice versa." But maybe we are see­ing the oppo­site hap­pen­ing here. Prac­tice is not lag­ging behind the­ory, nor is it sim­ply try­ing to real­ize a the­o­ret­i­cal pro­gram already etched years before. Per­haps the lan­guage of the Occupy move­ment demon­strates instead that all the­ory flows from prac­tice; that, if any­thing, prac­tice mines the the­o­ries of the past in order to under­stand itself bet­ter in the present.
Angela Davis's speech con­nected the past to the present in a way that ral­lied the audi­ence, ener­gized the crowd, and read­ied us for a strong march through the city. Just when we thought it was time to go, the MC took the micro­phone and asked for ques­tions. But one of the risks of a for­mal­ized direct democ­racy is that it can so eas­ily break the momen­tum of a move­ment. Speak­ers rose to ram­ble into the micro­phone, the audi­ence grew rest­less, and the gen­eral energy began to flag. By the time it was over and we decided to march we had lost not only a third of the audi­ence but much of our élan. But we trudged on, repeat­ing a few chants on our way to City Hall.
There are a num­ber of obser­va­tions to be made about all of this. But the most strik­ing has to do with the ques­tion of audac­ity. We had a sit­u­a­tion where hun­dreds were gal­va­nized by the pow­er­ful words of a respected com­rade. Instead of seiz­ing on this oppor­tu­nity, the daily rou­tine of the aca­d­e­mic con­fer­ence was quickly reestab­lished. Instead of a Cohn-Ben­dit jump­ing onto the stage to demand a gen­eral strike, we all watched in silence as the night grew cold once again. We thought of Cohn-Ben­dit in Par­lia­ment.
Obvi­ously we can't roman­ti­cize the old stu­dent lead­ers, but let­ting oppor­tu­ni­ties slip away in times like these could have larger con­se­quences in the future. It's true that aca­d­e­mic con­fer­ences can't be for­mu­laically turned into calls for a gen­eral strike. It's just a mat­ter of being on the look­out. Many aca­d­e­mics did not take part in long march through the insti­tu­tions; some have been in a long hiber­na­tion. Maybe renewed audac­ity will suc­ceed in wak­ing them up to a period of pro­found his­tor­i­cal change, with new strate­gies and direc­tions for strug­gle. The sit­u­a­tion seems to be excel­lent. But to take advan­tage of that, "il nous faut de l'audace, encore de l'audace, et tou­jours de l'audace."