Occupy-related protests have steadily increased in num­ber and mil­i­tancy, and so has the result­ing police repres­sion. This has only made it more urgent to to iden­tify and under­stand recent impor­tant steps in the trans­for­ma­tion of the move­ment. These steps were most vis­i­ble in the gen­eral strike in Oak­land, and the later occu­pa­tion of the Traveller's Aid build­ing, and they have begun to expand through­out the coun­try.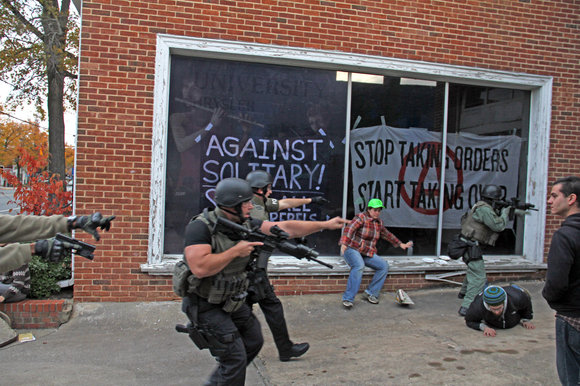 On Novem­ber 2 we saw the first gen­eral strike since the major restruc­tur­ing of cap­i­tal­ism in the 1970s, an expan­sion into new and exhil­a­rat­ing ter­ri­to­ries. The retak­ing of Oscar Grant Plaza and clos­ing down of banks was fol­lowed by a large anti-cap­i­tal­ist march and the block­age of Oakland's port, the fifth largest port in the nation, by tens of thou­sands of pro­test­ers. Finally, in a widely mis­un­der­stood moment, a smaller group of pro­test­ers went to sup­port the occu­piers of a build­ing a few blocks from Oscar Grant Plaza, the for­mer Trav­el­ers Aid Cen­ter.
While the New York Times char­ac­ter­ized the event as an unpop­u­lar dis­rup­tion of an oth­er­wise orderly day by a "bel­liger­ent fringe group," this was actu­ally a peace­ful attempt to extend the occupy move­ment into a much-needed inte­rior space that was presently unused and only became vio­lent because of police aggres­sion. Con­trary to the New York Times, we thought this last stage of the evening was an evo­lu­tion of the Occupy move­ment – entirely dif­fer­ent in char­ac­ter from the prop­erty destruc­tion that occurred ear­lier in the day, which the Times con­flated with the night's activ­i­ties.
So far, finan­cial insti­tu­tions have been the tar­get of the move­ment; but these abstract manip­u­la­tions of ethe­real value are sys­tem­atic with the con­crete suf­fer­ing caused by the mas­sive num­bers of fore­clo­sures and destruc­tion of social services.The vora­cious hol­low­ing out of the world's energies and resources has been man­aged and masked by bub­bles and other forms of dis­plac­ing cri­sis. Cap­i­tal accu­mu­la­tion is fueled by the enclo­sure or erad­i­ca­tion of the "com­mons," through preda­tory finan­cial­iza­tion and spec­u­la­tion, wide­spread debt peon­age, pri­va­ti­za­tion, aus­ter­ity, and struc­tural adjust­ment pro­grams, which global finan­cial insti­tu­tions use to con­trol pop­u­la­tions while man­ag­ing crises. The occu­pa­tion of a build­ing vacated by a defunded social ser­vice was a pos­si­ble first step towards reclaim­ing the com­mons.
Gold Rush
Cri­sis has engulfed the entire coun­try, but it is no acci­dent that the most vis­i­ble polit­i­cal response has come in Cal­i­for­nia. As Richard Walker has argued, in the last three years Cal­i­for­nia has deeply reg­is­tered cri­sis and aus­ter­ity, serv­ing as an apoc­a­lyp­tic vision of what is to come for the coun­try at large. While California's share of US total house­hold income and GDP over the last decade have held steady at around 13%, Cal­i­for­nia now has the sec­ond high­est unem­ploy­ment rate in the coun­try. While invest­ment in ven­ture cap­i­tal is again on the rise – with Cal­i­for­nia con­trol­ling more than 50% of this most "dynamic" form of cap­i­tal – state and fed­eral invest­ment in edu­ca­tion and social ser­vices for the increas­ingly impov­er­ished are near­ing record lows.
The mort­gage lend­ing bub­ble that con­tributed so greatly to the crash was con­cen­trated in Cal­i­for­nia, which was respon­si­ble for six mil­lion orig­i­nal mort­gages, ten mil­lion refi­nance loans, and 56% of the sub­primes issued between 2005 and 2007. Banks in Cal­i­for­nia have ramped up their fore­clo­sures and evic­tions within the past few months, as they scram­ble to get bad loans off their bal­ance sheets. Walker points out that Cal­i­for­nia was already "the heart­land of the largest stock bub­ble in his­tory, as invest­ment in the mar­vels of Sil­i­con Val­ley pushed the NASDAQ to uncharted heights." This plunged Cal­i­for­nia and then the nation into reces­sion – but this reces­sion was "over­come" with the hous­ing bub­ble, whose burst­ing has bank­rupted hun­dreds of thou­sands. Hous­ing was a focal point of California's bub­ble-and-bust econ­omy, and in the wake of the busted bub­ble of real estate sales and hous­ing con­struc­tion Cal­i­for­nia was left with more bad loans and fore­clo­sures than any other state in the union.
California's aus­ter­ity process can be traced to the pas­sage of Propo­si­tion 13, which capped local prop­erty taxes and required a two-thirds major­ity in the state leg­is­la­ture for any future tax increases. This began as pop­ulist out­rage against ris­ing hous­ing costs, but ended up serv­ing as a linch­pin for the neolib­eral pro­gram of drain­ing state resources. A low point in this down­ward trend was the bank­rupt­ing of the entire city of Vallejo, now sub­ject to extreme aus­ter­ity mea­sures. Bereft of tax money or invest­ment, Cal­i­for­nia now keeps itself afloat with debt and past resources. Sleight-of-hand mea­sures such as state bonds have main­tained the illu­sion of a work­ing pub­lic infra­struc­ture, with the result that Cal­i­for­nia has the worst bond rat­ing in the coun­try.
Mir­ror­ing the decline of California's econ­omy is the rise of inland and exur­ban ghost towns, where the wind whistles through fore­closed, empty houses. It will not be sur­pris­ing if Oak­land, fol­low­ing the wave of uni­ver­sity occu­pa­tions of 2009, her­alds the begin­ning of a nation­wide move­ment to reclaim and reuse vacated spaces – a process that has already been pro­posed and rat­i­fied by the Occupy Oak­land Gen­eral Assem­bly.
Keep it for Your­self
The occu­pa­tion tac­tic has a long his­tory. One of its most inspir­ing moments came with Lotta Con­tinua's efforts to orga­nize rent strikes and other hous­ing and occu­pa­tion move­ments in Milan, Via Tibaldi, Rome, San Basillo, Tarunto, Palermo, and Naples in the early 1970s. Lotta Con­tinua, one of the most mil­i­tant extra­parlia­men­tary groups in Italy, sought to push beyond the lim­its of the trade-union model of strug­gle by explic­itly crit­i­ciz­ing the assump­tion that the work­ing class could only meet its needs by increas­ing the pur­chas­ing power of its par­tic­u­lar seg­ments. For these mil­i­tants, strug­gle in the com­mu­nity, and self-orga­ni­za­tion through rent strikes and squat­ting, were tac­tics through which the work­ing class could real­ize its needs while devel­op­ing col­lec­tive ways of orga­niz­ing aspects of daily life, such as child care, cook­ing coop­er­a­tives, and health col­lec­tives. They saw the strug­gle around hous­ing as a pre­con­di­tion of the exten­sion of the fight into other areas, such as trans­porta­tion, health, and com­mod­ity prices more gen­er­ally.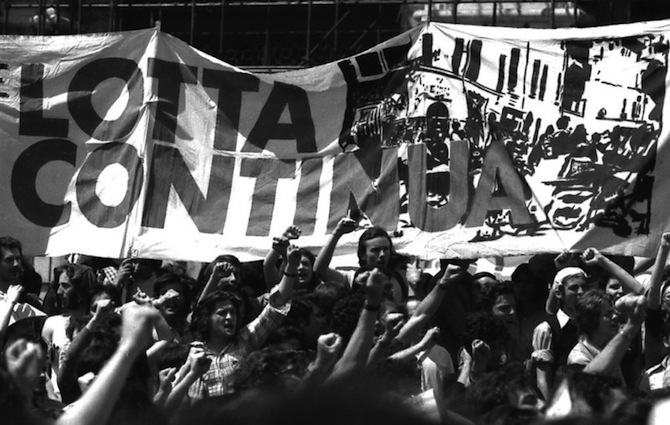 The occu­pa­tions, then, rep­re­sented a nec­es­sary recal­i­bra­tion of work­ing-class strug­gle. In Italy, as in much of the west­ern world, the post-war expan­sion of the global econ­omy caught par­ties and unions in the web of pro­duc­tiv­ity and effi­ciency; the social­ist bureau­cra­cies sought to tie work­ing-class pol­i­tics to the national econ­omy. While the ear­lier rev­o­lu­tion­ary period in Europe saw work­place strug­gles as inte­grally linked with orga­niz­ing the quo­tid­ian world out­side the fac­tory, no such com­mon assump­tion sur­vived mass work­ing-class pol­i­tics after the War. Every­day life was sev­ered from pol­i­tics and the hori­zon of polit­i­cal activ­ity was lim­ited to rep­re­sen­ta­tional pol­i­tics.
The the­o­ret­i­cal and prac­ti­cal inno­va­tions of the post-war left sig­naled renewed efforts to revive this sup­pressed link. For the auton­o­mist squat­ters, social life and con­sump­tion was an impor­tant arena of rev­o­lu­tion­ary strug­gle. What the Ital­ians called "self-reduc­tion," the refusal to accept increased prices for daily neces­si­ties, was led by the house­wives who per­formed the bulk of what has been called "fem­i­nized labor": the unpaid labor that cap­i­tal­ism needs in order to main­tain a waged work force. Work­ing-class women in the move­ment described the imme­di­ate effects on every­day life that resulted from with­hold­ing rent money:
In the two years and five months that I've been on strike, I've saved a lot of money. I feel health­ier. I've had more money to give to the chil­dren, to the ones who really need it. I've had some money to give to a few old-age pen­sion­ers. I'm not say­ing all this to give you big ideas about myself. But just think for a min­ute. Rather than give your money to the bosses, keep it for your­self. Give it to the chil­dren. Give it to the work­ers who are strug­gling in the fac­to­ries and who are exploited, year in and year out.
For these women, rent refusal was not an abstract form of pol­i­tics – it pro­vided imme­di­ate improve­ment of health and well-being, espe­cially for the most vul­ner­a­ble mem­bers of the com­mu­nity. Cru­cially, the deci­sion to occupy was a mass deci­sion; the gen­eral meet­ing acted as the lead­er­ship whereby con­trol and use of build­ings was artic­u­lated and enacted.
In an era when labor has become increas­ingly pre­car­i­ous and mar­gin­al­ized, most peo­ple inhabit this "fem­i­nized" labor posi­tion, forced to work with­out access to the basic ser­vices that facil­i­tate daily life. Strug­gle at the level of the every­day is a force­ful move towards reap­pro­pri­at­ing the hid­den wealth amassed by cap­i­tal, as it sheds the ser­vices it once promised. Pre­dictably, self-reduc­tion, squat­ting, and other mil­i­tant actions were met with media and polit­i­cal out­cry, because they affirmed the power of the work­ing classes to deter­mine the shape of their own lives.
Demand Noth­ing, Occupy Every­thing
Prac­tices of self-man­age­ment and dual power arose in times marked by peri­odic cri­sis, but now that we are enter­ing an era marked by the great­est strat­i­fi­ca­tion of wealth since the 1920s, and the biggest global depres­sion since the 1930s, the oppor­tu­ni­ties to mobi­lize have inten­si­fied. It's use­ful to mark the dis­tance not only from recent "peri­odic crises," but also the crises of indus­trial cap­i­tal­ism that marked the early 20th cen­tury. As Andrew Wood and James Baer show in their his­tory of rent strikes in the Amer­i­cas, hous­ing has long been a cen­tral con­cern for the work­ing class. But the pre­con­di­tion for the move­ments of this period was a state nom­i­nally capa­ble of inter­ven­ing into social affairs. "In con­trast to pre­vi­ous gen­er­a­tions," Wood and Baer write, "demands for reduced rents and improved hous­ing con­di­tions were based on the rel­a­tively new belief in the state as arbiter of citizen's rights and indi­vid­ual wel­fare." The wel­fare state was able to keep peo­ple work­ing by nego­ti­at­ing with social move­ments – a "new polit­i­cal engage­ment," which was "char­ac­ter­ized by a dynamic nego­ti­a­tion involv­ing ten­ants, com­mu­nity asso­ci­a­tions, polit­i­cal groups, prop­erty own­ers, the press, and key gov­ern­ment agents."
Indus­trial expan­sion was char­ac­ter­ized by over­crowd­ing and the absence of space for the teem­ing work­ing classes, along with activist states will­ing to inter­vene in social processes to ensure the con­tin­ued accu­mu­la­tion of cap­i­tal. Today, we are pre­sented with an inverse sit­u­a­tion: neolib­eral states have so far been unable to deliver any­thing other than aus­ter­ity cuts. The result­ing vast infra­struc­ture of dis­carded and vacant struc­tures seems to demand new forms of coop­er­a­tion. Strikes and rent strikes once demon­strated the vital­ity of a rev­o­lu­tion­ary work­ing-class move­ment – today strikes, rent strikes, and occu­pa­tions point beyond the decay of cap­i­tal to the nascent strength of a renewed work­ing-class move­ment.
There are two entrenched fal­lac­ies that must be over­come as the move­ment con­tin­ues to grow in size and strength. First, we must rec­og­nize that the rein­state­ment of the wel­fare state can­not solve the struc­tural prob­lems of con­tem­po­rary cap­i­tal­ism. The polit­i­cal and cap­i­tal­ist class that laid the intel­lec­tual ground­work for the New Deal and Great Soci­ety has been trans­fig­ured by increas­ingly sin­is­ter neolib­eral strate­gies, and the eco­nomic con­di­tions of an expand­ing global econ­omy anchored by US eco­nomic might, which girded the expan­sion of the mid­dle class and wel­fare state, are no longer with us.
Sec­ond, we should reject the pro­foundly anti-utopian reformism of left-lib­er­als, and their lack of vision­ary hopes or demands – a neces­sity even Rolling Stone Mag­a­zine has rec­og­nized. Lib­er­als accuse occu­piers of lack­ing speci­fic demands. We must reply that these accusers them­selves have no demands, and in the cur­rent con­text the vague demands they do have will only har­ness or halt the rad­i­cal poten­tial­i­ties of this move­ment. Rather than con­cen­trate on super­fi­cial polit­i­cal demands for social ser­vices, we need to address a civil soci­ety ren­dered apo­lit­i­cal by post-WWII expan­sion, a labor mar­ket made qui­es­cent through mid-cen­tury com­pro­mise, and the repeated and con­cen­trated attacks on our liveli­hoods under the cap­i­tal­ist strat­egy of neolib­er­al­ism.
This occu­pa­tion move­ment is an oppor­tu­nity to move beyond a pol­i­tics of protest and resis­tance. Occupy Every­where, in dis­tinc­tion from ear­lier move­ments that used the tac­tic of occu­pa­tions, is mov­ing to recre­ate con­di­tions of social life while simul­ta­ne­ously point­ing to the need for deeper struc­tural change. Though occu­pa­tions have been a tac­tic of stu­dent and worker move­ments through­out the last thirty years, the tenor of the present moment has changed. Pre­vi­ous move­ments, such as the 1999 UC-Berke­ley occu­pa­tion of Bar­row Hall in defense of the Eth­nic Stud­ies Depart­ment, used occu­pa­tions as a means to force unde­mo­c­ra­tic admin­is­tra­tions to accede to demands. But the cur­rent occu­pa­tion move­ment refuses to rec­og­nize these admin­is­tra­tions at all. In the past, admin­is­tra­tions have used demands to recu­per­ate the goals of the move­ment. For exam­ple, Eth­nic Stud­ies depart­ments in the UC and other uni­ver­si­ties have either adopted a corporate/public rela­tions per­sona or been suf­fo­cated by the with­drawal of resources and fac­ulty. It is these forms of manip­u­la­tion that have forced a recon­sid­er­a­tion of the rela­tion­ship between move­ments and demands in the first place.
As fee hikes at the Uni­ver­sity of Cal­i­for­nia accel­er­ated dur­ing the clos­ing years of the last decade, stu­dent activists sur­veyed the polit­i­cal field and reached the con­clu­sion that the wrong lessons had been learned from the anti-Iraq war move­ment and the var­i­ous Eth­nic Stud­ies move­ments that uti­lized occu­pa­tions. It was not the case that protest and polit­i­cal action were inef­fec­tive, but that they were mired in strat­egy of rep­re­sen­ta­tion and pub­lic wel­fare that is past its time. Denun­ci­a­tions of and protests against the unde­mo­c­ra­tic activ­ity of the Regents had not man­aged to stall or over­come the pri­va­ti­za­tion and cor­po­ra­ti­za­tion of the UC, or pre­vent the Regents from using it as a per­sonal pig­gy­bank. Protest and occu­pa­tions at uni­ver­si­ties and col­leges since the 1970s had failed to hold admin­is­tra­tive bureau­cracy account­able or bring trans­for­ma­tive change to the often immis­er­at­ing expe­ri­ence of US higher edu­ca­tion.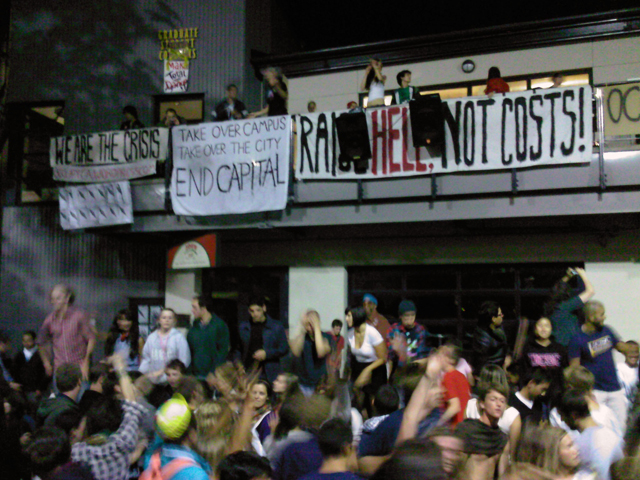 We were part of the group of aca­d­e­mic and stu­dent activists who occu­pied build­ings in the fall of 2009, and many of us remem­bered the mil­lions who turned out nearly a decade before to try to stop the attack on Iraq. Mere num­bers had failed to force demo­c­ra­t­i­cally elected rep­re­sen­ta­tives to com­ply with the people's demands. Work­ing with the rudi­ments of Ital­ian the­ory, visions of Greek agi­ta­tion and the fresh chal­lenge of The Com­ing Insur­rec­tion, our move­ment was deter­mined to take over edu­ca­tional infra­struc­ture, demand noth­ing, and man­i­fest a last-ditch effort to politi­cize civil soci­ety.
That this move­ment began in the uni­ver­si­ties is no coin­ci­dence. More than 80 years ago, Edward Bernays, the father of pub­lic rela­tions, elab­o­rated a vision of cap­i­tal­ist media and uni­ver­si­ties enlisted to "train the emo­tions" and intel­lects of the work­ing classes. For early 20th cen­tury cap­i­tal­ism to max­i­mize its effi­ciency and pro­duc­tiv­ity, the igno­rant and stub­born masses would have to be "enlight­ened"; to this end, monopoly cap­i­tal­ism mar­shaled osten­si­bly dis­in­ter­ested expert wit­nesses in order to over­come oppo­si­tion to a lib­eral state. Cou­pling admin­is­tra­tion by experts with a ped­a­gogy that sep­a­rated thought from action, the lib­eral era saw the man­u­fac­ture of con­sent as the nec­es­sary sup­ple­ment of the bru­tal use of force.
Against this vision of a pas­sive audi­ence, Marx­ists and rad­i­cals have long held to a the­ory of edu­ca­tion through strug­gle – empha­siz­ing the need to sup­ple­ment study with active learn­ing in the picket line, the strike or through direct action. It is no sur­prise that rad­i­cal edu­ca­tors and stu­dents who seek to wrest the class­room from the ped­a­gogy of pub­lic rela­tions have been on the front lines, work­ing through a new the­ory of rad­i­cal action. Work­ing-class edu­ca­tion through action is the only anti­dote to rul­ing-class pub­lic rela­tions.
Over­com­ing the sup­pli­cat­ing atti­tude of the left since the New Deal means over­com­ing the left's strange rela­tion­ship to the state. Increas­ingly, the US state is unable to oper­ate accord­ing to wel­fare-based strate­gies; mak­ing demands would rep­re­sent noth­ing other than legit­i­ma­tion of an ille­git­i­mate power. This is the the­ory under­ly­ing today's slo­gan: "Demand noth­ing, occupy every­thing!" The form of the gen­eral assem­blies and of autonomous move­ments pro­vides the begin­ning of an answer to all pos­si­ble demands.
Long Live the Oak­land Com­mune
The night of Novem­ber 2 we had the priv­i­lege of wan­der­ing around the briefly occu­pied Trav­el­ers Aid build­ing while a dance party took place out­side. A flyer described the building's intended use, as an imme­di­ate shel­ter from the cold for the Occupy Oak­land move­ment and as a site of future forms of mutual aid. From the front, the build­ing looked to be of mod­est size, but this hid an enor­mous inte­rior space. There were at least 10 rooms in the two-story build­ing, with a spa­cious base­ment. We've been around the Santa Cruz DIY com­mu­nity for many years, and have seen ded­i­cated rad­i­cals build projects like Food Not Bombs, infos­hops, bike churches, and con­certs with only pen­nies and gleaned resources, so we could eas­ily imag­ine a space of this size trans­form­ing the lives of hun­dreds of peo­ple through mean­ing­ful col­lec­tive projects with and for the des­ti­tute, hun­gry, and des­per­ate. With work approach­ing the next day, we left for home after a cou­ple of hours, in a san­guine mood.
[youtube http://www.youtube.com/watch?v=oSTLxcV7KMY]
Police had been con­spic­u­ously absent, so we assumed that we'd have the oppor­tu­nity for future vis­its and mate­rial con­tri­bu­tions. News of police con­verg­ing on the site was unset­tling. We had spotty phone recep­tion and received parat­ac­tic updates about the advance of the police, who unleashed tear gas and rub­ber bul­lets on our friends as we drove over High­way 17. While recep­tion was fuzzy, it was clear that we would not be able to visit a thriv­ing social cen­ter in the for­mer Trav­el­ers Aid Build­ing.
Despite our dis­ap­point­ment, we're grate­ful we were able to take part in the col­lec­tive joy that night. Given that the Oak­land Gen­eral Assem­bly has rat­i­fied its ini­tial vote to occupy build­ings – and that this call has been heeded in numer­ous other cities – we have no doubt that future endeav­ors will be made to seize the neglected spaces that should be ours. This has, as Busi­ness Insider notes, become an inevitabil­ity – as the weather gets colder, the mil­lions of unin­hab­ited build­ings cry out for use. Recently a nation­wide coali­tion called Occupy Homes has begun to reoc­cupy fore­closed homes and pro­tect those about to be evicted; Occupy Atlanta has pro­tected a police officer's home from fore­clo­sure, giv­ing the fam­ily time to fight the bank; and Occupy Wall Street has secured low-income ten­ants heat from their slum­lord. We're not set­tled on a sin­gle the­ory of social trans­for­ma­tion, but with news of these suc­cesses pour­ing in, it's clear that this is an impor­tant step in that trans­for­ma­tion.
As impor­tant as these par­tic­u­lar suc­cesses are, the the­o­ret­i­cal space opened by the actions might eclipse these first attempts in impor­tance. Dis­cus­sions and gen­eral assem­blies are emerg­ing in which peo­ple of vary­ing polit­i­cal and social back­grounds have begun to debate how these spaces may be seized and held. Specif­i­cally, ques­tions will arise about the rela­tion of some of the more adver­sar­ial mem­bers of the move­ment – whose actions and the­o­ries, it must be noted, opened the space in which the occu­pa­tion of pub­lic spaces became pos­si­ble – to the gen­eral assem­bly; the ped­a­gog­i­cal activ­ity of marches and the assem­blies; and the meth­ods and modes by which future build­ings will be claimed. A new era of self-man­age­ment and mutual aid, made pos­si­ble through the seizure of spaces aban­doned by cap­i­tal, has become a viable tac­tic. We look for­ward to an exper­i­men­tal period in which col­lec­tive inge­nu­ity will inhabit and expand capital's gaps and fis­sures.