"Don't fuck with the Oak­land Com­mune." Words which will live forever in his­tory, to be remem­bered and repeated at every glo­ri­ous defeat inflicted upon the heroes of the future by may­ors, police offi­cers, unions, churches, and chil­dren. A let­ter, signed by the Occupy Oak­land Move-In Assem­bly, promised to respond to the inevitable evic­tion of an ille­gal build­ing occu­pa­tion by "blockad­ing the air­port indef­i­nitely." Tac­tics only dreamed of by al-Qaeda, within the reach of Occupy Oak­land after just four months.
Yes­ter­day these words were at the cen­ter of a mate­rial prac­tice which brought our move­ment up against its lim­its. It's not a bad thing to meet your lim­its. It means con­fronting the pos­si­bil­ity and neces­sity of rad­i­cal trans­for­ma­tion. And this con­fronta­tion should be approached with all the courage and resolve on dis­play when a young mil­i­tant throws a tear gas can­is­ter back at a line of police.
Occupy Oak­land Move-In Day was to be a his­toric event, an occu­pa­tion of a pri­vately owned build­ing by a mass of peo­ple, announced well in advance. The lit­er­a­ture indi­cated that "mul­ti­ple tar­gets" had been iden­ti­fied, and that the site would be "a vacant build­ing owned either by a bank, a large cor­po­ra­tion of the 1% or already pub­lic." The goal was famil­iar: to estab­lish a social cen­ter in the build­ing for com­mu­nity use. And in fact a remark­able sched­ule of events had been planned, a "fes­ti­val" which could surely have drawn in atten­tion and sup­port.
Every action in Oak­land begins with a decep­tive inno­cence, a rally at Oscar Grant Plaza. The num­bers were impres­sive – the main­stream media reports 1000-2000 through­out the day – and a sign that a remark­able cross-sec­tion of the city had been wait­ing for this. But at the same time police were walk­ing through the crowd with a photo album of promi­nent orga­niz­ers, along with war­rants for their arrest.
Appar­ently some of those arrested were returned to the rally, and the march set off in good spir­its. From time to time you could look across the street and see lines of police on the next block. You could also look up and see their heli­copters.
At a cer­tain cru­cial inter­sec­tion it became clear that police, who had a bird's-eye view of our tra­jec­tory, were block­ing the planned route. In front of us was a quag­mire known as Laney Col­lege. This was the first moment in which a des­per­ately-needed con­tin­gency plan was unavail­able. Though the truck with the sound sys­tem and fur­ni­ture was at an impasse, the crowd spon­ta­neously surged onto the unfa­mil­iar cam­pus and had no idea where to go. It wasn't hard for the police to block the most appar­ent exits.
Inevitably, there was a mic check and an attempt at a gen­eral assem­bly; the sug­ges­tion that we occupy a build­ing on cam­pus was met with appro­pri­ate deri­sion by the already irri­tated crowd. We walked over an extremely nar­row bridge and climbed up a hill to the street, where once again we met our friends in blue and had no idea where we were sup­posed to go. Even­tu­ally we walked on a large street to approach the Henry J. Kaiser Con­ven­tion Cen­ter, which was sur­rounded by fences and cops.
The Kaiser Con­ven­tion Cen­ter is a very large build­ing. It is an obvi­ous and exces­sively ambi­tious tar­get. Whether it was a good idea to con­sider this build­ing at all will be the sub­ject of great debate in the future. What's obvi­ous is that doggedly pur­su­ing this ques­tion­able plan after sig­nif­i­cant police inter­fer­ence was inad­vis­able. The front lines, the peo­ple with trash­can shields, took the ini­tia­tive. They grabbed the fence and pulled it down to face the police, who shot off a smoke bomb. Because smoke bombs look a lot like tear gas, they're a great way to cause a crowd to become even more chaotic. But peo­ple were already drift­ing away by then, try­ing to find some rep­re­sen­ta­tive of the lead­er­ship to explain plan B.
Every step we made towards plan B brought us towards another line of police. The hand­held garage-door bar­ri­cades and trash­can shields gath­ered again at the front lines, with a mass in gog­gles and ban­danas behind them. Omi­nous drum­ming on parked cars and buck­ets. An advance on the police, met with flash­bangs and tear gas. The crowd advanced three times.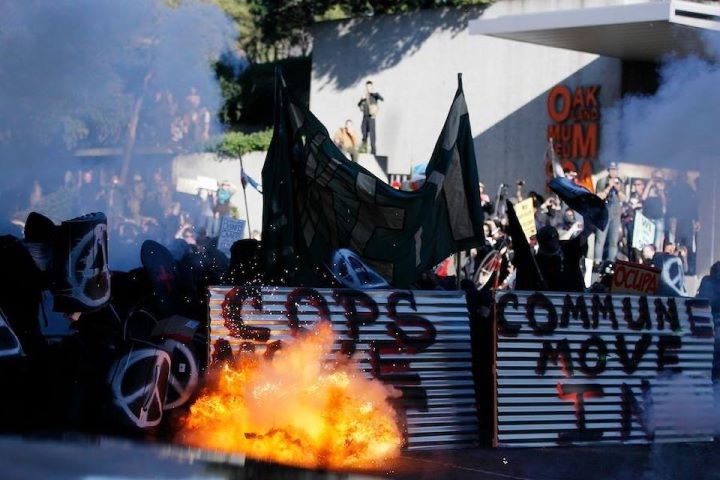 There was noth­ing much to do after that. A mega­phone told us we were going to take back Oscar Grant Plaza, so we walked back there. After a brief moment of recu­per­a­tion the orga­niz­ers announced that we would be tak­ing another build­ing in 45 min­utes.
I regret to say the atmos­phere was tri­umphal­ist. It's under­stand­able that a clash with police has a marked effect on the adrenal glands. But there was noth­ing resem­bling a vic­tory in this. The stated goal had not been achieved, and the police are famil­iar with the aggres­sive­ness of activists in Oak­land. They expect it. In fact, the Oak­land Police Depart­ment is on the verge of fed­eral receiver­ship, an unprece­dented move, because the OPD really likes vio­lence, and seeks it out as part of a pol­icy of state-spon­sored gang war­fare. And the insis­tence on "Fuck the Police" marches in Oak­land lead­ing up to yes­ter­day could only shift the empha­sis from the occu­pa­tion itself to the clash.
Now we have to ask our­selves if we should con­tinue to give the police what they want, which we do in rit­u­al­ized form at every action. After all, it is these rit­u­als that repro­duce belief in the cops. The cops tell a lie. The lie is that their vio­lence is autonomous and imposes its power to pre­serve an abstract order. What they never want us to under­stand is that cops are an ele­ment of the machin­ery of the cap­i­tal­ist state, and they exist within a wide net­work of insti­tu­tions which allow the cap­i­tal­ist class to exer­cise social power. In Oak­land their repres­sion was used to evict an encamp­ment which threat­ened to bring pub­lic space under pro­le­tar­ian con­trol, and to drive out an attempted build­ing occu­pa­tion on a day declared to be a "gen­eral strike." And if yes­ter­day the OPD was forced to call upon the Alameda County Sheriff's Office and city police includ­ing Fre­mont, Hay­ward, Berke­ley, Pleasan­ton, Union City, and Newark, their actions were struc­tured around the defense of pri­vate prop­erty and its social sys­tem.
But the rein­force­ment of pri­vate prop­erty is not lim­ited to police vio­lence. It hap­pens in schools, the legal sys­tem, social wel­fare insti­tu­tions, non-profit orga­ni­za­tions, trade unions, and count­less other spaces. Since these insti­tu­tions don't use vio­lence to defend pri­vate prop­erty, a strug­gle whose assault on cap­i­tal­ist power is as broad as that power itself will sit­u­ate street con­fronta­tions within a wide spec­trum of activ­ity. In Oak­land the class war did not begin with the occu­pa­tion. It hap­pens every day when the police are used against its cit­i­zens, many of whom are sent not just for a night in jail but to prison, if they aren't shot in the back. And it hap­pens every day when peo­ple are evicted from their homes, when they are sub­jected to dis­ci­pline and humil­i­a­tion in the work­place, when their schools are con­verted into train­ing camps for Bill Gates. For many of these peo­ple, whose entry into polit­i­cal prac­tice is required for the con­tin­u­a­tion of the Occupy move­ment, esca­lat­ing the con­fronta­tion with police may not be highly desir­able. Eva­sion is bet­ter.
And it is the sub­ject of eva­sion which brings us to the next part of our story. I can't claim, for a speci­fic set of rea­sons, to have direct knowl­edge of what hap­pened then. I can cer­tainly assure you that I took no part in any ille­gal activ­i­ties. But some­one who isn't me was there, and expe­ri­enced it.
A much smaller crowd – maybe between 200 and 500 – fol­lowed a route past the Traveler's Aid build­ing, the site of the Novem­ber 2nd occu­pa­tion attempt, again fol­lowed by police. At a cer­tain cru­cial inter­sec­tion some­one cre­atively knocked open a fire hydrant to pro­duce a water bar­ri­cade. The crowd swarmed into a park con­tain­ing the Remem­ber Them statue, with depic­tions of Mar­tin Luther King and Mal­colm X, among oth­ers.
The next time Occupy Wall Street sends money to Occupy Oak­land, the gen­eral assem­bly may want to con­sider invest­ing it in a heli­copter. With their heli­copters the police knew exactly where to line up to ket­tle the entire group, who were blocked into this park, with lit­tle left to do but admire the sculp­tures, erected by the Oak­land Met­ro­pol­i­tan Cham­ber of Com­merce, of men and women who com­mit­ted civil dis­obe­di­ence and faced police in the past.
The police recited their order to dis­perse. Some peo­ple prob­a­bly wanted to fight again, but the vast major­ity did not. They approached the lines of police and informed them that they wished to dis­perse. This had to be repeated sev­eral times; most times it was ignored, some­times it was met with a response that they were wait­ing for instruc­tions. When the instruc­tions arrived the police informed peo­ple who wanted to dis­perse that they should move to another cor­ner of the park and exit onto the street there. The crowd moved over to that cor­ner, where a cop told them, "stay away from us," and refused to allow any­one to leave.
Sud­denly, at the other end of the park, a smoke bomb. Peo­ple started run­ning towards a fence, which blocked the only area with­out police. An advanced ele­ment knocked down the fence and the whole crowd ran, com­ing up against another fence and knock­ing that one down too.
A few peo­ple ran off and suc­cess­fully dis­persed. The oth­ers gath­ered and were ket­tled again. Part of this group made a remark­able escape through the YMCA, jump­ing over exer­cise equip­ment and exit­ing else­where. Another part of the group was arrested.
The action didn't stop there. Another group, who­ever wasn't sit­ting in front of the YMCA with zip­ties cut­ting into their wrists, returned to Oscar Grant Plaza and sim­ply decided to occupy City Hall, where they burned an Amer­i­can flag and fought with police again.
Ear­lier that day, as we sat in Oscar Grant Plaza wait­ing for the next round, I heard a num­ber of peo­ple talk about the class war. War demands mil­i­tary think­ing. Among the basic prin­ci­ples of mil­i­tary strat­egy is the one which dic­tates that you retreat when the enemy advances. This is as fun­da­men­tal a prin­ci­ple as the one which dic­tates that you pur­sue when the enemy retreats. And any eval­u­a­tion of the day will have to begin with the acknowl­edg­ment that up to 500 of our troops were cap­tured.
In the 1895 Intro­duc­tion to Class Strug­gles in France, Karl Marx's account of the 1848 rev­o­lu­tion and its repres­sion, Friedrich Engels reviewed the effect of his­tor­i­cal changes in war­fare on the class strug­gle. "Let us have no illu­sions about it," he wrote. "A real vic­tory of insur­rec­tion over the mil­i­tary in street fight­ing, a vic­tory as between two armies, is one of the rarest excep­tions. And the insur­gents counted on it just as rarely… The most that an insur­rec­tion can achieve in the way of actual tac­ti­cal oper­a­tions is the pro­fi­cient con­struc­tion and defence of a sin­gle bar­ri­cade."
Know­ing that the bar­ri­cade tac­tic was one of "pas­sive defense," and that the mil­i­tary always pos­sessed equip­ment and train­ing unavail­able to the insur­gents, the rev­o­lu­tion­ar­ies of the 19th cen­tury pur­sued other goals. "Even in the clas­sic time of street fight­ing," Engels wrote, "the bar­ri­cade pro­duced more of a moral than a mate­rial effect. It was a means of shak­ing the stead­fast­ness of the mil­i­tary."
But at a cer­tain point street-fight­ing lost its "magic," even for this "moral" effect. After 1848 the police devel­oped their own tac­tics of street fight­ing, and a whole range of changes tipped the bal­ance in favor of the mil­i­tary. Their armies became big­ger, and their weapons far more effec­tive. Engels lists the smooth-bore muz­zle-load­ing per­cus­sion gun, the small-cal­i­bre breech-load­ing mag­a­zine rifle, and the dyna­mite car­tridge. He adds that the urban ter­rain had been trans­formed, with "long, straight, broad streets, tai­lor-made to give full effect to the new can­nons and rifles."
To this list we can now add bean­bag bul­lets, CS gas, and heli­copters. We are lucky that, unlike in Egypt, more tra­di­tional vari­eties of bul­lets are not cur­rently on the table. But we can't ignore the lim­its of the bar­ri­cades; since the Paris Com­mune in 1871, which the Oak­land Com­mune now recalls, the tac­tic of the bar­ri­cades has been linked to defeat and the pos­si­bil­ity of vicious and bloody repres­sion. We have not suf­fered such a grue­some defeat. But com­ing up with a long-term strat­egy, beyond the short-term tac­tics, means that we acknowl­edge and learn from the defeats that we expe­ri­ence.
The alter­na­tive to street fight­ing that was embraced by the 19th cen­tury social­ist move­ment, par­lia­men­tary con­tes­ta­tion, is absolutely use­less to us now. But even in the 19th cen­tury, when uni­ver­sal suf­frage was a new demo­c­ra­tic right, its use for rev­o­lu­tion­ary move­ments was not to enter into the admin­is­tra­tion of the cap­i­tal­ist state. Engels wrote that it "pro­vided us with a means, sec­ond to none, of get­ting in touch with the mass of the peo­ple where they still stand aloof from us." The dra­matic increases in num­bers – Ger­man social­ists drew 1.5 mil­lion votes while it was ille­gal to even have a party meet­ing, and nearly 2 mil­lion votes after that – could com­pen­sate for the new mil­i­tary dis­ad­van­tages. Street fight­ing, Engels argued, could play a role in the future if "under­taken with greater forces," which could drop "pas­sive bar­ri­cade tac­tics" in favor of "open attack."
A cen­tury later, insur­rec­tionary anar­chists and reformists like MoveOn vie for hege­mony over the move­ment, each advanc­ing street-fight­ing and vot­ing not as tac­tics, but as the ulti­mate goals. And we have to be clear that it is an alliance between social democ­rats and ultra-left­ists that has dri­ven this move­ment, in spite of their pub­lic scorn for each other.
Their alliance, how­ever, has opened a space for rev­o­lu­tion­ary responses to the cri­sis. These responses won't be summed up in spec­tac­u­lar clash. They'll be a process that will be with us through the ebbs and flows, beyond every defeat and within every vic­tory.
The move­ment is cur­rently in a lull. Every­one looks for­ward to spring, but there is no need to cling to esca­la­tion in period of quiet. No need, because it is pre­cisely the time to expand, to engage in the less dra­matic work of grow­ing and incor­po­rat­ing the dif­fuse energies of the work­ing class.
Reformists urge coali­tion build­ing, as though the union bureau­cra­cies could some­how lead a rad­i­cal move­ment. While some purists refuse coali­tions, the rev­o­lu­tion­ary response is infil­tra­tion and inva­sion. When we approach the unions we don't seek their guid­ance; we seek to intro­duce class antag­o­nism into those insti­tu­tions, to con­struct a broad class power, men­ac­ing and inescapable for the bosses just as it is irre­sistible to work­ers who spend each day on the defen­sive.
Fences were torn down twice yes­ter­day. The first time, a pan­icked and impo­tent attempt to con­vert a thwarted plan into a con­fronta­tion. The sec­ond time, as a tac­ti­cal maneu­ver which played a pre­cise and nec­es­sary role in evad­ing the enemy. The deter­mi­na­tion and resource­ful­ness which enables such an escape could play a role in the army that not only defends the work­ing class from cap­i­tal­ist bru­tal­ity, but also defeats cap­i­tal­ist power. And at every action we are reminded that our his­tor­i­cal task is to build the mass orga­ni­za­tion capa­ble of draft­ing its strat­egy and guid­ing it to vic­tory.
---
Asad Haider is a grad­u­ate stu­dent at UC Santa Cruz, a mem­ber of UAW 2865, and an edi­tor of View­point.