In their 1972 pam­phlet The Power of Women and the Sub­ver­sion of the Com­mu­nity, Selma James and Mari­arosa Dalla Costa pre­sented an orig­i­nal and influ­en­tial analy­sis of "unwaged work." This con­cept, which iden­ti­fied the care work that women do in the home as an essen­tial ele­ment of the repro­duc­tion of cap­i­tal­ism, opened the door to pow­er­ful new forms of strug­gle among work­ing class women and men. James founded the Inter­na­tional Wages for House­work Cam­paign, based on the demand that women should be paid for their round-the-clock care work, since it repro­duces labor-power day after day.
This was not an attempt to sub­ject women to the same exploita­tion as male work­ers. In 1970s Italy, the Wages for House­work move­ment was con­nected to Lotta Fem­i­nista, a group that sought to chal­lenge male-cen­tered forms of work­ers' strug­gle. Sil­via Fed­erici argued, in a 1974 essay reprinted in the recent issue of The Com­moner on care work, that the fem­i­nist strug­gle for a wage had to be under­stood in terms of "its sig­nif­i­cance in demys­ti­fy­ing and sub­vert­ing the role to which women have been con­fined in cap­i­tal­ist soci­ety." Intro­duc­ing a reprint of James and Dalla Costa's pam­phlet in 1975, the Padua Wages for House­work Com­mit­tee explained, "If our wage­less work is the basis of our pow­er­less­ness in rela­tion both to men and to cap­i­tal, as this book, and our daily expe­ri­ence, con­firm, then wages for that work, which alone will make it pos­si­ble for us to reject that work, must be our lever of power."
Recently James has coor­di­nated the Inter­na­tional Women Count Net­work and the Global Women's Strike. Sev­eral weeks ago, she kicked off a tour to pro­mote her new book with PM Press, Sex, Race and Class – The Per­spec­tive of Win­ning: A Selec­tion of Writ­ings 1952–2011. At Occupy Philadelphia's Dis­sect­ing Cap­i­tal­ism series, James gave a talk on "Women, Cap­i­tal­ism, and the State," and later appeared at a spe­cial women-led Inter­na­tional Women's Day gen­eral assem­bly. Between her engage­ments, I spoke with her about the rel­e­vance of Wages for House­work today, her cur­rent involve­ment in US and UK wel­fare cam­paigns, and the chal­lenges fac­ing care work­ers.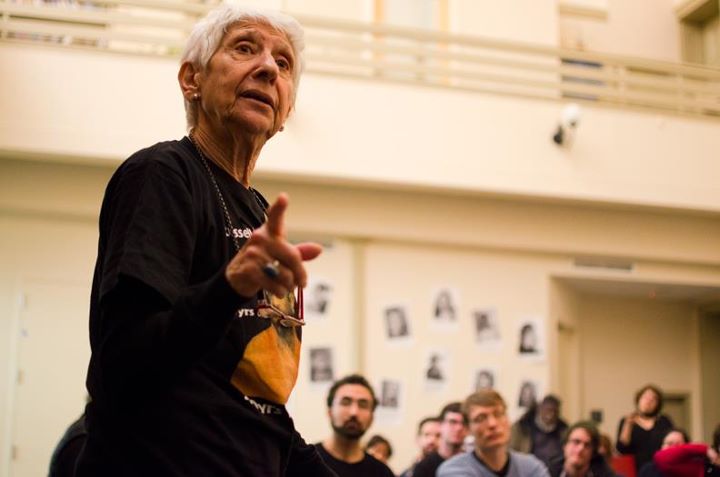 ---
I wanted to start with The Power of Women and the Sub­ver­sion of Com­mu­nity and the cen­tral ideas around that, because they might not be com­pletely famil­iar to peo­ple who are read­ing this pub­li­ca­tion from other per­spec­tives. As I under­stand it, one of the cen­tral ideas in that pub­li­ca­tion is that women's work is fun­da­men­tal to the repro­duc­tion of cap­i­tal, and that women's strug­gles are not sec­ondary to labor pol­i­tics.
In fact, that women's strug­gles are labor pol­i­tics, but they're unwaged labor pol­i­tics. And they're not less impor­tant or more impor­tant but inte­gral to the entire pic­ture. There is waged work in the soci­ety, and there is unwaged work in the soci­ety, and they're both absolutely cru­cial to the accu­mu­la­tion of cap­i­tal and to its destruc­tion.
Thank you. You put it much more elo­quently than I could. So with that as the foun­da­tion, and the fact that this pub­li­ca­tion came out in '71-'72…
'72.
'72. I'm won­der­ing if you could explain, with changes in women's strug­gles and changes in labor, how that applies today, par­tic­u­larly for younger peo­ple who are new to these ideas or com­ing into this with­out hav­ing been alive at that time.
Some things are dif­fer­ent. The first thing that's dif­fer­ent from 1972 is that we have a much more inter­na­tional view of unwaged work. There's not a lot in Power of Women on the unwaged work on the land. And it's much more directed at women in indus­trial coun­tries. The house­work of women in indus­trial coun­tries. Whereas most of the house­work in the world, and most of the car­ing work in the world, and obvi­ously, most of the agri­cul­tural work in the world that's unwaged, as well as waged, is in the non-indus­trial world.
And we under­stood that not long after. There are hints of that in Power of Women, because I had lived in the Third World and been involved in strug­gles in the Third World. But it was hard enough to make the case for unwaged work with women in indus­trial coun­tries because a lot of fem­i­nism was not inter­ested in that. They thought that, and said that, house­work… you could more or less elim­i­nate it. Do just a lit­tle some­thing every day, which is at best absurd, at worst sex­ist. So that was a big change.
The other big change is that women went out to work in much greater num­bers, for a num­ber of rea­sons. Because we didn't think we could get wages for house­work. And we thought the impor­tant thing was to get the money to have the inde­pen­dence. And because, after the Sev­en­ties, there was an enor­mous attack on women hav­ing any money from the state. And sin­gle moth­ers were thrown off ben­e­fits. In this coun­try it was absolutely hor­ren­dous by the Eight­ies. But increas­ingly, it's hap­pened every­where, where women are dri­ven out to work, irre­spec­tive of what hap­pens to their chil­dren. Their chil­dren are nobody. Their chil­dren are irrel­e­vant. The impor­tant thing is that the state not give any­thing, and that the women give more. That's a big change.
What is not a change, is that women do the house­work. And that the house­wife is hid­den behind her wage. That is, the fact that she goes home every day to see that her child has clean socks for the morn­ing, and that her old­est son has his sports gear, and that her mother has some­body to look in on her, because she just lost her hus­band.
I mean, all of that enor­mous car­ing work has not gone away at all – except, and to the degree that it has gone away, to that degree, we're not dis­traught that [women] don't know what's hap­pen­ing to their chil­dren, they don't know what's hap­pen­ing to their par­ents, their elderly par­ents.
The rela­tion­ships on which the whole soci­ety rests are in wreck con­di­tion, are in dis­as­trous con­di­tion because women are going out to work. It's not just a few min­utes a day. It's tak­ing care of the rela­tion­ships that are the foun­da­tion of our lives. That's what women do. And when we can't do that, when most of us can't do that, we are either furi­ous, resent­ful, or we begin to be uncar­ing our­selves. And that has hap­pened to some women.
It's hap­pened to all of us to some degree. That we don't want to know about how the peo­ple that we would ordi­nar­ily have been tak­ing care of, how they're suf­fer­ing. We don't want to know. We can't cope with the knowl­edge of the mess that peo­ple we love are in, as a result of the fact that we have no time to take care of them. I think there are really a lot of women in that sit­u­a­tion. They call it the Sand­wich Gen­er­a­tion. They call it what­ever they like. Any nice lit­tle name they give it, it's def­i­nitely the suf­fer­ing of the carer as well as those that they care for, obvi­ously, which is why the carer is suf­fer­ing.
Now some­thing else has hap­pened which I was not aware of until I read an arti­cle very recently by a woman called Allison Wolfe, who seems to be from Britain, who says that a major change among women, has been that the elite of women – and there is now much more of an elite, as a result of fem­i­nism – has resulted in a class divide among women as it has never been seen before. In fact, I was read­ing that arti­cle again this morn­ing, and I can give you one or two quotes, like: "The rev­o­lu­tion has taken place at the top. A major­ity of trainee bar­ris­ters and almost two thirds of med­ical stu­dents are now female (up from 29 per cent in the early 1960s), and the major­ity of doc­tors will be women by 2012 on cur­rent trends."
As a result of that, [Wolfe sug­gests that] the wage hier­ar­chy based on gen­der does not apply to them. Hmm. It applies to us more than before, okay?
So that, she says, I want to just find another quote that I was kind of mind-blown by. She says: "Aca­d­e­mic experts on the female labour mar­ket occupy very dif­fer­ent points on the polit­i­cal spec­trum, but they agree on the polar­i­sa­tion of women's expe­ri­ences. The fem­i­nism of the 1960s and 1970s, reflect­ing and feed­ing into a rev­o­lu­tion in women's lives, spoke the lan­guage of sis­ter­hood – the assump­tion that there was a shared female expe­ri­ence that cut across class, eth­nic and gen­er­a­tional lines. The real­ity was that at that very moment, sis­ter­hood was dying."
Sis­ter­hood was dying because most of us were not gain­ing pay equity. Most of us were deeply suf­fer­ing from sex­ism, and the ones who were the lead­ing fem­i­nists were not.
In fact, every once in a while, they got very angry and said, "It hasn't all dis­ap­peared." And they would men­tion some­thing that they are still affected by, still attacked by, which they thought they would no longer be affected by. In other words, it's a shock to find out that they're still suf­fer­ing as women when they thought, once you got the job, once you got the pres­tige, once you got the posi­tion, once you got equal­ity, all that [would be] left behind.
Now I men­tioned this to an audi­ence last night, and I said, "I'm not absolutely cer­tain she's right." But I think there's a lot to be said, and the fig­ures do prove that she is right in terms of the wage gaps in the board­room are not what they are on the shop floor. I mean there isn't even a shop floor any­more. You know, in the call cen­ter or in gen­eral, nurs­ing as opposed to doc­tors and all the rest.
So that's a change. Those are the things that have changed. We have changed; we are more inter­na­tional. But the sit­u­a­tion for women has changed. More of us are doing the dou­ble day, and there is a change in the class, the extent of the class split in fem­i­nism… That's a very big answer.
I was at your talk last night, so, informed by that and by things I've tried to read up on, I was hop­ing that you could talk about par­tic­u­lar strug­gles or sites of strug­gle that you're involved in today or that you think are impor­tant and linked to that orig­i­nal under­stand­ing of unwaged work. Par­tic­u­larly the work around wel­fare that you had men­tioned last night, if you could com­ment a lit­tle more on that.
We're just get­ting a peti­tion together. That's what Phoebe [Jones] and I were work­ing on with women on the West Coast because [Con­gress­woman] Gwen Moore has put for­ward the Rise Out of Poverty Act. And a num­ber of us, that is, the Global Women's Strike, the Wel­fare War­riors in Wis­con­sin, who have fought wel­fare reform every min­ute. You see, I'm just famil­iar­iz­ing myself with this. I knew the Act had come up at a meet­ing, which we have often on Skype, between the US and the UK and Guyana, in par­tic­u­lar, and some­times with Ire­land. We can't do it with Peru or India because the lan­guage bar­ri­ers are too great. But this is the core of the strike. Those are the coun­try cores. They're the coun­tries that are part of the core.
And it's some­thing that we absolutely must pur­sue. Michael Moore has done us a great ser­vice in his film where he deals with the fact that this lit­tle boy who was unguarded while his mother was at work, work­ing for work­fare, had killed another child. Did you see that movie?
Yes, yes. A while ago.
Well, I was deeply affected by that. And I have been a sin­gle mother, rais­ing a child, by myself. His father was there and ready to take him for one or two nights a week. I have no com­plaints about the father, but the sit­u­a­tion is unbear­able. You are, every min­ute, wor­ry­ing about what's hap­pen­ing to your kid. And you don't want to ruin his life because that will ruin your life, among other effects. And yet, when we said "wages for house­work," there were fem­i­nists who didn't take that seri­ously, and that is not very nice.
Any­way, we think it's really impor­tant. In 1977, some of us in the US went to the con­fer­ence in Hous­ton. US Pres­i­dent Carter had orga­nized that. He was dif­fer­ent. He was a white south­ern anti-racist; that's what made him dif­fer­ent on every­thing. And we said, with the wel­fare rights move­ment, the wel­fare rights move­ment was still vig­or­ous, that women receiv­ing income trans­fer pay­ments – that's wel­fare but in legalese or some­thing – should have the dig­nity of hav­ing that pay­ment called a wage, not wel­fare. And we said, "right on."
There's a pho­tograph in the book of that con­fer­ence where Mar­garet Prescott and John­nie Till­mon and – I can't remem­ber the name of the other woman who was so great from the wel­fare rights move­ments – cel­e­brat­ing this deci­sion, which tran­scended the divi­sions between the North women and the South and between the Left women and the Right. There were white south­ern women who joined with these black women to say that wel­fare should be called a wage, because of course, most women on wel­fare at that time were white farm work­ers. But the move­ment was spear­headed by black city women. So we've always been involved in the defense of wel­fare and tried to pre­vent wel­fare reform, as Mr. Clin­ton and his lady fem­i­nist wife socked it to us.
Now there's a pos­si­bil­ity of, again, get­ting wel­fare with­out work­fare, and we're gonna fight like hell for it. And we're also fight­ing the same bat­tle in the UK.
So, I had men­tioned, I'm a teacher. I work in a non-union­ized con­text, and I think in the UK, from what I under­stand, the same sort of ten­dency towards pri­va­tiz­ing pub­lic edu­ca­tion is hap­pen­ing.
Yes, it's ter­ri­ble.
Per­ceiv­ing of school­ing as intri­cately con­nected with the fam­ily in the repro­duc­tion of cap­i­tal­ism, I was think­ing a lot about how, since these things are already con­nected, teach­ers and edu­ca­tors might ally in these strug­gles. Because there's all of this rhetoric about putting chil­dren first, which is, you know, not hap­pen­ing in the home, and not hap­pen­ing in the school…
Any­where!
But it seems to be dri­ving force for pri­va­ti­za­tion. So I was won­der­ing if you had any thoughts about link­ing these edu­ca­tors' strug­gles.
My sis­ter had been a teacher, but she's no longer with us. In the UK, from Mar­garet Thatcher, 1979, equat­ing to Ronald Rea­gan, 1980 – the best of friends, they were – they attacked teach­ers as a way of attack­ing edu­ca­tion, and the unions did not defend teach­ers as edu­ca­tors. They defended teach­ers as work­ers. But they did not defend teach­ers as car­ers.
My son was edu­cated in that sys­tem in the UK, and from when he was lit­tle, he used to love to go to school. This was not my expe­ri­ence in this coun­try, but the teach­ers were – many, not all, but many of the teach­ers – were ded­i­cated to the kids, fought for the kids, sup­ported the kids. If they were study­ing a play, they would work out which of the kids were inter­ested and take them to the play at the West End to see Olivier or who­ever else. They were inter­ested in edu­ca­tion. It was a voca­tion, and, the union nar­rowed the demand to where you were just doing a job and how much money am I get­ting.
When one of the women at our cen­ter in Lon­don com­plained that police were in the school, and she wanted police out of the school where her chil­dren were going, her two daugh­ters, the teach­ers didn't agree with her because they said, "They can keep order." And we thought, "You mean a teacher can't keep order? What kind of a teacher is it who can­not keep even the atten­tion of the kids?" What are they doing in that class­room, you know, that these kids are undis­ci­plined, rau­cous, and feel that there is no dif­fer­ence between the repres­sion they may find in the soci­ety gen­er­ally and what's going on in this class­room, that they need the polic­ing of the kids? So, I feel that the unions have not helped to main­tain the dig­nity and the mis­sion – not a word I use often because I'm an athe­ist – and the mis­sion of the teacher as a civ­i­liz­ing influ­ence, as an enhance­ment of the lives of the chil­dren.
I think that some­thing sim­i­lar has hap­pened with nurses – and nurses are fight­ing to take care of patients, you know. They're not only fight­ing that they're over­worked and under­paid. They're fight­ing so that they can take the proper care of the patients. You know, one of the nurses was com­plain­ing to me that his boss on the ward says that, "You spend too much time with the patients. If you have to go ban­dage a leg, just ban­dage a leg, but then you sit and talk with them, and that's no good!"
So, I think there's a real cri­sis – this is in gen­eral – between us car­ers and those who exploit us. On the one hand, we want to care. But on the other hand, we don't want that wish to care to be used against us as work­ers. And we have always to decide, as car­ers, as teach­ers, as nurses, as moth­ers, as neigh­bors, we have to decide how to defend our car­ing but not allow our­selves to be exploited because we have this "weak­ness," and in fact, this vul­ner­a­bil­ity is the right word. We have to say, "You have to pay us to do the right thing." And we don't take the lit­tle bit that [either] we want to do the right thing, or we want to take the money. We want both. That's really cru­cial, and it took a lot of years, I think, to be absolutely clear, to be able to say that in that suc­cinct way because it's very hard to fig­ure out, if you are a carer, if your work is the health and well-being of other peo­ple, how to be ded­i­cated to it but not exploited, not allow your­self to be exploited by it.
I think that that is what the teach­ers should be say­ing and doing. They should be spelling it out. They should be telling the par­ents, "If you want me to teach, fight for my wages, and fight for my time. Fight for the facil­i­ties, and fight for the chil­dren to have instru­ments to play in band and things like that, on school time, with school money." You know, we want to give these chil­dren an edu­ca­tion that really fits them to have a happy life, not fits them to be a repressed indi­vid­ual at the ser­vice of the state.
In the new anthol­ogy – there's only one anthol­ogy, of course it's new because there wasn't any before – I edited a speech that I was asked to make by Pres­i­dent Aris­tide in Haiti, to the stu­dents, because my hus­band was a great his­to­rian and an his­to­rian of Haiti. He thought, "Well, let's take a chance on you." And I said there was a dis­tinc­tion, a cru­cial dis­tinc­tion that kids have to make – kids, but teach­ers should help them – between ris­ing out of poverty and destroy­ing poverty. Do you use edu­ca­tion to get out of it, or do you use edu­ca­tion for all of us to get out of it? That's also some­thing that the teach­ers haven't made clear. They've entered into the com­pe­ti­tion – I must be jet lagged because a lot of these words I can't remem­ber, and I did, I was alright in Eng­land, so it must be jet lag – entered into the com­pe­ti­tion which schools invited chil­dren to be part of. And teach­ers should be say­ing, "Yes, I want you to know this. This will be use­ful to you. You'd like to learn this. Yes, you might want to know this, and this is the way that every­body can move. You know, you have to pass exams, but the fewer exams, the bet­ter. The more edu­ca­tion the bet­ter."
And I think this is some­thing that that new move­ment, which Occupy really sig­nals and per­son­i­fies, really has to address. The teach­ers within it have to address that. What do you think of that?
I think par­tic­u­larly, this ten­sion between want­ing to care, feel­ing that your work has mean­ing and know­ing that it's still work, is really dif­fi­cult. I want to provide chil­dren with these won­der­ful, eye-open­ing expe­ri­ences and sup­port but at the same time, resist the exploita­tion that that work can involve. It's a major ten­sion that I, per­son­ally, feel.
You have to speak about it as that. It's ter­ri­bly impor­tant that you spell it out, and you say exactly how it is, and how some peo­ple do one thing, and some peo­ple do another, and that you want to do both.
Yeah.
You know, I think it's very impor­tant to say that and to say that loud and clear in every sin­gle quar­ter, in every sin­gle place where this ques­tion would be suit­able to be raised.
It can be hard to say, par­tic­u­larly in con­texts where, you know, there's no union, there's no pro­tec­tion. But it's essen­tial, I agree.
It is. But when you're orga­niz­ing for a union, that's the basis on which you want to orga­nize for it. Because if you orga­nize on the nar­row stuff, you'll never get to the wider stuff, you know. Even if it takes you longer get the union, when you get it, it will be for the right rea­sons.
I had an Inter­na­tional Women's Day con­ver­sa­tion with all of my stu­dents today. I teach high school Eng­lish.
How old are they?
They're tenth graders.
Tenth is what?
15, 16.
Teenagers.
Yeah. And I told them a lit­tle bit about what I was doing this after­noon, and what I did last night, and tried to give them a lit­tle back­ground infor­ma­tion. I asked if they had any ques­tions for you based on the lit­tle they knew.
Oh!
So one com­mit­ted and inter­ested stu­dent had a ques­tion. I was won­der­ing if I could ask you…
Cer­tainly, you can.
She was won­der­ing: "What keeps you moti­vated in con­tin­u­ing the cam­paign?" I talked a lit­tle bit about Wages for House­work, and so I think that's the cam­paign she was talk­ing about. I explained that you had been around through a lot of strug­gles for a lot of time, and she was like, "Wow! Why is she still doing it?"
What keeps me moti­vated is that I want to enjoy my life, and the clos­est I can get to full enjoy­ment is to attack my ene­mies. And I find that, if I do it hon­estly and with oth­ers in a col­lec­tive way, I have a good chance to know what's hap­pen­ing in my own life. So my own life is not mys­ti­fied, so I don't believe the lies they tell me about what I think and what I feel or should feel and should think. That I really begin to see other mem­bers of the human race in the round rather than with the non­sense that all of us spew out from time to time when we don't know what bet­ter to say. And that's what really keeps me moti­vated. I have a very high opin­ion of my own life, and there­fore, I want to use it in a way that is ele­vat­ing to me but also to all those who are down here with us. I don't know if I've said that very clearly, but you know, it's some­thing that I want for myself. To be part of this strug­gle is to be learn­ing, all the time. And that's more fun than any­thing I know, I mean, like any­thing. To learn what's really going on is such a major thrill that it's what really keeps me moti­vated.
---
Julie McIn­tyre is an edu­ca­tor who has worked with chil­dren and youth in schools, libraries, art orga­ni­za­tions, and res­i­den­tial deten­tion cen­ters. She lives and works in Philadel­phia, PA.