This post is part of our ongo­ing debate on the rel­e­vance of Lenin, which started with Salar Mohan­desi and Todd Chre­tien. See the response by Pham Binh, and Mohandesi's final response.
---
"Dur­ing the life­time of great rev­o­lu­tion­ar­ies, the oppress­ing classes con­stantly hounded them, received their the­o­ries with the most sav­age mal­ice, the most furi­ous hatred and the most unscrupu­lous cam­paigns of lies and slan­der. After their death, attempts are made to con­vert them into harm­less icons, to can­on­ize them, so to say, and to hal­low their names to a cer­tain extent for the 'con­so­la­tion' of the oppressed classes and with the object of dup­ing the lat­ter, while at the same time rob­bing the rev­o­lu­tion­ary the­ory of its sub­stance, blunt­ing its rev­o­lu­tion­ary edge and vul­gar­iz­ing it." – Vladimir Lenin, State and Rev­o­lu­tion
"Asked after­wards about whether the Rus­sian cir­cus was going to kill the tiger involved, the trainer responded with hon­esty. 'If we were to shoot every tiger that attacks us, there wouldn't be any remain­ing.'" – Jason Hribal, Fear of The Ani­mal Planet

Com­rade Lenin is just one in a long line of heroes I don't know a lot about. He's the kind of his­tor­i­cal char­ac­ter engi­neered to model, made for a time when rev­o­lu­tion­ar­ies pinned up news­pa­per head­shots over their beds and went to bed vow­ing to wake up and be more like Che or Mao or Gaddafhi or Car­los or Ulrike or Huey or even masked Mar­cos. The 20th Cen­tury saw Com­mu­nist Par­ties and par­ty­ing com­mu­nists, but both had their icons. We are, how­ever, icon­o­clasts; some bold sans-serif lulz-text in place of a black line.
---
This will then be a series of some­what dis­jointed thoughts about orga­ni­za­tional and strat­egy in the short-medium term.
I begin with an obser­va­tion: we do not have a party. Whether we ought coa­lesce into a party to main­tain and grow the Occupy sequence is beside the point; what is clear is that we have not and do not appear to intend it any time soon. The inquiry should then be along these lines: why don't we have a party, and why won't we be mak­ing one?
The August 2 Gen­eral Assem­bly in New York marked a shift away from the tongue-bit­ing tol­er­ance the hard-left has offered social­ist par­ties. We went into the plaza with a party and came out with a strat­egy instead. For all the grous­ing about a minor­ity of anar­chists who screw every­thing up, no one has put for­ward an alter­na­tive orga­ni­za­tional pro­gram to loose con­sen­sus that doesn't get them laughed out of the trust cir­cle. Remem­ber when the OWS "Demands Work­ing Group" was a thing? Nei­ther does any­one else. Through­out the whole process I've heard a lot of calls for some kind of restrained deci­sion-mak­ing hier­ar­chy, but I've not once heard any­one put them­selves for­ward to lead. And with good rea­son: we'd assume they were a cop or a con, a co-opter or a crazy.
Salar calls in his remarks for "an his­tor­i­cally speci­fic pro­gram" and then ends, for that's the limit. To actu­ally pre­scribe the pro­gram would be to mis­un­der­stand his rela­tion­ship as a scholar and the­o­rist to the actions in the street. These days no one is expected to com­mand the army, con­quer the dialec­tic, and con­duct the march­ing band at the same time.
Todd's pedan­tic arti­cle is a per­fect exam­ple of why we should be care­ful not to be too care­ful. Rev­o­lu­tion is not a genie lying dor­mant since 1917 in the right under­used library book. By the end of his state­ments, he has reduced the goal of the dis­cus­sion to spark­ing another sus­tained exam­i­na­tion of the strengths and weak­nesses of the Rus­sian Rev­o­lu­tion. If this is accom­plished "then we will have done our jobs." As a scholar, per­haps this is the case – I wouldn't know, I'm not a spe­cial­ist in the field – but no revolutionary's job is done with the rais­ing of aware­ness or debate.
It seems worth not­ing that the badge-check gate at Left Forum, where Salar and Todd gave their remarks, was stormed by marchers under an "Occupy" ban­ner, who went around the con­fer­ence beseech­ing par­tic­i­pants to join them at Zuc­cotti Park only a cou­ple blocks away rather than delib­er­ate about the future of the occu­pa­tion inside an expen­sive event. Some joined, most did not.
Rev­o­lu­tion­ary the­ory should inform our behav­ior in the streets, but cer­tainly no more than our expe­ri­ences in the streets should inform our the­ory. It has been aston­ish­ing to see how dis­ci­plined, cre­ative, but most impor­tantly, intel­li­gent, I've seen crowds be dur­ing this sequence. Much has been made of Twitter's role in aid­ing in the coor­di­na­tion of demon­stra­tions, but there's been less said about the amount of cap­i­tal invested in mak­ing these activists strong post-Fordist work­ers. The same traits that the "knowl­edge econ­omy" val­orizes (spon­tane­ity, ambi­tion, self-orga­ni­za­tion, quick always-on com­mu­ni­ca­tion, work­ing in teams) are what have enabled the occu­pa­tions to take hold in the par­tic­u­lar form that they have. "Idle chat­ter" between work­ers was a threat on the Fordist pro­duc­tion line, now it's a site of cap­ture. We're trained to do it. Of course the rev­o­lu­tion­ary work­ers went to look for Lenin at the cru­cial moment – but would we?
A his­tori­cized analy­sis has to take capital's role in the pro­duc­tion of sub­jec­tiv­ity seri­ously, not as a spell to be undone or a veil to be lifted, but as a mate­rial ele­ment of a rev­o­lu­tion­ary sit­u­a­tion. Cap­i­tal births its own very speci­fic gravedig­gers; or, to do some vio­lence to a cou­ple of sage koans: you don't go to war with the army you want, but if you try some­times, you just might find, you go to war with the army you need.
If cap­i­tal really wanted to crip­ple Occupy, it could stop pro­duc­ing Adder­all. But it can't.
The jux­ta­po­si­tion of the above images raises a cou­ple ques­tions I want to address. First: its rela­tion to the Lenin quote that begins both this piece and State and Rev­o­lu­tion, and sec­ond: what it has to do with a party. These are the same ques­tion.
1.
Lenin is writ­ing of Marx, but a bet­ter con­tem­po­rary exam­ple might be Cor­nel West's descrip­tion of anti-apartheid mil­i­tant Nel­son Mandela's reha­bil­i­ta­tion in Occi­den­tal eyes as "Santa-Clausi­fi­ca­tion." And he's not even dead.
| | |
| --- | --- |
| | |
Cap­i­tal must grow to sur­vive – we all agree on this. That means sub­sum­ing new spaces of human activ­ity, a lit­eral and fig­u­ra­tive colo­nial­ism. Over time, there are fewer and fewer spaces left to invade, but the need for growth doesn't dimin­ish. There are a few options, one of which is to col­o­nize and extract value from the future through the inno­va­tion of finan­cial prod­ucts and the growth of stu­dent debt. But cap­i­tal inevitably faces what Alberto Toscano describes as a dou­ble bind, hav­ing to encour­age thought and behav­ior that is not yet nec­es­sar­ily in its inter­est. The Matrix pop­u­lar­ized this line of thought when the writ­ers had to find a way to explain why rev­o­lu­tion was still pos­si­ble in a real­ity com­pletely man­u­fac­tured by malev­o­lent machi­nes: if it weren't, the whole pro­gram wouldn't work. A cir­cus needs tigers.
The recu­per­a­tion Lenin describes def­i­nitely still hap­pens – most notably in Apple's "Think Dif­fer­ent" series, an almost com­i­cally text­book appli­ca­tion of the the­ory – but meth­ods must develop with the growth. While Marx could be exclu­sively "hounded" in his life­time, today's cap­i­tal­ists don't have that lux­ury. But rev­o­lu­tion­ary affect is a dan­ger­ous space for a cap­i­tal­ist to tread – if it weren't, the pro­gram wouldn't work. No risk, no reward. Unleash the chaos.
| | |
| --- | --- |
| | |
His own sub­sump­tion didn't have to come into Lenin's deci­sion cal­cu­lus as a leader. He could rea­son­ably believe his polit­i­cal pro­gram could advance faster than its appro­pri­a­tion. We no longer have that lux­ury; instead, we won­der what's going to be in Ben and Jerry's Occupy fla­vor. And I'm not just talk­ing about the for­mal sub­sump­tion of rev­o­lu­tion either – using at-hand pitch­forks and buy­ing guns and rely­ing on ren­tiers like Twit­ter, Livestream, and Kick­starter are three dif­fer­ent things. I'm talk­ing your-face-on-a-t-shirt-while-you're-still-alive shit. Appro­pri­ate or be appro­pri­ated. We don't need more icons, we need more black lines.
2.
Pas­sive voice is nearly always a hint to look closer, to find the sub­ject. Who is the sub­ject in "Anar­chy Sym­bol Updated To Appeal To Today's Teens?" The answer to the joke about the lim­its of capital's abil­ity to sub­sume its own antag­o­nists is rep­e­ti­tion in a flat voice: Sell anar­chy! Sell anar­chy. And by who else but a brand that had hit the limit of sex­ploita­tion adver­tis­ing, acci­den­tally asso­ci­at­ing them­selves with the des­per­a­tion that under­lies the appeal. Who updates the anar­chy logo? The mar­ket does.
Wit­ness Levi's hav­ing to pull this ad because of the Tot­ten­ham riots. It ended up com­ing off in con­text as a really strong pro­pa­ganda short-film in favor of gen­er­al­iz­ing the unrest. One of the argu­ments against party­less orga­ni­za­tion and spon­ta­neous action is that there is no time to craft a mes­sage in advance. But here it was, off the air but in the YouTube blood­stream, per­fectly cal­i­brated. After all, you can't just sell peo­ple jeans any more. That no video edi­tor took the five min­utes nec­es­sary to cut out the Levi's brand­ing and paste in "sol­i­dar­ity means attack" is a crime.
Of course, the Axe mar­ket­ing cam­paign leaves some­thing to be desired when it comes to rev­o­lu­tion­ary insti­ga­tion. But who says we can't all be guer­rilla mar­keters for Anar­chy? It would be easy to make offi­cial-look­ing Axe Anar­chy t-shirts because the logo is a graf­fiti sten­cil. The fake shirts would be realer than the real thing. Unilever has already spent mil­lions mak­ing Anar­chy a trusted brand; cap­i­tal doesn't just birth its grave dig­gers, it equips us with machin­ery.
If we have a party, we have the only party that finds a way to include every­one in its oper­a­tion, the party that works whether mem­bers believe in it or not, the only one that's struc­turally invul­ner­a­ble to any sin­gle mem­ber being killed or dis­cred­ited.
Who turned the occu­pa­tions into Occupy?
---
Tiqqun has attempted to the­o­rize such an orga­ni­za­tion in the form of the "Imag­i­nary Party," which "com­poses itself to this day of the neg­a­tive mul­ti­tude of those who do not have a class, and do not want to have one, of the soli­tary crowd of those who have re-appro­pri­ated their fun­da­men­tal non-appear­ance in com­mod­ity soci­ety under the form of a vol­un­tary non-par­tic­i­pa­tion in it." Here mem­ber­ship in the party is based on a kind of aware­ness and a cor­re­spond­ing refusal: "there are in this soci­ety but two par­ties: the party of those who pre­tend that there is but one party, and the party of those who know that there are in truth two. Already from this obser­va­tion, one will know to rec­og­nize our party."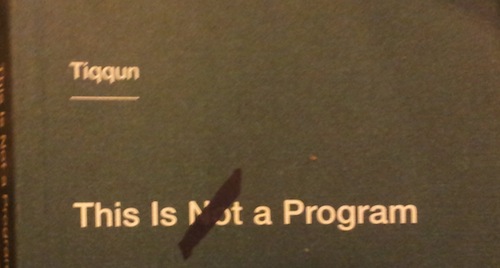 One part Bartleby, one part Fight Club, this "vol­un­tary non-par­tic­i­pa­tion" deserves some more scrutiny. Par­tic­i­pa­tion and party have the same root, but I have to assume the Imag­i­nary Party does not just include the very few peo­ple in the West totally self-excluded from com­mod­ity soci­ety. When Tiqqun describes the con­ser­v­a­tive seg­ments of the Party ("lib­er­tar­ian mili­tias, right-wing anar­chists, insur­rec­tionary fas­cists, Qur­bist jihadists, rural­ist mili­tias"), the list includes groups that could hardly be said to be non-par­tic­i­pants. Amer­i­can Renais­sance held their last national con­fer­ence at an Olive Gar­den. To break a win­dow is to employ a glazier. Your books have bar­codes too. If mem­ber­ship in the Imag­i­nary Party is deter­mined by style of life, then as a rev­o­lu­tion­ary orga­ni­za­tion it will remain decid­edly imag­i­nary.
So we're talk­ing about some sort of non-com­pli­ance of the will, of the spirit, if not of the hands and stom­ach. There are two par­ties: those who get some­thing fun­da­men­tal about this real­ity and those who don't. The awake and the asleep.
That the Imag­i­nary Party is appar­ently con­sti­tuted in large part by orga­nized and vio­lent misog­y­nists doesn't come up.
But in San­ford, Florida, is it the armed Nazi patrolling the streets or who­ever put six shots in an empty cop car that's a mem­ber of the Party? In the event that the two come in con­tact, would that be what Tiqqun calls the intra-Party civil war? The process they call "party build­ing?" Which of the two par­ties was Trayvon Mar­tin, forever asso­ci­ated with Skit­tles and Ari­zona Iced Tea, in? I believe any con­cep­tual appa­ra­tus or polit­i­cal map that can't at very least address this con­junc­tion of actors will be irrel­e­vant in the time-frame I'm attempt­ing to think.
In Tiqqun's for­mu­la­tion then, I'm a mem­ber of the first of one party. There is indeed one party, and we're all par­tic­i­pants.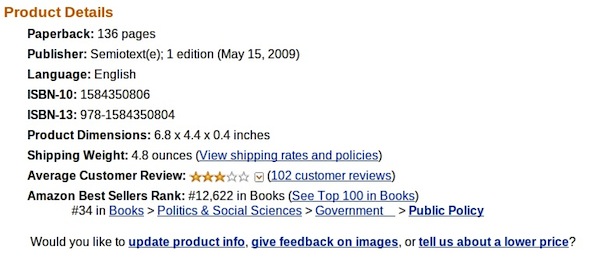 I once met an Ital­ian at a con­fer­ence who told me over beers about how he and his com­rades used EU grants designed to facil­i­tate cross-bor­der youth cul­tural exchange to con­vene groups of rev­o­lu­tion­ary com­mu­nists. He must have sensed some hes­i­ta­tion on my part because he pulled up his sleeves and thrust his arms toward me as if the words were no longer in his throat but in his palms: "These hands are not clean! There are no clean hands!"
---
To return to my orig­i­nal ques­tion: we won't be hav­ing a party because, like a gold­fish look­ing for a glass of water, we already have one – we are a party to the cap­i­tal­ist state. The CP is orga­nized but rid­dled with con­tra­dic­tion, always try­ing to run and untie its own shoes at the same time. Within the party of cap­i­tal, the Left is just one of dozens of eso­teric mil­lenar­ian sects devoted to the wider organization's self-destruc­tion. Not pre­de­ter­mined, but fore­told in a great many lan­guages and codes.
Sab­o­tage occurs from the inside, with and to the equip­ment at hand. To put down our tools – either in search of the per­fect work­ing class orga­ni­za­tional "sword" or to wedge our hands in the gears – would be to put down our tools. A mil­i­tant pol­icy of stop­ping capital's flows leaves you stand­ing in the mid­dle of the street hug­ging a truck's bumper. But grab a few reflect­ing vests and a few signs and sud­denly you're direct­ing a column of speed­ing steel.
In Hribal's book about ani­mal resis­tance, he details the dif­fer­ence between refusal and sab­o­tage. Appar­ently, per­form­ing ani­mals about to go on ram­pages are very good at pre­tend­ing noth­ing is wrong, and going along with the show as planned before snap­ping at the cru­cial moment. The story of the tiger who attacks his trainer is always already part of the show, or it wouldn't be much of a show at all. So why refuse to go on when you can prac­tice that bit where they put their head in your mouth?
| | |
| --- | --- |
| | |
What will be the impor­tance of Lenin in the next two years of anti-cap­i­tal­ist rev­o­lu­tion­ary strug­gle? I don't know, but I expect it will be minor on an absolute scale. If it's as large as the tem­po­rary inter­est in Marx that pre­oc­cu­pied The Econ­o­mist for a few weeks dur­ing the height of the hous­ing cri­sis, I would be sur­prised, and that's still rel­a­tively minor. The prob­lem isn't that Lenin is an empty sym­bol of rev­o­lu­tion, but that the Left has a lot invested in his sym­bolic mean­ing, while our ene­mies have almost noth­ing. We have lit­tle to gain and a lot of time to lose – it's a sucker bet. But things change; maybe they'll do a biopic. Leo DiCaprio with a fur­rowed brow, a sharp goa­tee. Let them print the posters.
| | |
| --- | --- |
| Levi's Berlin Print Shop | May 1 Gen­eral Strike |