This is the last of a series of arti­cles debat­ing Salar Mohandesi's "The Actu­al­ity of Rev­o­lu­tion: Reflec­tions on Lenin's State and Rev­o­lu­tion." Also see the ear­lier responses by Todd Chre­tien and Mal­colm Har­ris, as well as Mohandesi's final response.
---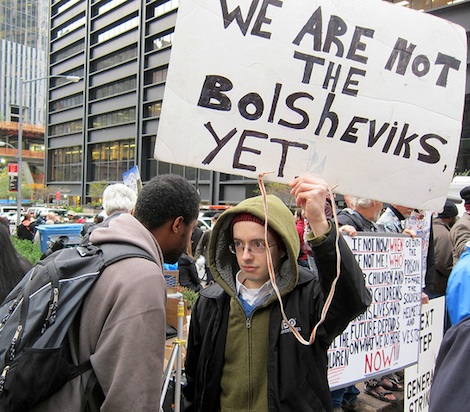 Mohan­desi's pic­ture of a vac­il­lat­ing, con­ser­v­a­tive, con­fused Lenin strain­ing to hold together a divided Bol­she­vik lead­er­ship caught off guard by the mature rev­o­lu­tion­ary upsurge by St. Petersburg's work­ers and sol­diers dur­ing what came to be known as "the July Days" in 1917 is incon­sis­tent with the his­tor­i­cal record. Based on his sketch, Mohan­desi con­cludes that Lenin had to catch up the­o­ret­i­cally with where the masses were mov­ing prac­ti­cally by "artic­u­lat­ing" the "actu­al­ity of rev­o­lu­tion," that is, mak­ing explicit what was implicit in the angry mass protests that nearly top­pled the Pro­vi­sional Gov­ern­ment. Both he and Chre­tien lead us to believe that Lenin's book, State and Rev­o­lu­tion, and the Bol­she­vik-led insur­rec­tion that over­threw the Pro­vi­sional Gov­ern­ment were the results of Lenin's recon­sid­er­a­tion of the Marx­ist the­ory of the state.
Mohan­desi argues that the endur­ing rel­e­vance of Lenin for activists today is not his words or deeds but the method under­ly­ing them, his the­o­riz­ing and artic­u­lat­ing of the actu­al­i­ties cre­ated by the rebel­lious masses. This echoes neatly View­point Magazine's "About Us" mis­sion state­ment.
There are three com­po­nents of this debate: (1) the his­tory of the July Days; (2) the imme­di­ate con­text in which State and Rev­o­lu­tion was pro­duced (Lenin was hid­ing under­ground after the July Days when he wrote it); and (3) whether Lenin's role was pri­mar­ily that of an artic­u­la­tor or the­o­rist. Har­ris's piece is a wel­come real­ity check that avoids the main pit­fall of his­tor­i­cal debates: pedantry.
A detailed, line-for-line dis­sec­tion of Mohandesi's his­tor­i­cal account would require a lengthy essay and a nec­es­sar­ily nar­row focus that would not be use­ful for dis­cussing (2) and (3). Instead, I will con­fine myself to this obser­va­tion: if Mohandesi's account is accu­rate, it would con­tra­dict first-hand accounts writ­ten by July Days par­tic­i­pants such as Fyo­dor Raskol­nikov (Kro­n­stadt and Pet­ro­grad) and Niko­lai Sukhanov (The Rus­sian Rev­o­lu­tion, 1917), Alexan­der Rabinowitch's detailed study The Bol­she­viks Come to Power, and Lenin's writ­ings and speeches in which he shifts on the pos­si­bil­ity of a peace­ful trans­fer of power at least three times through­out 1917. Those who are inter­ested in fig­ur­ing out the rights and wrongs of (1) should read the afore­men­tioned books.
Lenin's shifts – open to a peace­ful trans­fer of power before the July Days, for an insur­rec­tion after the July Days, back to the pos­si­bil­ity of a peace­ful power trans­fer in the after­math of the Kornilov coup's defeat, and finally to a Bol­she­vik-led insur­rec­tion as the Bol­she­viks gained majori­ties in work­ers' and sol­diers' coun­cils (sovi­ets) through­out Rus­sia in fall of 1917 – did not reflect vac­il­la­tion or lack of the­o­ret­i­cal clar­ity on Lenin's part and cer­tainly had noth­ing to do with the writ­ing of State and Rev­o­lu­tion. As Lenin wrote shortly after com­plet­ing the intro­duc­tion to State of Rev­o­lu­tion,
Now, and only now, per­haps dur­ing only a few days or a week or two, such a gov­ern­ment could be set up and con­sol­i­dated in a per­fectly peace­ful way. In all prob­a­bil­ity it could secure the peace­ful advance of the whole Rus­sian rev­o­lu­tion, and provide excep­tion­ally good chances for great strides in the world move­ment towards peace and the vic­tory of social­ism.1
Here, I have to dis­agree with Har­ris that "we should be care­ful not to be too care­ful." Whether lead­ing a demon­stra­tion or look­ing for lessons in the past, a rev­o­lu­tion­ary should be care­ful but not pedan­tic.
Lenin did not believe the class nature of the Pro­vi­sional Gov­ern­ment changed after the Kornilov coup's defeat when he dis­cussed the prospect of a peace­ful trans­fer of power to the sovi­ets with their Men­she­vik and Social­ist Rev­o­lu­tion­ary (SR) majori­ties. Lenin's seem­ing flip-flops on insur­rec­tion were tac­ti­cal shifts in a strat­egy aimed at mak­ing the sovi­ets the sole gov­ern­ment power that came in response to a rapidly chang­ing sit­u­a­tion which pro­duced orig­i­nal and tran­sient polit­i­cal and class align­ments. Lenin's shifts on the ques­tion of insur­rec­tion also prove that he did not believe that the Men­she­viks and SRs were doomed in advance to play a coun­ter-rev­o­lu­tion­ary role.
In other words, Lenin was care­ful but not pedan­tic.
No one who reads State and Rev­o­lu­tion would guess based on the text that the author might coun­te­nance the pos­si­bil­ity of a peace­ful trans­fer of power to the sovi­ets. The notion that the book reflects the "sum­ming up" of the expe­ri­ences of the 1917 Rus­sian rev­o­lu­tion fails to account for the fact that Lenin never com­pleted the chap­ters deal­ing with the Rus­sian expe­ri­ence. State and Rev­o­lu­tion is best under­stood as a gen­eral guide to the Marx­ist approach to the state rather than a guide use­ful for prac­ti­cal on-the-ground pol­icy (try to smash the cap­i­tal­ist state machine with your fist at a demon­stra­tion and you'll under­stand what I mean).
Lenin felt that State and Rev­o­lu­tion was nec­es­sary to set the record straight on Marx­ism and the state (the orig­i­nal title of the man­u­script) since the dis­tor­tions per­pet­u­ated by the Sec­ond Inter­na­tional became com­monly accepted as Marx's and Engels' actual posi­tions by social­ists and anar­chists alike. Lenin him­self accepted these dis­tor­tions and only through his 1916 debate with Niko­lai Bukharin did he uncover and reject them.
The odd thing is that Mohan­desi tells us that "we must try to read Lenin the way Lenin read Marx" and yet, a few pages prior, claims that Lenin "distort[ed] Marx and Engels almost as much as Bern­stein or Kaut­sky." Should we dis­tort Marx, Engels, or Lenin? Is there any value in dis­tort­ing any­one, even if their name is Eduard Bern­stein or Karl Kaut­sky? My answer is defin­i­tive: no. Rev­o­lu­tion­ar­ies can­not straw­man, mis­rep­re­sent, or dis­tort our way to a post-cap­i­tal­ist order. If we could, we would have done it by now because these tac­tics have become com­mon­place in the social­ist movement's debates.
The notion that Lenin artic­u­lated at the level of the­ory the "actu­al­ity of rev­o­lu­tion" and made explicit what was implicit in the strug­gles of the day smacks of the divi­sion between men­tal and man­ual labor, between phi­los­o­phy and action, between the­ory and prac­tice, between intel­lec­tu­als and work­ers, between think­ing and doing. The masses fight, Lenin thinks and devises the pro­gram they must get with (as in, "get with the pro­gram"). This is prob­a­bly not what Mohan­desi meant, but it is the log­i­cal impli­ca­tion of his heavy empha­sis on Lenin the theorist/articulator in the con­clu­sion of his essay.
Harris's response to the ques­tion "is Lenin still rel­e­vant?" and the July Days debate is refresh­ingly hon­est – he does not know much or care to know about Lenin or Rus­sian his­tory, given the vastly dif­fer­ent era we are liv­ing in. He con­trasts Occupy's hor­i­zon­tal, self-orga­nized nature ("spon­tane­ity, ambi­tion, self-orga­ni­za­tion, quick always-on com­mu­ni­ca­tion, work­ing in teams") to that of the Russia's rev­o­lu­tion­ary work­ers and says, "Of course the rev­o­lu­tion­ary work­ers went to look for Lenin at the cru­cial moment – but would we?"
This false dichotomy prob­a­bly stems from a com­bi­na­tion of under­stand­able igno­rance2 about the Rus­sian rev­o­lu­tion in 1917 (the sovi­ets were pro­foundly hor­i­zon­tal and far more demo­c­ra­tic and inclu­sive than our Gen­eral Assem­blies), and a mis­un­der­stand­ing of what a van­guard party is.
As I argued in "Lenin and Occupy," Occupy func­tioned in prac­tice like the "Lenin­ist" vision of a van­guard party in two respects: (1) it brought mass num­bers of peo­ple onto the field of bat­tle, into the process of self-orga­ni­za­tion, and (2) it fought all forms of oppres­sion and exploita­tion.3
The third ele­ment that Occupy and a van­guard party have in com­mon that I neglected to dis­cuss in "Lenin and Occupy" is the role of cadres: sea­soned, expe­ri­enced, bat­tle-tested polit­i­cal orga­niz­ers were cen­tral both to the suc­cess of the Bol­she­viks (peo­ple like Raskol­nikov) and Occupy Wall Street (peo­ple like Har­ris). Of course I am not putting an equal sign between Raskol­nikov and Har­ris; Raskolnikov's writ­ing is far eas­ier to fol­low than Harris's, and lead­ing tens of thou­sands of heav­ily armed sailors to smash a state is not the same as set­ting up an encamp­ment that ini­ti­ates an upris­ing of sorts. How­ever, there is an unde­ni­able under­ly­ing sim­i­lar­ity if we under­stand the term cadre broadly rather than nar­rowly. Every orga­ni­za­tion and strug­gle has cadres, whether we are refer­ring to the Indus­trial Work­ers of the World, the CNT in Spain, the Black Pan­ther Party for Self-Defense, the Nation of Islam, or the Syr­ian rev­o­lu­tion.
Occupy's claim to be lead­er­less is both true and false; it is true in the sense that there is no cen­tral com­mit­tee con­trol­ling it and false in the sense that every­one in Occupy is a leader. Far from being lead­er­less, Occupy is leader-full – full of new ideas, ini­tia­tives, forms of orga­ni­za­tion, and col­lab­o­ra­tive projects,4 some dar­ing, oth­ers pro­saic, all ini­ti­ated by occu­piers them­selves with­out direc­tion from above or anyone's per­mis­sion (mean­ing autonomously).
Since the begin­ning of Occupy Wall Street, the Marx­ist left has con­tin­u­ally bemoaned the preva­lence of anar­chist ideas and meth­ods within Occupy while com­pletely fail­ing to provide a bet­ter, more cred­i­ble, and pop­u­lar alter­na­tive, as Har­ris cor­rectly points out. Instead of seiz­ing on the pro­gres­sive ele­ments in Occupy's small-A anar­chism and the tremen­dous free­dom of action5 that came with it to help Occupy organ­i­cally out­grow the restric­tive and Byzan­tine mod­i­fied con­sen­sus process, pre­cious resources have been wasted writ­ing polemics for a tiny audi­ence con­flat­ing6 utopian com­munes, pre­fig­u­ra­tionism, and the (sound) strate­gic argu­ments against cre­at­ing a list of demands, falsely7 accus­ing fel­low rad­i­cals of being anti-union, and attack­ing8 Occupy's un-Marx­ist vision of a gen­eral strike in a way rem­i­nis­cent of the old Marx­ist dic­tum: "gen­eral strike is gen­eral non­sense."9
Given this, is it any won­der the Har­rises of Occupy look askance at us as we con­tin­u­ally debate the excel­lent ideas of ancient Rus­sian white men and tout the achieve­ments of rev­o­lu­tions our grand­par­ents are too young to remem­ber, while rev­o­lu­tion­ar­ies today are being killed in the streets Homs and being bru­tal­ized by police in the streets of New York?
Rather than ask­ing "is Lenin still rel­e­vant?" we ought to focus on mak­ing him rel­e­vant by show­ing every­one in prac­tice that the peo­ple inspired by his ideas are bet­ter, more cre­ative, more effec­tive occu­piers. Once we earn some cred­i­bil­ity on that front peo­ple might begin to lis­ten to what we have to say on the big ques­tions – reform, rev­o­lu­tion, what to do with (or rather to) the Demo­c­ra­tic Party, run­ning in elec­tions – but not before. 1917 is rich with lessons, the main one being how a mass social­ist party can smash a state that pro­tects cap­i­tal, but we have yet to learn how to become a mass force, a force to be reck­oned with on the local, state, and national lev­els, a force more pop­u­lar than the Oba­mas and the Rom­neys we are up against.
Occupy should be a learn­ing expe­ri­ence for us all con­cern­ing these tasks, but as Lenin wrote in State and Rev­o­lu­tion, "there are none so deaf as those who will not hear."10
---
Pham Binh has pub­lished arti­cles in the Occu­pied Wall Street Jour­nal and thenorthstar.info, the first national col­lab­o­ra­tive blog by and for occu­piers.
---
1.V.I. Lenin, "On Com­pro­mises," Col­lected Works.
2. I am refer­ring to the fact that no one out­side a tiny seg­ment of the left stud­ies the 1917 Rus­sian rev­o­lu­tion in any great detail, so igno­rance of the July Days and the rev­o­lu­tion gen­er­ally is under­stand­able.
3. Pham Binh, "Lenin and Occupy," Social­ist Bul­let, April 13, 2012.
4. Occupy Wall Street Project List, Issue 2.
5. Arun Gupta, "The Won­der­ful, Unpre­dictable Life of the Occupy Move­ment," Truthout, April 11, 2012.
6. Doug Singsen, "Autonomous Zone on Wall Street?," The Indypen­dent, Octo­ber 15, 2011.
7. A doc­u­mented overview of the charges and debate can be found at the Black Orchid Col­lec­tive.
8. Dan Tro­colli, "A strike call that won't call a strike," Social­ist Worker, Feb­ru­ary 29, 2011.
9. Gen­er­al­streik ist gen­er­alun­sinn was a com­mon say­ing among social­ists in debates with anar­chists over the gen­eral strike in the late 1800s and early 1900s.
10. V.I. Lenin, State and Rev­o­lu­tion.