In 2007, Washington Post columnist Gene Weingarten and Grammy Award-winning classical violinist Joshua Bell teamed up to play a prank on commuters in Washington, DC's public transportation system. Weingarten's account of what he called "an experiment in context, perception and priorities—as well as an unblinking assessment of public taste" appeared in a Post article called "Pearls Before Breakfast." It describes how Bell stood in the L'Enfant Plaza Station posing as a subway busker, and performed a selection of classical pieces typical of his concerts. He played them on his Gibson ex Huberman Stradivarius—a 300-year-old piece of wood that is valued at $3.5 million.
The commuters in what Weingarten calls one of DC's most "plebeian" stations—he takes care to mention that Metro employees frequently mispronounce its name—mostly passed Bell by. Though he quotes a Kantian philosopher and a museum curator as saying context is a part of an artwork, and that he can't call these busy working people philistines, Weingarten does just that. He was awarded a Pulitzer Prize for his trouble.
In 2012, this insult to users of public transportation has acquired Information Age immortality: it has become a meme. A summary of the article is making the rounds, parroting Weingarten's lament that we modern people "can't take the time out of our lives to stay a moment and listen to one of the best musicians on Earth play some of the best music ever written."
According to Weingarten, the experiment is sound because Bell did not play "popular tunes whose familiarity alone might have drawn interest." Instead, he played "masterpieces that have endured for centuries on their brilliance alone, soaring music befitting the grandeur of cathedrals and concert halls." But for Weingarten, cultural value isn't just a matter of Eurocentric tradition, it's a matter of money – people who passed by Bell were supposed to notice, and care, that he was sawing away on a very expensive violin.
Walter Benjamin wrote that so-called "cultural treasures" – like Stradivarius violins, or Bach partitas, or Joshua Bell performances – should be viewed with "cautious detachment." They owe their existence not only to their authors, "but also to the anonymous toil of their contemporaries."
Who are Joshua Bell's contemporaries? Weingarten's most offensive assumption, which has insidiously reproduced itself through email and social media, was that in order to conduct his experiment, it was necessary to take a musician from the concert hall and bring him to the subway.
But there are already musicians in the subway. Damon C. Scott, for example, is a working musician who sings in the subway every day. He has spent years facing the same conditions of anonymity that a big shot like Joshua Bell couldn't handle for an afternoon.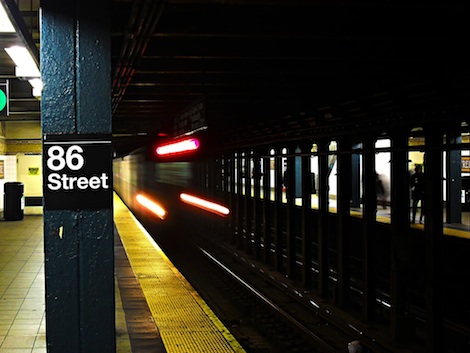 You've heard of Scott, or at least you've heard him. His public profile increased suddenly when a recent performance at New York's 86th Street Station went viral. But Scott didn't rely on a classical repertoire, and he didn't play a multimillion dollar instrument. He sang Adele's hit pop song "Someone Like You," accompanying himself on a djembe.
The performance was captured on video by Refinery29, and it spread rapidly. Contra Weingarten, performing a popular song won't make you an instant success; you're not only competing with a comfortably familiar original, you're up against countless other cover versions by hobbyists and wannabes. But Scott's rendition of Adele's retro-soul ballad bests her own, the delicacy in his voice cut with wizened grit, the propulsion of his djembe beat adding a rhythmic and emotional dynamism the weepy original never dreamed of.
In my social media sphere, most reposts came from an article on Jezebel, but it was also featured in many other widely read venues. After all, it was a great story. Damon Scott came out of nowhere, and captured the hearts of viewers everywhere.
Except he didn't come out of nowhere. If the reporters who covered the subway video had done their homework, they would have found that Scott is a recorded singer with at least two major releases to his name. His voice isn't just heard at the 86th Street station – it has been echoing through dance clubs all over the world for the past two years.
Scott's recorded releases are collaborations with Morgan Geist, a veteran producer of electronic dance music who has remixed The Rapture, The Junior Boys, and Franz Ferdinand. But he is best known for his collaboration with Darshan Jesrani in the late nineties, in a project called Metro Area. Geist became interested in electronic music when, as a student at Oberlin, he heard Techno music in its birthplace – the black neighborhoods of Detroit. His debut album, The Driving Memoirs, shows a strong influence of the Motor City style. It was an auspicious beginning to a career dedicated to carrying on the American tradition of dance music.
With Metro Area, Geist and Jesrani participated in a late-90's revival of aspects of Disco, R&B, and New Wave music that had become uncommon in loop-based dance productions of the day, embedding complex chord progressions and live instrumentation within an electronic template. Now-classic Metro Area singles like "Atmosphrique" and "Miura" (available in an essential eponymous compilation) anticipated the subsequent boom in nu-disco, and the original pressings have become collector's items. Geist's 2004 mix CD, Unclassics, helped popularize the art of the DJ as archivist, resurrecting outmoded artifacts of recent musical history.
But unless you're a follower of dance music's alternate economy, consisting of all those 12-inch vinyl records and DJ mixes, you may never have heard of Morgan Geist. Though Geist feels that DJ culture finally "jumped the shark completely as a spectacle" at this year's Grammys, artists like him, and independent labels like his Environ, still struggle to reach listeners.
Now this story repeats itself as farce. Damon Scott is back in the news for rescuing a commuter who fell into the subway tracks, but the online media steadfastly continues to refuse to mention Storm Queen, Geist and Scott's collaborative project.
Geist didn't discover his Storm Queen partner on the subway, as some publicists have assumed. As a working musician from a musical family – his mother used to be in Earth, Wind & Fire – Scott had already done some studio work that Geist heard about through a friend. Geist had begun forays into song-oriented production, using Junior Boys vocalist Jeremy Greenspan, with his underrated 2008 solo album Double Night Time, entering into a dance songwriting tradition that includes Chicago House like Fingers, Inc. and Detroit Techno like Model 500. Inspired by Scott's voice, Geist began writing songs to fit his range.
I asked Morgan Geist to describe the collaborative process he and Scott use to create the Storm Queen tracks:
I write everything including the lyrics and vocal melodies. I usually do a mock-up with my awful singing, then I send it to him to learn from. However, Damon is a talented improviser and I frequently use his amazing ad-libs. Usually it's a lot of editing and playing Tetris with the parts since I like to keep Storm Queen stripped down, so I cut and time and arrange his ad-libs afterwards.
The results are nothing short of incredible. "Look Right Through," from 2010, and "It Goes On," from 2011, are not only the best dance tracks of their respective years, they are strong contenders for the best songs of those years, period. In a just society, they would be stuck in your head already.
Like music itself, "Look Right Through" begins with a clap. The clap leads to a drumbeat, which leads to a woozy sine-wave synth melody. A bass line follows, filtering a chord progression reminiscent of a 50s pop ballad through stuttering syncopation. The music's deceptive brightness is soon complicated by the entry of Scott's plaintive voice, which laments the loss of a lover. Minor chords descend with the chorus, fluttering and chiming.
Geist's lyrics compare estrangement from a romantic partner to the alienation of a walker in the city:
Seven long years of moving through the streets
Letting people in, but they don't talk to me
They look right through
Just like you
These words are rendered all the more poignant for being sung by a subway busker, whose livelihood depends on encounters with strangers in New York City. Geist sees some degree of similarity between Damon Scott's work and his own, which also requires him to face "potentially challenging or hostile crowds" during DJ sets. Yet he recognizes that Scott's job is the more precarious of the two. "You can't get arrested DJ'ing," he points out. "You're not competing with the noise of trains."
"It Goes On" also begins with a clap, which introduces a driving, descending bass line. It's another breakup song, this time addressing the drudgery of everyday life without intimate human contact. The monotony of loneliness is echoed in the insistent repetition of the song's refrain: "day after day after day." The track is an even better showcase for Scott's artistry, as he improvises and harmonizes with himself over shifting permutations of the groove. By the end, the loop that initially forms the basis of the song swells into nearly atonal reharmonizations, as if to musically enact the nervous breakdown described in the lyrics.
Like "Look Right Through" before it, "It Goes On" appeared on 2011 year-end lists by prominent dance music websites Resident Advisor, Little White Earbuds and Infinite State Machine. But in spite of their accessibility, both tracks were generally overlooked by mainstream publications. The media's willful ignorance of dance music, particularly independent American dance music, may have something to do with why no one told you about Damon Scott's recorded career. It doesn't surprise Morgan Geist. "I think it's just that most people love what they're fed," he told me, "and what they're fed is pop music like Adele."
It's remarkable that even Scott's own cover of Adele could overshadow his recorded work, but that isn't stopping Storm Queen. Geist plans to expand the project and may even bring in other guest singers. Still, Damon Scott will remain Storm Queen's "defining voice," and there won't be long to wait for more tracks that feature him. "I'm working on two or three we've recorded already," Geist says.
Scott is still singing at 86th Street. Geist reports that he has even taken to performing the Storm Queen songs there. Subway stations and dance clubs may be artless environments to a celebrity like Joshua Bell or a snob like Gene Weingarten, but they are Scott's concert halls, his cathedrals. It appalled Weingarten that Bell, who often charges a few hundred bucks a ticket, only made $32 in the subway. But this is a reality that working musicians like Damon Scott face daily.
In an essay on the study of intelligence, evolutionary biologist Stephen Jay Gould wrote, "I am somehow less interested in the weight and convolutions of Einstein's brain than in the near certainty that people of equal talent have lived and died in cotton fields and sweatshops."
So don't go into a subway looking for Joshua Bell. If you do, you might end up missing Damon C. Scott.