Leg­end has it that the cam­pus of the Uni­ver­sity of Cal­i­for­nia, Santa Cruz was designed by a prison archi­tect who, in response to stu­dent riots at UC Berke­ley, cre­ated a cam­pus grid with­out a cen­tral point. Lack­ing a major quad or lawn, demon­stra­tions would be dis­persed to the indi­vid­ual col­leges, defused and con­trolled. While this leg­end is cer­tainly not true – UCSC was con­ceived of as an exper­i­ment in "human-scale" edu­ca­tion whose exis­tence was to chal­lenge the dehu­man­iz­ing size of state uni­ver­si­ties – the lay­out of UCSC does present this chal­lenge to stu­dent activists.
For stu­dent activists, this never pre­sented a for­mi­da­ble chal­lenge. The steep and often breath­tak­ing geog­ra­phy, com­bined with only two main entry points, make cam­pus clo­sures an attrac­tive alter­na­tive to the large rally.
With the near cer­tainty of more fee increases and bud­get cuts loom­ing, between 400-500 UCSC stu­dents woke sev­eral hours before dawn last Thurs­day to shut cam­pus down for the sec­ond time in two years. Greeted by sparkling stars and bagels, the day started off well. Reports from one of the main entrances cir­cu­lated around 5:30 or so that some­one had tried to run his car through a group of stu­dents, only to be removed from his car and tick­eted by a nearby police offi­cer. By 8 AM, as rain soaked our clothes, UCSC admin­is­tra­tion let it be known that the cam­pus was effec­tively closed and that stu­dents should not be held respon­si­ble for miss­ing class. Police cars, which had ear­lier been speed­ing around the cam­pus, were told by their supe­ri­ors that this activ­ity was unac­cept­able. A man who had attempted, just after 8 AM, to drive his red Mus­tang through the crowd was taken away by police, and another man, intent on insti­gat­ing a fight, got a small taste of stu­dent fists. There would be no Oak­land Police Depart­ment thug­gery today.
On the whole, it was a far cry from March 4, 2010, when a few dri­vers attempted to force their way onto cam­pus, break­ing a student's leg, under what appeared to be the approv­ing eye of cam­pus police. The admin­is­tra­tion then had also claimed that stu­dents were wield­ing "clubs and knives" and were a clear men­ace. We are, it appears, under a kinder and more sym­pa­thetic admin­is­tra­tion these days.
For their part, stu­dent orga­niz­ers were also clearly far bet­ter pre­pared this time – UCSC stu­dents could offer mas­ters classes in orga­niz­ing. Pub­lic­ity for the clo­sure was every­where on cam­pus; out­reach had gen­er­ated so much enthu­si­asm that the first fif­teen peo­ple I met at 4:25 AM were fresh­men tak­ing part in their first polit­i­cal activ­ity; coor­di­na­tion between check­points was smooth; orga­niz­ers had pro­cured a flatbed truck to use as a stage/DJ sta­tion. And, cru­cially, a tem­po­rary Tent Uni­ver­sity had been orga­nized to allow stu­dents to facil­i­tate and attend work­shops on a vari­ety of top­ics – from the envi­ron­ment, to the prison sys­tem, to mod­ern forms of racism, and more – that affect our lives in overt and oblique ways. This was not just a protest against the ris­ing cost of uni­ver­sity atten­dance and nar­row­ing of edu­ca­tional oppor­tu­ni­ties, but a call for new edu­ca­tional forms.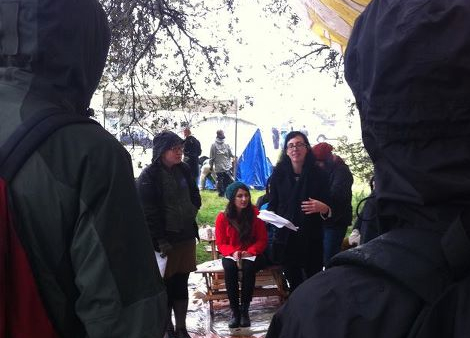 While the obstruc­tion has received the bulk of media atten­tion fol­low­ing our shut­down, the Tent Uni­ver­sity and stu­dent zines should be receiv­ing the bulk of crit­i­cal atten­tion. It is here that the mis­match between the com­pul­sion to attend col­lege, the expec­ta­tions of stu­dents, and the broader eco­nomic cri­sis inter­sect. It is here that the skills required for orga­niz­ing meet spi­ral­ing stu­dent debt, increased class sizes, and reduc­tions in stu­dent ser­vices. It is here that our analy­sis con­fronts for­mal edu­ca­tion and the ide­ol­ogy of the "pub­lic good." It is here that the slo­gans, "Make Banks Pay" and "it's a cri­sis of pri­or­i­ties," and their cor­re­spond­ing responses, "tax the bankers/oil com­pa­nies" and "re-fund edu­ca­tion," reveal the lim­its of reform: demon­strat­ing that the pub­lic good under cap­i­tal­ism is built on sys­tem­atic exclu­sion, that the vast swelling of the mid­dle class in the post-war era was based on an expan­sive econ­omy that could return rates of profit large enough to spread to the work­ing class, a scale of expan­sion that is sim­ply no longer pos­si­ble. The empha­sis shifts from the reform of the uni­ver­sity to a wide­spread trans­for­ma­tion of the orga­ni­za­tion of soci­ety – a new analy­sis, refresh­ingly rough and tinged with the expe­ri­ence of cri­sis.
Since UCSC's incep­tion, higher edu­ca­tion has become a social and eco­nomic neces­sity. The "human-scale" uni­ver­sity that UCSC was meant to inau­gu­rate, how­ever, has defaulted on many of its "rad­i­cal inno­va­tions," which were already attempts to turn back the clock to an ear­lier phase of col­lege edu­ca­tion: grades are stan­dard, aca­d­e­mic depart­ments are pow­er­ful, class sizes are large, and the cost is mul­ti­ply­ing. The inabil­ity of UCSC to rein­vig­o­rate ear­lier forms of edu­ca­tion should show us that changes in the socio-eco­nomic struc­ture of the US pre­clude going back to ear­lier times. If cam­pus shut­downs illus­trate a uni­ver­sity in cri­sis, the repeated attempts by UCSC stu­dents to to seek alter­na­tive forms of edu­ca­tion, refus­ing to demand a return to the golden years, is the real story.