Long before the Hay­mar­ket Mas­sacre, May Day rep­re­sented a time of tran­si­tion. Win­ter had receded; in antic­i­pa­tion of the wealth of sum­mer, the peo­ple opted for leisure over work. The hol­i­day shifted from "green" to "red" when leisure was attacked, work vio­lently imposed, and wealth expro­pri­ated.
May Day 2012 was another kind of tran­si­tion – to what, nobody knows. We have wit­nessed dra­matic shifts in the Occupy move­ment, frag­men­ta­tion into fac­tions, and con­fu­sion and con­stant debate about tac­tics. Yes­ter­day per­mit­ted marches took place alongside street con­fronta­tions, as though both were in sep­a­rate worlds. The Mis­sion in San Fran­cisco saw a peak in prop­erty destruc­tion the night before, and Seat­tle par­tied like it was 1999.
The state, unsure of the nature of this move­ment and puz­zled by the pop­u­lar dis­gust at police bru­tal­ity, has man­aged to respond with an unusual com­bi­na­tion of incom­pe­tence and effi­ciency. Emer­gency orders in Seat­tle allowed police to con­fis­cate any item they deemed to be a weapon. In Oak­land, some of the most ded­i­cated mil­i­tants of the move­ment were tar­geted for vio­lent arrest through­out the day. The crowd man­aged to "de-arrest" their com­rades on one or two occa­sions, but this vic­tory was short-lived. The police must have been dis­ap­pointed to find that the rhetoric is true: their cap­tives were not lead­ers, and didn't have the bat­tle plans in their pock­ets.
We walked up to 14th and Broad­way yes­ter­day after­noon, to see the army of cops that had dri­ven Occupy Oak­land out of the plaza. What we saw behind this army was clearly a tank – though an anar­chist medic, a for­mer Marine, explained that it was tech­ni­cally an armored per­son­nel car­rier. Mean­while, an FBI agent provo­ca­teur has entrapped anar­chists in Cleve­land, and this morn­ing police raided the San Fran­cisco build­ing occu­pa­tion, which, against all odds, held 888 Turk for the night.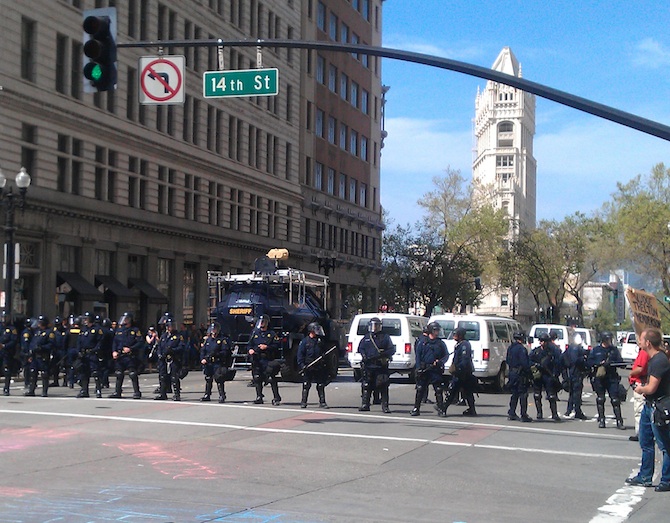 The polar­iza­tion of the move­ment has a mate­rial basis. Intel­lec­tu­als go back and forth on Twit­ter about the police, the black bloc, the best pro­ce­dure for an ille­gal build­ing occu­pa­tion (as though any of us knew!). These debates have very lit­tle real con­tent, but they work very well to dis­place our anx­i­ety: nobody actu­ally knows how a move­ment can grow and develop today. The clas­si­cal pat­terns are out of reach: we don't have mass left-wing par­ties, our unions have lit­tle influ­ence, and most of our fac­to­ries have more machi­nes than work­ers – they remain untouched by gen­eral strikes.
I did not see major signs of union par­tic­i­pa­tion in the streets of Oak­land yes­ter­day, though some did par­tic­i­pate in the per­mit­ted march. This should not be mis­in­ter­preted as a facile oppo­si­tion between reformist labor unions and rad­i­cal Occupy activists. The pro­posal to occupy the Golden Gate Bridge orig­i­nated with a picket planned by the Golden Gate Labor Coali­tion. This union group received sanc­tion to strike from the San Fran­cisco Labor Coun­cil and the San Fran­cisco Build­ing Trades Coun­cil, largely over health­care costs for bridge, bus, and ferry work­ers. In the days lead­ing up to May 1st, they with­drew this plan, opt­ing instead to picket the ferry in Lark­spur, CA.
The rela­tion­ship between unions and con­fronta­tional anti-cap­i­tal­ists should not be over­sim­pli­fied. My mind turns to another May, another gen­eral strike, and oth­ers are surely turn­ing with me. In May 1968 a spirit of wild­cat refusal started in Paris and spread through­out France, shut­ting down the econ­omy and nearly top­pling the gov­ern­ment. It is sec­tar­ian to crit­i­cize today's gen­eral strikes as betray­als of tra­di­tion, as though past gen­eral strikes unfolded accord­ing to an angelic pat­tern framed by union pro­ce­dures and reg­u­la­tions. The French May was acti­vated by a new con­cep­tion of polit­i­cal strug­gle. Stu­dent activists had invented new forms and alliances, with their spon­ta­neous action com­mit­tees and aes­thetic insur­rec­tions. They opened the lan­guage of pol­i­tics to social groups – women, gays, immi­grants, youth – whose demands had so often been excluded from the work­ers' move­ment.
This rein­ven­tion of rev­o­lu­tion took a para­dox­i­cal course. When stu­dent occu­pa­tions of the Uni­ver­si­ties of Paris were attacked by police, the pow­er­ful bureau­cra­cies of the French Com­mu­nist Party (PCF), and its union, the Gen­eral Con­fed­er­a­tion of Labor (CGT), were forced to rec­og­nize that rank-and-file sym­pa­thies were with the stu­dents; they per­mit­ted an ini­tial mobi­liza­tion in protest of police repres­sion, send­ing 800,000 work­ers on a one-day strike. The CGT was unable to con­tain the avalanche that resulted from this encoun­ter. As May con­tin­ued, ten mil­lion work­ers went on strike, with­out per­mis­sion from the union, some­times occu­py­ing their work­places and kid­nap­ping their bosses.
In June the union's reluc­tant acqui­es­cence gave way to an open alliance with the bosses; it would do its best to turn work­ers against stu­dents, and assist the state in return­ing France to work. In spite of their dis­grace­ful con­duct, the role of the PCF and the CGT was con­tra­dic­tory. They did every­thing they could to block the devel­op­ment of a real class strug­gle – but against their own inten­tions, they pro­vided an insti­tu­tional basis for class sol­i­dar­ity and mass polit­i­cal activ­ity.
In Italy, 1968 lasted for an entire decade. It was again this link­ing of new social actors, who intro­duced new demands and polit­i­cal prac­tices, that spurred the tra­di­tional work­ers' move­ment – strug­gling to break free from its own reformist bureau­cra­cies, the Ital­ian Com­mu­nist Party (PCI) and the Gen­eral Con­fed­er­a­tion of Ital­ian Labor (CGIL) – into action. When the fac­tory worker Alfonso Natella was invited to meet with stu­dent activists, in Nanni Balestrini's novel We Want Every­thing, he said: "what the fuck, I've got noth­ing to lose, I'll go and see what these turds have to say."
Per­haps he was pre­pared to go because he knew that the stu­dents them­selves had gone through a dra­matic evo­lu­tion, which is traced in Paolo Pietrangeli's song "Valle Giu­lia." It recounts the stu­dent clash with the police dur­ing the occu­pa­tion of the archi­tec­ture depart­ment of the Sapienza Uni­ver­sity of Rome – the same street bat­tle that Pier Paolo Pasolini wrote about in his poem "The PCI to the Young," sid­ing with the police.
The stu­dents start by chant­ing – loosely trans­lated – "No to the school of the bosses, throw out the gov­ern­ment!" But after fight­ing with the police, they real­ize that "some­thing new" hap­pened dur­ing the skir­mish: "we didn't run any­more." By the end of the song, their slo­gan has changed: "No to the class of the bosses! No con­di­tions!"
A rev­o­lu­tion­ary sen­ti­ment was spread­ing, across dif­fer­ent sec­tors of the class, as Andrea Righi recounts:
In 1968, on a chilly Decem­ber night, after the police opened fire on farm labor­ers in Avola in Sicily, Milan stu­dents stormed the La Scala the­ater shout­ing, "the farm labor­ers of Avola hope you enjoy the show," and threw rot­ten eggs against the wealthy audi­ence.
This change in con­scious­ness was only real­ized when the stu­dents struck their match in the auto fac­to­ries, and the "Hot Autumn" was ignited – an enor­mous wave of mass strikes attack­ing bosses and union bureau­cra­cies alike, giv­ing way to a new kind of social move­ment in the 1970s. One par­tic­i­pant, Ser­gio Bologna, who had urged "the whole of the stu­dents' move­ment to mea­sure itself with work­ers' strug­gles," recalled: "It was in 1969 when the whole move­ment found itself in front of the gates of FIAT that we had won." And it was this ini­tial explo­sion that laid the ground for the famous exper­i­ments in social cen­ters and autore­duc­tion often invoked by con­tem­po­rary activists, peak­ing in the cre­ative revolt of the autonomous move­ments in 1977.
But it is hard to find the gates of FIAT today. Where are the mas­sive fac­to­ries, with work­ers grounded in the tra­di­tions of sol­i­dar­ity, strike, and sab­o­tage? A defec­tion from the work­place at the scale of France and Italy seems utterly unimag­in­able today, with our mar­gin­al­ized labor move­ment. We can't ignore the fact that the decline of reformist social democ­racy has made it dif­fi­cult for us to expand beyond a mil­i­tant minor­ity. How­ever, we also can't just take the easy way out by ignor­ing every­thing that's changed.
After all, these strug­gles were firmly sit­u­ated within cycles of cri­sis and restruc­tur­ing – changes in the regime of accu­mu­la­tion that both height­ened class antag­o­nisms and reacted against them. One of the cru­cial the­o­ret­i­cal premises of the stu­dent move­ment was that the line between stu­dents and work­ers was get­ting more and more blurry. The uni­ver­sity was becom­ing a busi­ness that gen­er­ated human cap­i­tal, rather than a monastery for tra­di­tional intel­lec­tu­als; it shaped a labor-power appro­pri­ate for an increas­ingly tech­no­log­i­cal pro­duc­tion process. The clas­si­cal con­di­tions of full employ­ment, so con­ducive to strikes, were in decline, giv­ing way to heav­ily auto­mated fac­to­ries and creep­ing job­less­ness. Social move­ments had to extend out­side the fac­tory, and in Italy they did with some suc­cess. But as cap­i­tal shifted from the Key­ne­sian com­pro­mise to neolib­er­al­ism, lay­ing off work­ers, finan­cial­iz­ing itself, and mov­ing labor-inten­sive pro­duc­tion out of the coun­try, it also imposed new forms of con­trol on work­ers who were still tied to man­u­fac­tur­ing.
This is exactly what hap­pened to the Ital­ian strug­gles in 1980, after a bit­ter 35-day strike at FIAT was finally defeated. The state had already vio­lently destroyed the move­ment and arrested its mil­i­tants – 5,000 in jail or dri­ven abroad. A hun­dred work­ers com­mit­ted sui­cide; after mass lay­offs, the employ­ers, in alliance with the man­age­rial staff, broke the resid­ual power of the mass worker. The stu­dent move­ment had tried to bring tech­ni­cians and white-col­lar work­ers into the strug­gle, but now they betrayed the dream of pro­le­tar­ian unity and opted for com­pe­ti­tion over sol­i­dar­ity. Their ide­ol­ogy of a "right to work" was a jus­ti­fi­ca­tion of man­age­rial power over man­ual labor­ers, whose con­trol of the pro­duc­tion process was com­pro­mised by the intro­duc­tion of a com­put­er­ized chain of com­mand. The story is repeated every­where: sub­con­tract­ing, multi-task­ing, job rota­tion, tem­po­rary and part-time work, stag­nant wages – and the dec­i­ma­tion of the pro­tec­tion that work­ers did get from unions and the wel­fare state.
Now while stu­dents look for­ward to wait­ing tables to pay off their loans, man­u­fac­tur­ing work­ers – and the ser­vice work­ers who facil­i­tate the "logis­tics" of man­u­fac­tur­ing, like trans­porta­tion and telecom­mu­ni­ca­tions – are still sub­jected to this labor regime, with severely com­pro­mised pro­tec­tion. This is a cru­cial polit­i­cal dif­fer­ence between our strug­gles and those of the 1960s and 1970s. While stu­dents and work­ers entered that cri­sis within the frame­work of the post­war com­pro­mise, we've entered our cri­sis after that frame­work and its mate­rial con­di­tions have been mostly dis­man­tled.
So we have to turn our atten­tion to the con­di­tions, some­times para­dox­i­cal, for the expan­sion of a gen­uinely rad­i­cal strug­gle to a mass scale capa­ble of a total social dis­rup­tion. In the past, these con­di­tions were them­selves estab­lished by strug­gles before they ossi­fied into reformism – the PCI, after all, came into being after the bien­nio rosso, the two "red years" of worker-orga­nized fac­tory occu­pa­tions from 1919-1920. There is no rea­son to exclude the pos­si­bil­ity that pres­sure from the streets will force insti­tu­tions like unions to loosen their grip, and get out of the way of an autonomous rank and file. My own grad­u­ate stu­dent union, UAW 2865, was the site of an elec­toral bat­tle against the incum­bent bureau­cratic slate; the win­ning reform cau­cus, Aca­d­e­mic Work­ers for a Demo­c­ra­tic Union, has gone on to play a vital orga­ni­za­tional role in every rad­i­cal action on the UC Santa Cruz cam­pus.
But a strate­gic engage­ment with these con­tra­dic­tory exist­ing insti­tu­tions can only suc­ceed if we also put for­ward new ideas, which take the restruc­tur­ing of the global econ­omy into account, and con­struct new polit­i­cal prac­tices that can force cap­i­tal into ced­ing the his­tor­i­cally speci­fic space in which a con­tem­po­rary move­ment can explode. These ideas can't be abstract; they must be actively gen­er­ated by the real activ­ity of the exploited, as they take the lead and orga­nize them­selves. We may have orga­nized our­selves in the pub­lic squares, in the tents, but if we sim­ply impose this form on those who are not yet with us, we pre­vent them from act­ing.
May Day 2006 saw over a mil­lion undoc­u­mented work­ers with­draw­ing their labor and par­tic­i­pa­tion. Start­ing as demon­stra­tions against the racist bill HR 4437, it built into an immigrant's strike, what some have called the largest strike in US his­tory. Truck­ers com­pletely shut down the logis­ti­cal hub of the Los Angeles/Long Beach port com­plex. I remem­ber see­ing truck­ers cheer­ing in Oak­land dur­ing the Novem­ber 2011 gen­eral strike; I saw less enthu­si­asm dur­ing the sec­ond port shut­down a month later.
But in 2006, immi­grant work­ers had acted within inde­pen­dent orga­ni­za­tions. The tro­queros who shut down the port – inde­pen­dent con­trac­tors who have to buy their own gas and can't be union­ized by the Team­sters – had started ille­gally strik­ing and shut­ting down traf­fic in late April. The North Car­olina meat­pack­ing fac­tory Smith­field had been shut down by work­ers who orga­nized in Latino "work­ers' cen­ters," out­side of the unions, adapt­ing the model of com­mu­nity cen­ters to work­place orga­niz­ing. Their call for a May Day walk­out spread to meat­pack­ing plants across the state. If mass strikes once rolled from fac­tory to fac­tory, can we imag­ine a chain of actions today that links one sec­tor of the pro­le­tariat to the next, waves of self-activ­ity artic­u­lated in rad­i­cally dif­fer­ent orga­ni­za­tional forms?
It means tak­ing risks. But that's the only way that our move­ment can begin to dis­cover the pos­si­bil­i­ties of emerg­ing forms of strug­gle – like the bums of the Indus­trial Work­ers of the World who jumped on a mov­ing train, to see where it would take them.