There were no bro­ken win­dows. So that par­tic­u­lar lib­eral defense is off the table. Those who have decided to side with the state instead of this new and rad­i­cal social move­ment will find that it is now their illu­sions that have been shat­tered.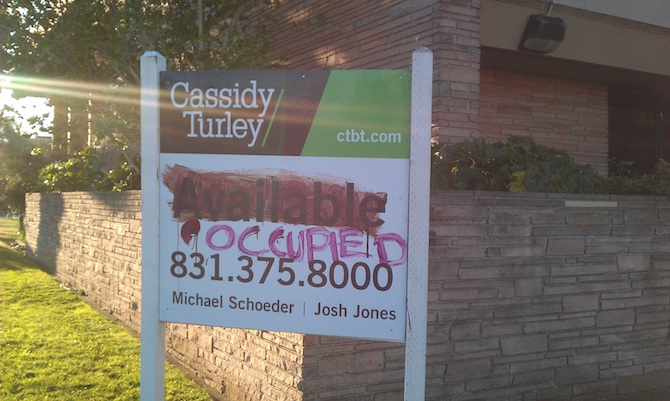 We had heard mur­mur­ings all week about a new autonomous action emerg­ing from the Santa Cruz occu­pa­tion. The con­di­tions of social life in Santa Cruz involve a vis­i­ble home­less pop­u­la­tion, and they have not been absent at Occupy Santa Cruz, which sta­tioned itself out­side of the cour­t­house, right across from the county jail and a bail bonds­man. It's easy for the media to dis­miss occu­pa­tions as a col­lec­tion of bums, but the truth is that the home­less need a place to sleep; and now, with chilly nights and fierce winds, the activists at the occu­pa­tion, like the home­less every year, need more than tents.
A gen­eral assem­bly was announced at 2PM at the cour­t­house. We arrived and were relieved to dis­cover that there would be no GA. Instead, after peo­ple gath­ered, we marched to Chase Bank. A few basic state­ments about fore­clo­sures, and the hard­work­ing DJ wheeled in the speak­ers and played the new anthem of Santa Cruz actions.
The march spread to the road, and walked across the bridge. There was no fan­fare as the mem­bers of the affin­ity group that orga­nized this action filed quickly into the aban­doned Coast Com­mer­cial Bank at 75 River Street. The build­ing had been vacant for three years after being being pur­chased by Wells Fargo.
Imme­di­ately the extremely well-orga­nized facil­i­ta­tors of this action coor­di­nated deliv­er­ies by vans full of fur­ni­ture and sup­plies, which were quickly brought inside the new social cen­ter. They issued a state­ment explain­ing their project:
An exist­ing time-hon­ored U.S. and Cal­i­for­nia law allows for the trans­fer of a prop­erty title when a prop­erty is occu­pied and taken care of by an alter­na­tive party for an extended period of time. This law is called adverse pos­ses­sion. The law was born out of the belief that society's best inter­ests are met when land and prop­erty are uti­lized pro­duc­tively rather than sit­ting vacant. Today, the build­ing at 75 River St. has been adversely pos­sessed. No longer will the prop­erty exist only as an empty park­ing lot and a vacant build­ing with a sign re-direct­ing peo­ple to Wells Fargo across the street. It will be repur­posed and used to ben­e­fit the com­mu­nity instead of Cas­sidy Tur­ley, the large-scale com­mer­cial real estate com­pany cur­rently leas­ing the build­ing, and Wells Fargo bank.

Instead of an empty space, there will be a space for com­mu­nity teach-ins, an open library, and dis­cus­sion forums. The space will be offered to Occupy Santa Cruz as an oppor­tu­nity to have a roof over its head and allow for more orga­ni­za­tion to take place. The space will be safe, non-vio­lent, non-destruc­tive and wel­com­ing. The build­ing will be a forum for indi­vid­u­als in the com­mu­nity to learn from one another, and help the Occupy move­ment grow.
Police showed up before long. They may have arrived before get­ting the call from Wells Fargo, but either way the bank made it clear that they wanted the occu­piers out. The police liaison mon­i­tored them adeptly, and a ban­ner drop was quickly pulled together. The ban­ner bizarrely read "OOcupy Every­thing," which at least had the virtue of enter­tain­ing sup­port­ers out­side. I have since been informed that this was in sol­i­dar­ity with Occupy Oak­land, whose hash­tag is usu­ally #OO, but per­haps real­iz­ing that this was an eso­teric ref­er­ence the ban­ner com­mit­tee revised the text with a splash of gold paint.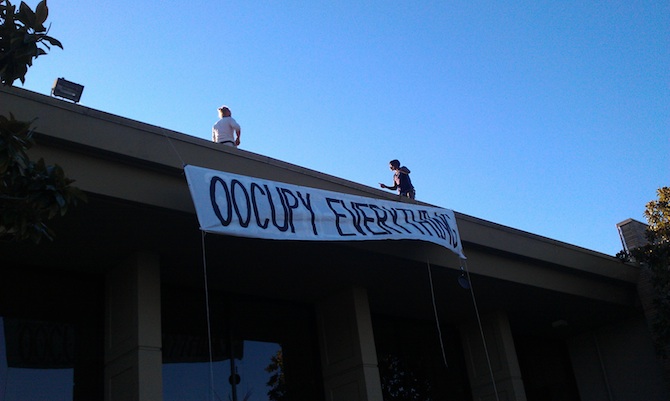 When a small group of five or six offi­cers advanced on the build­ing, occu­piers linked arms to defend the entrance, while oth­ers waited at the side with cam­eras ready. The police fell back. They stood watch­ing for quite a while; we spoke with some of them and deter­mined that they were sim­ply con­fused, with no plan in place for respond­ing to this kind of action.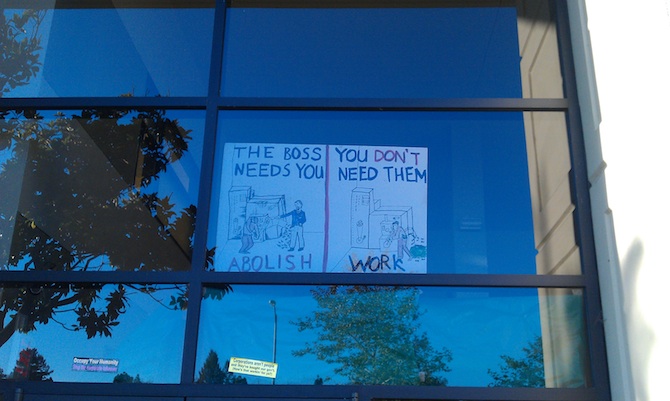 I went inside to observe the GA tak­ing place. It had already been clearly announced that the space should be respected – there was no van­dal­ism, but the win­dows had been dec­o­rated with infor­ma­tional signs. The GA was dis­cussing the two inevitable ques­tions: first, what should we do when the police make a raid; sec­ond, what should we do until then? As the meet­ing con­tin­ued, some of us who had been there for sev­eral hours left to repro­duce our labor-power. I fell asleep. When I woke up this morn­ing the news was incred­i­ble.
"I have my own army in the NYPD," Michael Bloomberg has said, "which is the sev­enth biggest army in the world." For­tu­nately the Santa Cruz Police Depart­ment is not so big. Last night, the Occupy move­ment was big­ger. Riot police attempted to take the entrance, but bar­ri­cades were erected and the police were sur­rounded. They had to ask for per­mis­sion to leave. "Hope­fully this group isn't rep­re­sen­ta­tive of a new aggres­sive move­ment," the spokesman for the SCPD told Mer­cury News.
Whether their hope is ful­filled is up to us. I walked to the site this morn­ing and found a heav­ily bar­ri­caded build­ing filled with sleep­ing mil­i­tants. Two sleep­ing bags out­side the entrance con­tained peo­ple who were pre­pared to be the first to deal with the repres­sive state appa­ra­tus. A reporter inter­viewed a calm and col­lected media liaison.
It's hard to exag­ger­ate the sig­nif­i­cance of forc­ing the police to retreat. Smaller loca­tions often seem cut off from the major actions that take place in New York or Oak­land. But these are loca­tions with unique con­junc­tures and unique pos­si­bil­i­ties. A wave of occu­pa­tions in small towns can form a very strong link with big-city port shut­downs.
Even if such occu­pa­tions are repressed by state vio­lence, this is not a defeat. The occu­pa­tions move­ment is cycling geo­graph­i­cally. If it leaves one place, it goes every­where and comes back. Just Mon­day, Novem­ber 28, UC-Santa Cruz stu­dents car­ried out an action in sol­i­dar­ity with UC-Davis's strike against the administration's prac­tice of police bru­tal­ity. They formed a picket line out­side the Hahn "Stu­dent Ser­vices" Build­ing – the build­ing con­tain­ing the offices that facil­i­tate stu­dent debt, charge out­ra­geous rents, and dis­ci­pline stu­dents who exer­cise their right to protest. They had three demands: the imme­di­ate res­ig­na­tion of Chan­cel­lor Katehi, police off cam­pus, and no fee hikes. This action made it clear that police bru­tal­ity is not sim­ply a civil lib­er­ties issue: it has to be under­stood as an instru­ment used by the admin­is­tra­tion to enforce the exploita­tion of stu­dents and to pre­vent resis­tance to this exploita­tion.
The union rep­re­sent­ing work­ers in Hahn deter­mined that its mem­bers should not cross the picket line. They were sent home, with pay. As we gath­ered out­side Hahn we received news from Davis. Hear­ing of our suc­cess­ful picket, they had decided to respond. About 200 stu­dents endorsed our demands in their GA and occu­pied Dut­ton Hall, their equiv­a­lent of Hahn.
When we heard of their action it was dif­fi­cult to avoid the sub­ject in our own GA – espe­cially since it had been clear since the morn­ing that some­one (a sym­pa­thetic worker?) had left a win­dow open at Hahn. After some debate we moved inside. A very long GA took place, but the build­ing was held for a night. The next day another GA decided that the ideal step would be to count this as a major advance, but to allow other stu­dents to file their paper­work as we build and develop the move­ment; a com­pre­hen­sive list of demands was gen­er­ated, with the promise of future actions. The demands rep­re­sent noth­ing like lib­eral reformism; they rep­re­sent a very focused antag­o­nism towards the admin­is­tra­tion, a clear mes­sage that we will not per­mit them to carry out their busi­ness.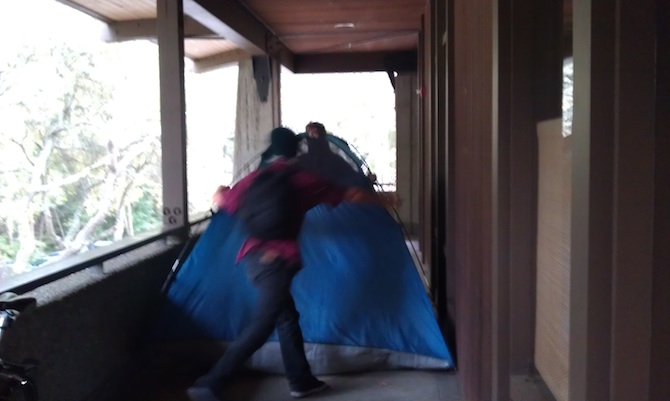 Even though the occu­pa­tion decided vol­un­tar­ily to leave, its achieve­ment was dra­matic and pro­found. It demon­strated that there is a geo­graphic cycle of esca­la­tion, a sol­i­dar­ity that spreads as actions ebb and flow in dif­fer­ent places. In the Hahn-Dut­ton cycle this meant a move­ment within the Uni­ver­sity of Cal­i­for­nia sys­tem, but the action yes­ter­day demon­strated that the build­ing occu­pa­tion tac­tic is pow­er­ful out­side of uni­ver­sity activism. This con­nec­tion between stu­dent rad­i­cals and the com­mu­nity is another ele­ment of the cycle. That the Occupy movement's next step will involve mov­ing inside has become more and more clear; but just as cru­cial are that our num­bers grow dra­mat­i­cally, and that we spread every­where.
This morn­ing a com­rade stood on the roof of the new occu­pa­tion look­ing out for police, who he had seen hov­er­ing around the encamp­ment at City Hall. He doubted that they would make a scene in day­light. "Down­town busi­ness is too impor­tant."
But every indi­ca­tion is that they will return at night, in greater num­ber and with more instru­ments of vio­lence. They will return to lit­er­ally do the bid­ding of Wells Fargo, drain­ing pub­lic funds to pay for repres­sion, adding to the $13 mil­lion spent in other cities. If we don't have the strength to respond, our best option will be to retreat. Let's not enter into that sit­u­a­tion. If you're any­where near Santa Cruz, come to the 75 River Street social cen­ter so we can out­num­ber the police again and defend this build­ing. If you're far away, no prob­lem. Occupy a build­ing near you.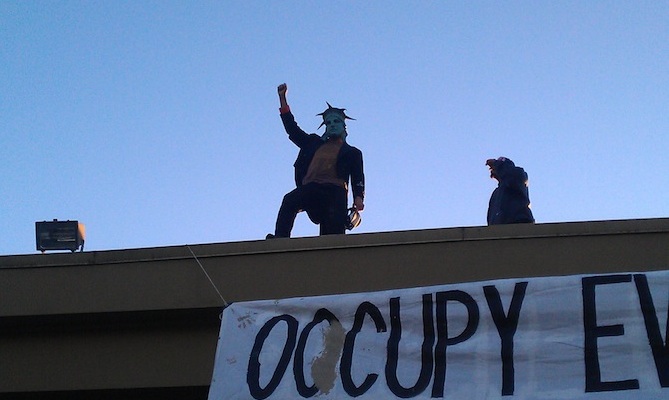 ---
Asad Haider is a grad­u­ate stu­dent at UC-Santa Cruz, a mem­ber of UAW 2865, and an edi­tor of View­point.